At the recent Peek Performance event, Apple officially announced the new Mac Studio model. This is a desktop model with a similar appearance to a magnified Mac mini, but with significantly more performance. Besides the M1 Max chip that users have seen on the 14″ and 16″ MacBook Pro models, Mac Studio also has a version with the M1 Ultra chip, a new chip and also the "final boss" of the M1 chip line.
According to Apple's announcements, the M1 Ultra is completely superior to the most powerful chips in the PC world. Specifically, when compared with the latest Intel Core i9-12900K chip with 16 cores, the M1 Ultra achieves a performance level of up to 90% higher, while the power consumption is up to 100W lower. When compared to the 28-core Intel Xeon chip on the Mac Pro, the M1 Ultra is also up to 60% faster.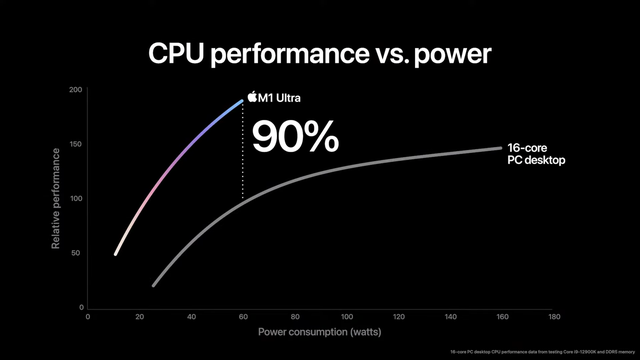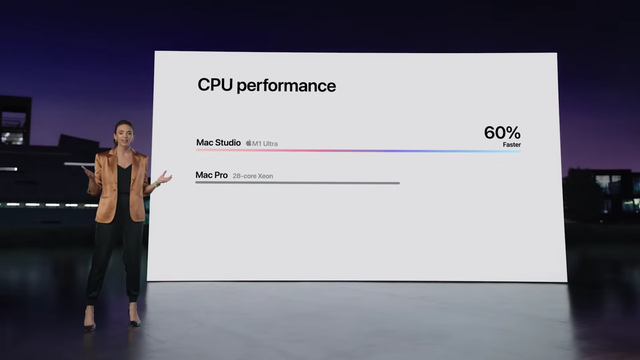 However, not only the CPU, Apple also gives impressive numbers in terms of graphics performance (GPU), when affirming that the integrated GPU inside the M1 Ultra gives performance beyond NVIDIA's RTX 3090, which is also a high GPU. highest level to date. The power efficiency of the M1 Ultra is also terrible, when at peak performance it consumes 200W less than the RTX 3090.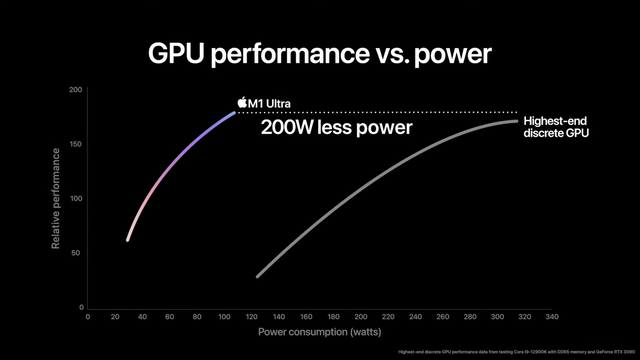 Compared to the GPU on previous Mac generations, the Mac Studio's GPU is 4.5 times faster than the Radeon Pro 5700XT on the iMac, and 80% faster than the Radeon Pro W6900X on the Mac Pro. Don't forget, the Radeon Pro W6900X is still being sold by Apple to Mac Pro users for $6,000.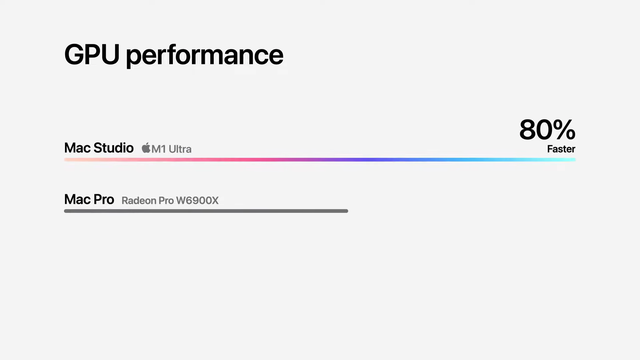 The secret behind the power of the M1 Ultra is the architecture of this chip. Inside the M1 Ultra include two M1 Max "die"s connected by a link called UltraFusion for bandwidth up to 2.5TB/s. So everything is duplicated. From the 10 CPU cores and 32 GPU cores of the M1 Max, the M1 Ultra can reach 20 CPU cores and 64 GPU cores.
However, thanks to the "miracle" of UltraFusion's design, applications will only consider the M1 Ultra to have a single GPU. And so the performance loss won't occur on the M1 Ultra like it does with other multi-GPU systems (like NVIDIA's SLI/NVLink), at least according to what Apple claims.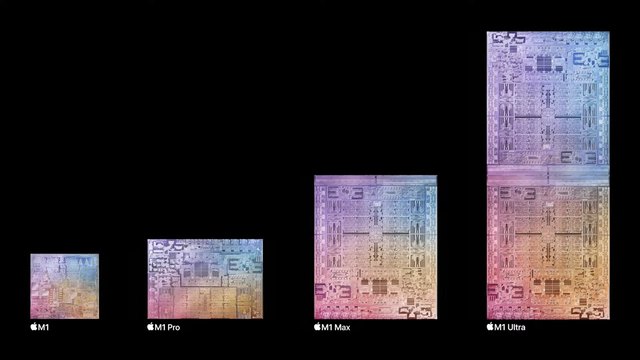 In addition, the shared memory design of the M1 chip also allows the M1 Ultra's GPU to use the entire memory of the machine (up to 128GB). Before that, the GPU with the largest memory was the NVIDIA RTX A6000, which only reached 48GB.

https://genk.vn/apple-khang-dinh-gpu-tich-hop-cua-chip-m1-ultra-manh-hon-ca-rtx-3090-cua-nvidia-20220309152209125.chn