On the morning of January 10, 2022, PinkSale – a launchpad platform specializing in supporting new blockchain projects that can raise capital – issued an announcement about a project with signs of fraud called Floki Iron. .
"After doing an extensive investigation into the post-presale events and the launch of the project called Floki Iron, we have come to the conclusion that the people behind this project have intentionally deceived investors. their investment and steal money from liquidity", announced by PinkSale on the official Telegram group of this launchpad.
According to the documents provided by this project, Floki Iron is developed on the Binance Smart Chain platform, which belongs to the field of Defi (decentralized finance). Based on the symbol and name, Floki Iron (token name: FIT) is classified in the group of "memecoins" with animal names, similar to the projects Dogecoin, Shiba Inu coin, Aquagoat or Dolphin coin. Notably, the Floki Iron website does not disclose the identity of the development team behind.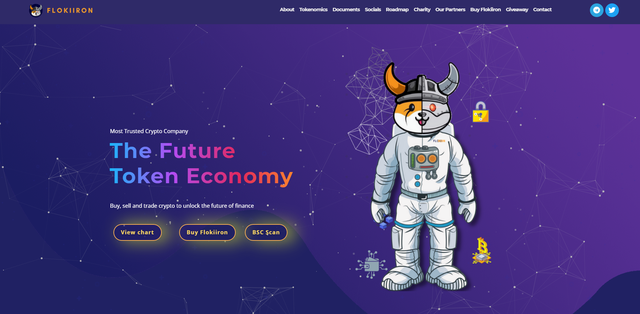 It is known that on December 22, Floki Iron conducted a public sale (public sale) for investors on PinkSale with the maximum required capital of 100 Binance Coin (BNB). This amount of BNB has a conversion value of about 53.5 thousand USD as of December 22, equivalent to more than 1.2 billion dong, and was fully mobilized within a few hours.
However, 1 day later, when it was listed on the decentralized exchange PancakeSwaps, the value of FIT (Floki Iron's token) immediately lost its entire value because the liquidity of this token was withdrawn, according to data from PooCoin Chart. After that, the communication channels of this project on Twitter and Facebook were immediately deleted.
"This means that the 100 BNB coins of investors participating in the public sale a day earlier may have been appropriated by the Floki Iron development team and disappeared.", Nguyen Hoang Long, an experienced investor in Hanoi commented on the case.
The Vietnamese development team behind the project to scam investors?
According to PinkSale, this unit has tried several times to contact the Floki Iron development team but to no avail. Therefore, PinkSale has decided to publicize all information of a series of people (supposedly) behind this project. These are all personal information that PinkSale automatically collects from KYC (know you customer), which is the process to identify and verify identity when blockchain projects want to register to raise capital on this launchpad platform. .
"We've tried in every possible way to contact the owner and developer, to no avail. As a result, we have no choice but to make their IDs public so that anyone affected by this event can pursue legal action. We take the safety of PinkSale users very seriously and will not shy away from disclosing the personal information of those who use our platform to engage in illegal activities.", the notice of PinkSale clearly stated.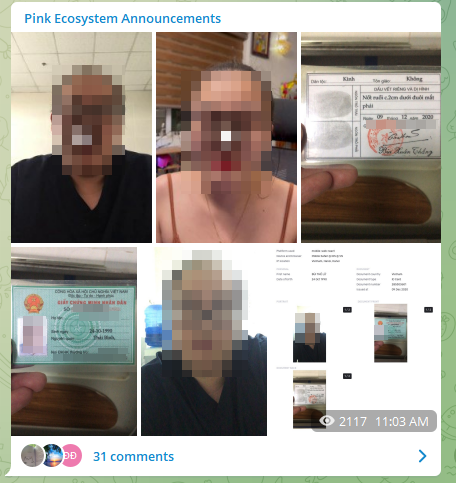 Notably, based on information including close-up portrait photos, ID photos publicly provided by PinkSale, many users have realized The people behind the Floki Iron project are all Vietnamese. The analysis of IP addresses also shows that these individuals are currently living in Hanoi, Ho Chi Minh City and Thai Nguyen. In particular, besides Floki Iron, this development team is also (supposedly) working on another blockchain project called CyberTron Planet, according to information published by PinkSale.
"We have discovered that the project cybertrontoken.io has the same owner as flokiiron.io, please do not invest in their pre-sale.", PinkSale recommends in its official Telegram group.
Thus, within just 1 week, there have been 2 Vietnamese cryptocurrency projects accused of defrauding investors. Before that, the GameFi CryptoBike project was also accused of using the trick to appropriate $ 1.4 million and then flee, causing many investors to suffer heavy losses. However, many investors later successfully 'trace' the identity of the Vietnamese development team behind CryptoBike, forcing these individuals to then pay compensation.
However, the cases of Floki Iron or CryptoBike are invisible, causing a number of 'real business' blockchain projects in Vietnam to be significantly affected in terms of public opinion.
"The fact that a number of GameFi projects from Vietnam has caused a loss of trust in public opinion is significantly affecting the communication campaigns of a number of blockchain projects developed by Vietnamese people, which are invested very seriously. While these upcoming projects all aim to bring the greatest value to users and are not after short-term profits, pre-existing prejudices can make the international community feel shy even when the investment decision has not been made", said Mr. Canh Ho, Vietnamese co-founder of VerseHub, which is developing a Metaverse-oriented 3.0 social networking project called NextVerse.
GameFi (short for Game + Finance) is a term that refers to blockchain games that incorporate a financial element. Information about cryptocurrencies (cryptocurrency), commonly known as "virtual money" has not been recognized by law in Vietnam. The information in the article is for reference only and has no investment recommendation value.
.