Right from the first month of 2022, Sony has "bombed" the PC gaming market with the port of God of War (2018) for computers. Previously, this franchise was released exclusively for Sony consoles. In just about 3 days since opening for sale on Steam, God of War has gained up to 73,000 players, and is considered a very good port, without too many errors.
Because God of War is a fairly new product, of course, the price and required configuration of this game are also relatively high. Currently, gamers will still have to spend more than 1.1 million VND for Sony's action blockbuster. In addition, they need to own a PC set with at least the card generations like GTX 960 (4GB) / AMD R9 290X (4GB) to be able to "fight".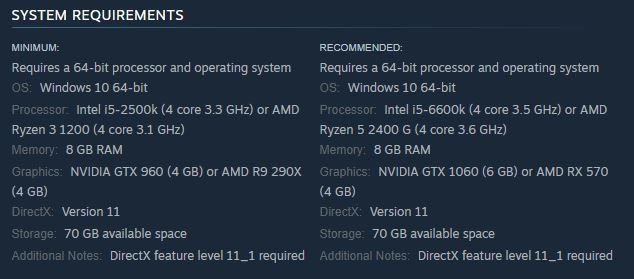 That said, if you're still "mortified", accepting to reduce the configuration to the lowest level, sacrificing resolution, then God of War is still capable of running on older computers. Recently, the RandomGaminginHD YouTube channel even conducted a small test when playing this game on devices without discrete cards, and the results will surely surprise many people.
The configurations they used included: AMD Athlon 3000G 2 cores 4 threads, 16GB (2x8GB) 3200MHz RAM, and Radeon Vega 3 integrated card; and AMD Ryzen 4700U 8 core 8 thread laptop, 16GB (2x8GB) 3200 MHz RAM, Radeon integrated card. You can watch the testing process in detail in the video below.
Besides, RandomGaminginHD also conducted a test of God of War on devices using Intel chips, but the results were so bad that they couldn't bring up their videos. It is true that this game can still run, but the display image will be incomplete, lacking many details and materials. In addition, they also have problems with flickering, blinking lights, causing headaches, eye damage and greatly affecting the game experience. It is unknown if Intel will have an update in the future to fix this situation, but it is clear that AMD is doing a lot better than them with their integrated card products right now.
[Vietsub] Experience God of War on computers without discrete cards.

https://genk.vn/trai-nghiem-god-of-war-tren-may-tinh-khong-card-roi-amd-lam-tot-hon-intel-nhieu-20220414151435909.chn