At a recent online event, AMD announced a new series of Ryzen processors and Radeon graphics GPUs for laptop and desktop devices. The upcoming processors in the next few months will all be based on the Zen 3 or Zen 3+ architecture, however, at the end of the event, AMD also "teased" the arrival of the complete Zen 4 architecture. all new. The Zen 4 architecture will be used on the next generation Ryzen 7000 series chipsets.
Specifically, the Ryzen 7000 series will switch to using the LGA (land grid array) socket standard with pins placed on the motherboard instead of PGA (pin grid array) with pins placed directly on the CPU. Thus, both AMD and Intel will use the LGA socket on their CPU product ranges in the future.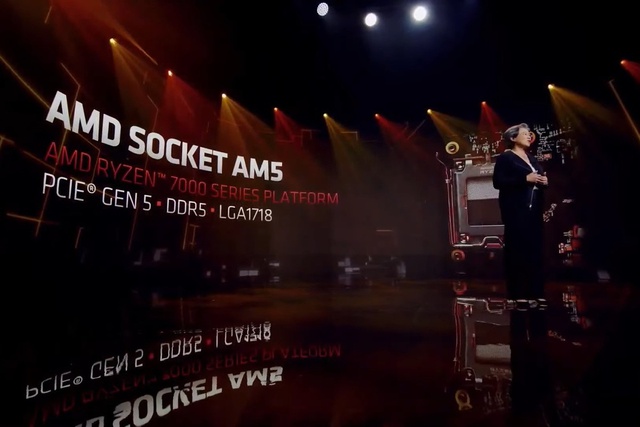 The switch to using the LGA socket standard also means that existing motherboards with socket AM4 will no longer be compatible with the new generation of Ryzen 7000 series. Ryzen 7000 series is expected to be introduced by AMD soon with socket AM5 in the second half of this year.
Although AMD has not revealed too much about the 7000 series, we can expect this to be a 5nm processor, supporting DDR5 RAM as well as the latest PCIe Gen 5 standard.
In a test video, AMD uses its new line of chipsets to play the game Halo Infinite. According to AMD CEO Lisa Su, the game is played at 1080p resolution smoothly, showing that the integrated GPU on the 7000 series offers relatively strong performance. AMD CEO also emphasized that when playing the game Halo Infinite, all cores of the processor run at 5GHz, a clock that is difficult for current generations of AMD chips to achieve without overclocking.
Of course, users will still have to wait a while longer to see the potential power of the Ryzen 7000 generation, which promises to be a competitor to Intel Raptor Lake later this year.
.