Jeff Bezos built Amazon.com from his home car garage with a huge ambition to compete with established companies. He constantly instilled in his employees the obsession to grow fast by attracting customers using the largest selection and the lowest prices. Today, he has more than 1.1 million employees and Amazon has a market capitalization of $1.6 trillion.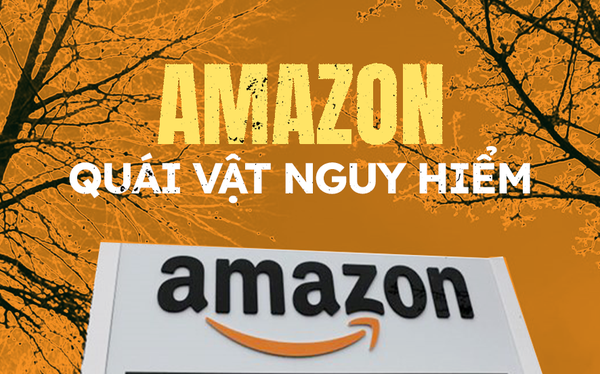 However, the WSJ said, Amazon seems to have never "matured". Bezos still runs the company with the spirit of a startup trying to survive.
That spirit helps Amazon continue to grow explosively. Fierce competition, including taking market share from competitors, is often seen as a sign of a successful business. It's also why the tech and retail giant has always been the target of criticism from rivals, regulators and politicians who say its tactics are unfair to the public. a company of that size and even breaking the law. As the company grows, its ability to compete with other companies grows stronger.
To keep his customers happy, Bezos talks about the company's growth and shaping strategies. The leaders behind, however, quietly execute methodically targeted campaigns against competitors and partners — an approach that has remained largely unchanged for many years.
No competitor is too small for Amazon to ignore. They copied a camera tripod from a small company that sold on Amazon, hurt that company's sales, and are now nearing death. Amazon of course says that it doesn't infringe any of the company's copyrights.
When Amazon decided to compete with furniture retailer Wayfair, Bezos' deputies created what they called the "Wayfair Parity Team," which studies how Wayfar buys, sells, and ships bulky furniture. . After that, Amazon copied most of Wayfair's products and services. Amazon and Wayfair declined to comment on the matter.
Amazon also targeted Allbirds, a well-known maker of shoes made from recycled materials, and last year they released a pair of shoes called the Galen that are almost 100% identical to Allbirds' best-selling product, using no organic materials. Environmentally friendly and selling for less than half price.
"We're forced to watch a $1 trillion company use their power and their money, their algorithmic machines and their private label machines, to ruin your career. They own a machine. giants can turn everything against us," the Allbirds co-founder confided.
An Amazon spokesperson said that the company's shoes do not infringe on Allbirds' design: "The products we offer are inspired by trends that customers are already enjoying, which is normal in this industry. retail industry".
This year, Amazon is targeting Shopify, a fast-growing Canadian company that helps sellers create online stores. According to WSJ sources, Amazon has set up a secret team called "Project Santos" to copy Shopify's business model.
Amazon executives often initiate such initiatives on their own, although in some cases it was confirmed by the WSJ that Jeff Bezos himself was involved.
From its beginnings as a bookstore 26 years ago, Amazon has expanded into online retail with a presence in the majority of mainstream items. They also lead in cloud computing, handsets, and entertainment, and compete with United Parcel Service and FedEx. Bezos is currently the richest person on the planet with a fortune of $187 billion.
He still urges employees to persevere with the spirit of entrepreneurship. "Every day is the first day". Day 2 was "stagnation, followed by inadequacy, followed by excruciating, painful breakdown, then death. Bezos originally named the company Relentless—meaning ruthless."
Some competitors and partners say that Amazon's competitive enthusiasm seems unfair. The WSJ published an article earlier this year revealing that Amazon employees use data on independent sellers on their platform and the investment and execution process in a way that entrepreneurs and others believe. that have helped them develop products that compete with their partners. Amazon also restricts how competitors can promote their products on its platform.
Bezos in July responded to the House Antitrust Subcommittee on the allegations, saying: "I cannot guarantee that those policies have never been violated." An Amazon spokesperson said the company does not use confidential information that companies share with them during mergers and acquisitions and the venture capital process to build competing products. Amazon did not directly address the question of whether it impeded competitors' marketing, saying that retailers often choose the products they want to promote.
Last year, the Justice Department launched a broad investigation into the market power of major tech companies including Amazon. European lawmakers last month fined Amazon for violating competition laws. Amazon of course said it disagreed with the verdict.
In October, the House Antitrust Subcommittee ended a 16-month investigation into tech companies with a report accusing Amazon of using "monopoly power" over sellers on the site. mine. "Clearly they used their massive market power to maintain dominance," said David Cicilline, chairman of the subcommittee.
Amazon denies that.
INCREDIBLE TERMS
Earlier this year, Barak Govani made a big bet on Amazon.com and now regret it. He closed a clothing store called New York Speed ​​at Melrose Avenue (Los Angeles), packed all of his $1.5 million worth of inventory and sent it to Amazon warehouses across the United States. Govani has placed his fortunes in the "hands-on" of a company that often promotes itself as a "friend" of small business people.
However, the 41-year-old man is now bankrupt and has to stay at home, sometimes at his mother's house, sometimes at his sister's house. Govani hopes to be able to start over by forcing Amazon to return him inventory that the company destroyed because it believes they are counterfeit – an accusation Govani staunchly denies.
In September, Govani's lawyers filed a claim against Amazon for $800,000, but they are still waiting for Amazon's response.
"All my life I've been up at 5:30 a.m. and working 40, 50, 60 hours a week," says Govani. "That stock is all I have. Amazon ruined my life, I did nothing wrong."
For many years now, there have been many stories like this on the forums. Amazon can suspend sellers at any time, for any reason, from "freezing" their funds for weeks, even months, bringing their lives to a standstill because of the loss of their livelihood.
Sellers go through a grueling claims process where Amazon is the arbitrator. The calls and emails they send often go unanswered, or Amazon responds in a confusing way, making them feel more like talking to algorithms than humans.
When a seller sets up shop on Amazon, they waive their own right to litigate by accepting a binding arbitration clause, a contractual clause that requires parties to resolve contractual disputes before arbitration on behalf of the seller. through the court system. Amazon doesn't negotiate terms with third-party sellers, just sellers that accept or won't be able to sell on Amazon – which makes it clear that Amazon has the upper hand in this relationship.
Amazon's treatment of third-party sellers is also the focus of a new report released by the House Judiciary Committee. The report concludes that tech giants often abuse their power over their smaller counterparts. The Committee recommended that the binding arbitration clause be removed.
"Because of the financial implications, many third-party sellers are afraid of Amazon. Amazon's internal dispute resolution system is too slow and ambiguous."
Algorithms are increasingly used by Amazon to detect counterfeit goods, and cases like Govani's are not uncommon. Chris McCabe, a former Amazon employee who now helps people like Govani find justice, said his account will be suspended if feedback on counterfeit products increases. However, many times those feedbacks are dishonest and created by competitors.
Between 2014 and 2019, only 63 Amazon sellers used arbitration because they were aware the process was unfair and likely to yield nothing.
Frustrated, Govani is contemplating starting over in a completely new niche, possibly construction, even though he's worked in retail all his life. "I don't want to go back to online retail anymore even though it's the only thing I'm good at. I'm really scared of selling on Amazon," he said.

https://cafebiz.vn/amazon-noi-so-hai-cua-cac-nha-buon-20220510161429899.chn