CNN reported, Rivian – an electric truck manufacturer that has seen its value skyrocket overnight, becoming the darling of Wall Street with a market capitalization of $100 billion. However, few people know that much of the groundbreaking success of this unknown electric car company is due to one powerful fan: Jeff Bezos.
And, less directly related is the fan's arch-enemy, Elon Musk.
This summer, when the Amazon founder became the first American businessman to fly to the edge of space on a rocket built by his own private company, he used Rivian's truck to ferry astronauts to space. accompanying his flight to and from the launch pad in West Texas.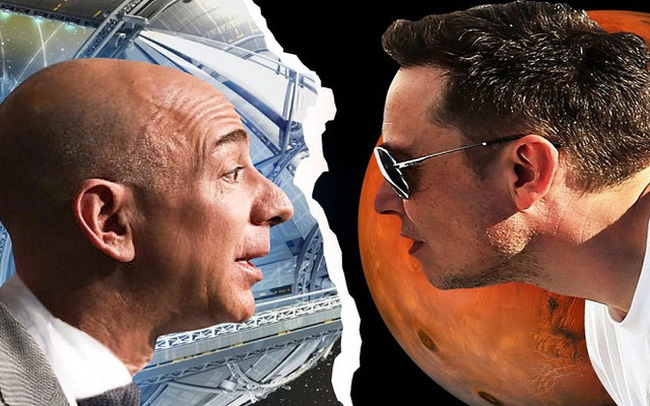 Of course, having Rivian cars show up in a highly publicized event like a space flight is a sophisticated product strategy for Bezos. CNN reported that he had carefully selected a candidate to help him fight Tesla. At the time, Rivian was still a private company with no actual products on the market. But Amazon made a big bet on Rivian in 2019, taking a 20% stake in the company. The famously calculated (if not notorious in the business world for this matter) Bezos has made his two pet projects Blue Origin and Rivian public – on the global stage at the same time.
Blue Origin – as everyone knows, is currently a thorn in Elon Musk's eyes.
Bezos and Musk have spent most of the past year taking turns holding the title of Richest Man and Second Richest Man in the World. The rivalry between them, which has lasted for many years, focuses on their ambition to travel to space. Jeff Bezos' company Blue Origin has vehemently opposed NASA's decision to contract Musk's SpaceX to build a lunar lander to return humans to the moon.
To date, all attempts by Blue Origin to counter NASA's decision have been unsuccessful.
And now, Rivian's listing – making it the largest IPO of a US company since Facebook went public in 2012 – gives Bezos a winning hand in his quiet battle with Musk.
Two years ago, Amazon led a $700 million investment in Rivian and announced it was ordering 100,000 electric trucks from Rivian. At the time, the electric vehicle sector was teeming with emerging brands such as Nikola, Lordstown and Fisker, all vying to position themselves as the next big thing. Since then, Rivian has emerged as a strong contender (backed heavily by investments from Amazon and Ford).
In fact, Rivian should also thank Musk for fueling the electric car hype that investors have raved about over the past few years. Many analysts think Tesla, a company with a market capitalization of about $1 trillion, is overvalued. Even so, their shares continued to rise. FOMO is a powerful force on Wall Street, and those who missed out on Tesla a decade ago may be trying to make up for it by buying shares of Rivian, a 12-year-old startup that hasn't delivered any products yet. but somehow now more valuable than Ford and GM.
Whether Rivian will be able to live up to the hype is anyone's guess. For an investor, it's reassuring to know that Rivian has the backing of someone with both deep pockets and a bitter grudge against rival Jeff Bezos.
Of course, investing is always risky and what the future holds still takes time to answer.
Source: CNN
.