Bloomberg reported that Mark Zuckerberg sold shares of Meta Platforms – Facebook's parent company on most days of the week this year. Meanwhile, the Google founders began selling off their shares in May, which is also when two of the three Airbnb co-founders began to diversify their holdings.
The deals listed above are part of a surge in sales by America's richest people. In total, these people sold $42.9 billion through early December, more than double the $20.2 billion they sold in all of 2020.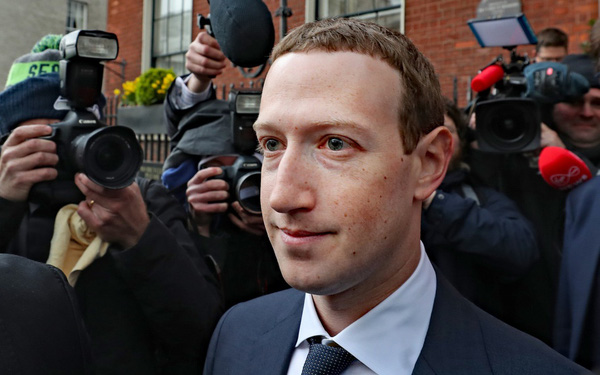 The super-rich often hold shares in the companies that have made their fortunes. But many rich people in the US decide to sell stocks now because stock valuations are at record highs and are one step ahead when taxes are likely to increase in early 2022.
"A lot of our clients are selling out," said Elizabeth Sevilla, a partner at Seiler LLP, a consulting firm based in the San Francisco Bay area.
Some of the world's richest people have sold core shares after years of hibernation, including Sergey Brin and Larry Page, the reclusive co-founders of Google. To date, Page has sold about $1.8 billion worth of stock in Google's parent company, Alphabet Inc. and Brin sold about $1.7 billion. This is the first time either seller has sold shares since 2017.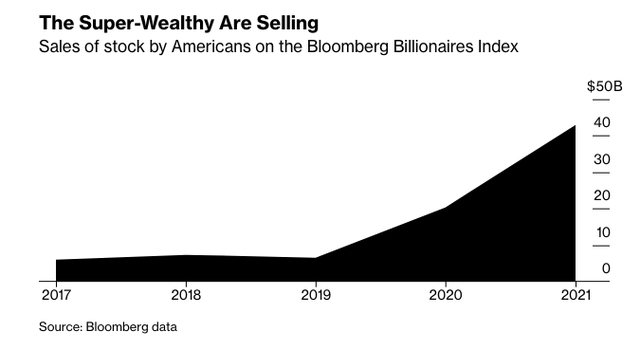 Elon Musk, the world's richest man, sold about $12.7 billion worth of Tesla Inc stock. This year, the first time he's sold stock since 2016. The chain of stock sales kicked off after the billionaire, who has a personal fortune of $253.6 billion, took a Twitter poll in last month on whether he should divest his 10% stake in the electric-car maker.
Michael Dell, founder and chief executive officer of Dell Technologies, has not sold shares of his company in at least two years or since the company went public in 2018. Yet so far. , he sold about 500 million USD of shares.
Whether tax avoidance is the goal of this stock sale or not, one thing is for sure, it can save billionaires billions of dollars. Even if Musk believes the stock sale will depend on the results of the Twitter poll. However, CNBC did some research and discovered that some of his deals were pre-planned. That demonstrates the rich's clear perception of tax obligations, both at the federal and state levels.
"This is not an exodus from the market," said Sevilla. Instead, wealthy tech billionaires are sitting down with wealth managers to assess the impact of surcharges and proposals. other taxes, then calculate the corresponding investment".
According to Bloomberg, the 167 richest Americans hold $3.6 trillion, up 47% since the beginning of last year. Their wealth was fueled by a rapid rise in stock valuations during that period, with the S&P 500 Index up about 45% and the tech-leaning Nasdaq Composite Index up 75%.
Stock sales of top billionaires have grown faster than their fortunes. In 2019, the richest Americans sold just $6.6 billion in shares, similar to previous years.
The selling actually picked up in 2020, when Democratic candidates were campaigning to propose an increase in the tax rate levied on the rich. Advisers have spent most of the year warning of higher tariffs as early as 2021 if Democrats take over.
Meanwhile, stock valuations have skyrocketed last year, especially in tech stocks that have benefited from trends caused by the pandemic.
Nvidia Corp co-founder and CEO Jensen Huang sold his stake in the chipmaker in July 2020 at a record high. It was his first stock sale in nearly three years. Since then, the share price has nearly tripled, and Huang's stock sales have also increased rapidly. He has sold $426 million worth of stock to date, far higher than $168 million in 2020.
Another factor driving the sale of shares is the wave of IPOs by startups.
Two of Airbnb Inc's three co-founders, Joseph Gebbia and Nathan Blecharczyk, have collectively sold more than $1 billion worth of stock since the company went public in December last year. Another co-founder, CEO Brian Chesky, has not sold any shares this year.
Statistics also show that Americans bought $543 million of shares on the open market through December 3, up from last year but less than half their purchases in 2018.
PERSONAL REASONS
The richest Americans probably have a variety of personal reasons to sell stocks right now, including funding philanthropic endeavors.
Jeff Bezos, the world's second-richest person, has sold more than $9 billion in Amazon Inc stock this year. The money is used by him to fund recent grants and pledges to fight climate change through his Bezos Earth Foundation.
Zuckerberg is selling a lot of Meta stock – formerly known as Facebook – largely to send money to the Chan-Zuckerberg Foundation. He's sold $4.5 billion this year, almost eight times what he made from stock sales in 2020. Six years ago, he and his wife Priscilla Chan pledged 99% of their fortune. their own funds to charity during their lifetime.
Jack Dorsey, the founder of Twitter Inc, sold nearly $500 million worth of stock this year in another company he founded, Block Inc. Last year, he promised to donate a large portion of the company's shares, formerly known as Square, to Covid-19 relief work.
However, the tax changes are still very vague. Pratik Patel, chief executive officer at BMO Family Office, said: "It's been a roller coaster ride. Even now, it's unclear what the final tax changes might look like. Everyone is feels like taxes are going up. But there's still uncertainty. A lot of our customers are choosing to continue to wait and see."

first
.