The "big guys" in the industry and young startups are facing many unfavorable economic, market and even industry factors. Accordingly, the disturbance is happening to e-commerce, digital, electric vehicles, ride-hailing and other segments after the pandemic.
Businesses that have acted as "job creators" over the past two years have begun to stop hiring or even lay off employees. Concerned about the weakening momentum of the industry, investors rushed to withdraw capital, causing shares of a series of companies including Lyft and Peloton to drop. Additionally, shares of Netflix, Meta Platforms, and Amazon are all down more than 30% this year, exceeding the decline of the S&P 500.
At the moment, investor sentiment is divided over the question of whether the current situation is temporary – as companies benefiting from the pandemic have grown so rapidly recently, or are Early signs suggest that the tech sector is in a deeper recession.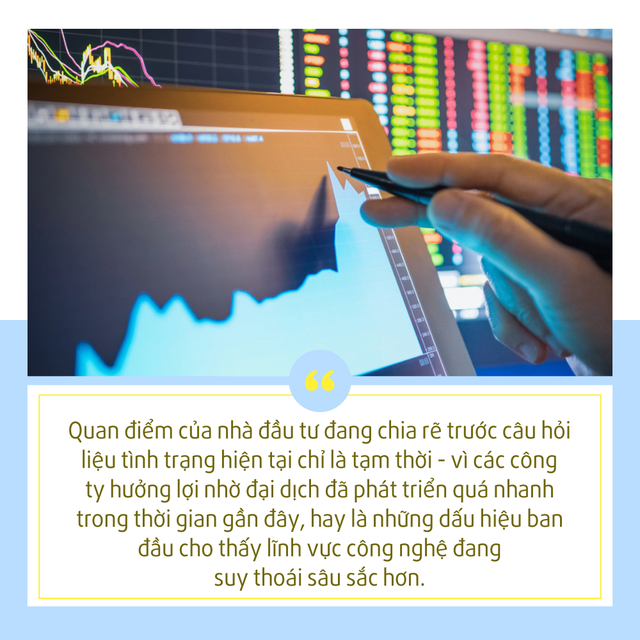 Kevin Holt is a senior portfolio manager at Invesco, which manages more than $1.6 trillion in assets and owns stakes in major tech companies. He said: "The market is falling sharply"Shareholders are trying to determine if they are focusing too much on growth in a super-low interest rate environment.
Holt said: "Is it because of low interest rates that tech stocks are overvalued?He and others are questioning whether it's time for some tech companies to downsize their ambitions.
Even as some tech companies face bleak times, the labor market in the US is doing very well and shows no sign of being impacted by the tech sector. Employers added 428,000 jobs in April – the 12th month to over 400,000. The unemployment rate remains at 3.6%.

Moreover, although some "novels" of the technology industry have suffered, the bright spot still exists. Cloud computing – technology widely used during the pandemic, still brings great profits for Amazon, Microsoft and other businesses.
During the pandemic, Amazon and Facebook were among a number of tech companies that have been hiring heavily as they scale. Amazon has added about 800,000 people in 2020 and 2021 as it struggles to meet exploding demand for its e-commerce service. Over the past five years, Meta, Apple, and Alphabet have nearly doubled the number of full-time employees to a total of about 563,000 people.
These tech companies have a growth style rarely seen in other sectors of the US economy. According to World Bank data, in 2020, Meta, Amazon, Google, Apple and Microsoft generated $1.1 trillion in revenue, surpassing the GDP of the Netherlands, Switzerland, Turkey and Saudi Arabia.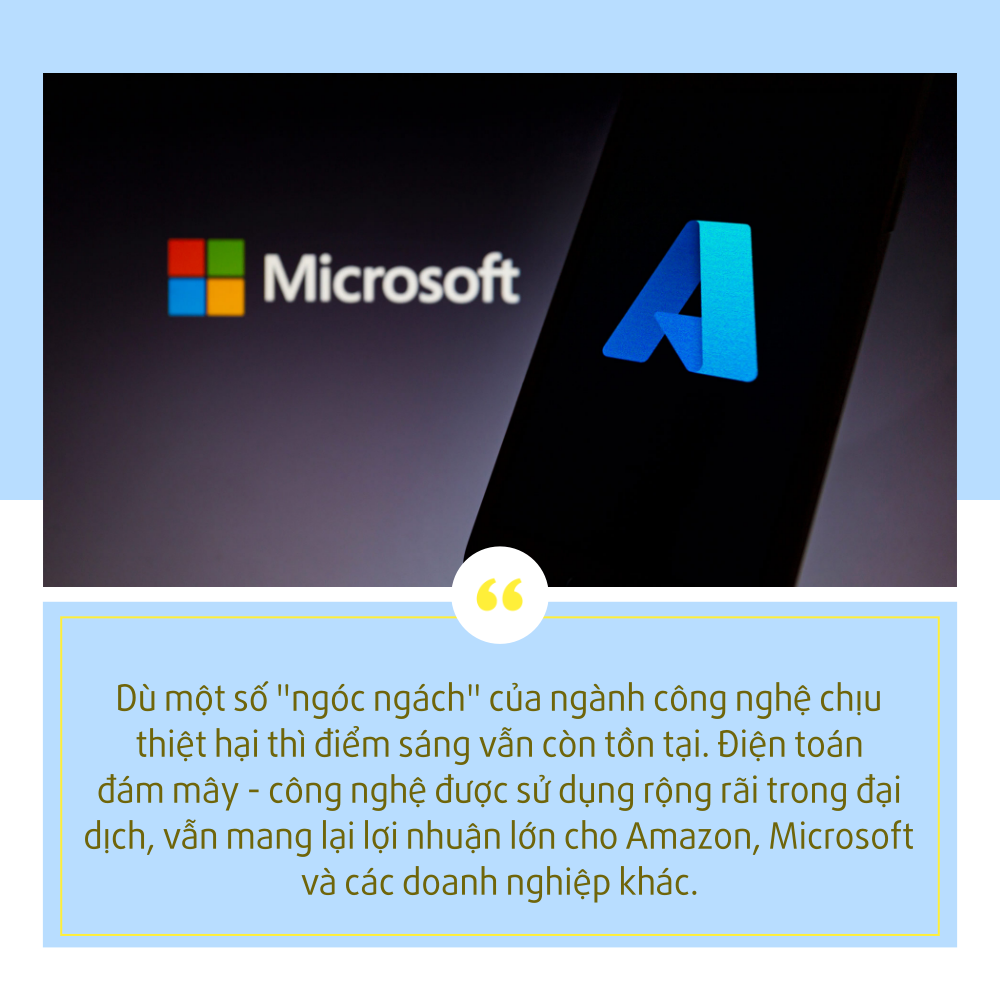 The pandemic is a factor that strengthens the dominant position of the technology industry. As the economy shuts down, consumers rely more on technology. This helps take sales of online retailers, video conferencing platforms, and streaming services to the next level.
However, a range of factors influenced those dynamics this year. US inflation is at a 4-decade high, putting pressure on the wages of drivers and warehouse workers, reducing the purchasing power of consumers. Rising interest rates also caused capital inflows into technology stocks to decrease. The reopening of restaurants and brick-and-mortar stores puts pressure on demand for online orders. Accordingly, e-commerce companies must adjust their expansion scale. China's long-term blockade also causes disruptions to the supply chain.

At the end of April, Amazon reported first-quarter revenue growth at the slowest pace in about two decades, as business activity in the e-commerce sector decelerated, operating expenses increased faster than sales. . Executives say warehouse capacity is outstripping demand and they are overstaffed in some areas.
Two weeks ago, Meta said it would suspend or limit hiring for mid- and senior-level positions. This announcement comes seven months after the company made a massive recruitment and investment to accelerate the development of the metaverse.
Meanwhile, Netflix in the first quarter of 2022 recorded a drop in subscribers for the first time and forecasted to continue to see losses. This information caused the company's capitalization to lose 54 billion USD in capitalization in just 1 day. Netflix says the reason is partly due to too many users sharing the same account and increasingly fierce competition.
Apple warned that a resurgence of the Covid-19 epidemic in China could cost it up to $8 billion in the current quarter, as the supply chain for iPhones and other devices is affected.
Many smaller businesses and startups go through worse than that. E-commerce companies eBay and Etsy recorded a rapid increase in sales during the pandemic. But, two weeks ago, they both forecast sales to fall in the current quarter, and their stocks have plummeted accordingly. In addition, investors are also turning away from electric vehicle startups like Rivian.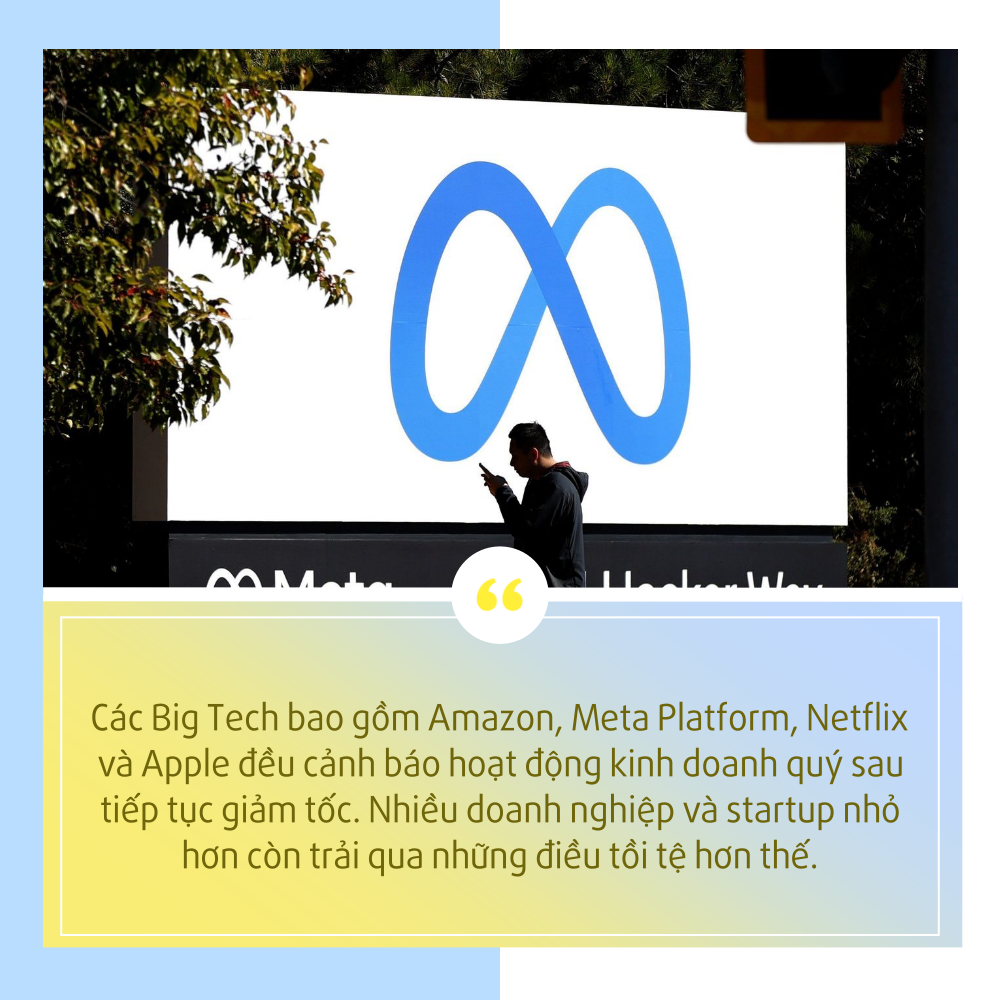 Recent layoffs have also occurred at a number of emerging companies such as fast-delivery startup GoPuff, investment platform Robinhood and video app Cameo. Other businesses are struggling to find talent despite slowing growth.
Will Price, founder and president of technology investment firm Next Frontier Capital, said:The battle for talent is really tough. They are seeing a slowing economy. They also see concerns about revenue forecasts. Moreover, they also lose staff 'to the hands' of competitors and current employees need to be paid 8-9% more per year to cope with inflation. It seems that companies are facing pressure from all sides."

Mark Stoeckle, CEO of investment firm Adam Funds, said:Investors want to take risks, and technology is the area that makes it easiest for them to do so. Many of these stocks are valued by future returns, not necessarily what we are seeing."
Some investors said they plan to shy away from certain sectors, like semiconductor designers or companies that have grown strongly in demand during the pandemic. They will look for opportunities in other industries.
Robert Schein, CIO of Palm Desert, of Blanke Schein Wealth Management, says that his firm is primarily focused on older tech companies that have solid balance sheets, rather than fledgling startups. little achievements.
Schein, like many investors, is concerned about how rising interest rates could affect stock prices. In general, investors are less willing to pay the "premium" on technology stocks when they have solid returns on government bonds. He added: "I'm not sure investors will buy as strongly as before if interest rates continue to rise."
Refer to WSJ