The ad, called Night Owls, promotes products as a Galaxy Watch 4, a Galaxy Buds 2 headset, and a Galaxy S22 phone, with an image of a young woman running at 2 a.m., wearing her ears. listen and cross the dark streets and alleys. At one point, she passed a man riding a bicycle on a deserted bridge.
While the young woman is running, the voiceover says: "Sleep at night. Run faster. Push harder. Follow the crowd. They are not for me, I run on a different schedule, my own."
Night Owls – Samsung advertisement
Earlier this year, Ashling Murphy, a 23-year-old woman, was attacked while jogging along a canal near Tullamore, west of Dublin, Ireland. Last year, the community was also outraged by the murder of two women, Sarah Everard and Sabina Nessa, also in the situation they were going to the gym alone.
"Running at night is not safe and that's the last thing I want to say to people trying to exercise." Jamie Klingler, co-founder of Reclaim These Streets, a community activism organization. "It's funny to see how bad this ad is."
It's hard to imagine a woman running at that time of night, Klingler said, and that makes Samsung's ad "unrealistic."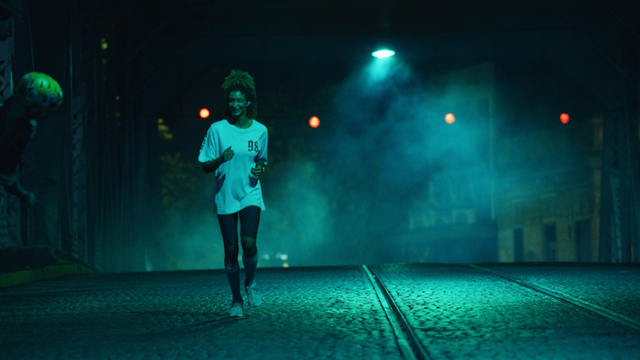 "My first reaction when I saw it was to laugh. The advertisement is completely unrealistic and completely futile"said Esther Newman, editor of Women's Running magazine.
"We have worked for many years on the safety issues of women running, and for the most part they have felt unsafe running, given issues such as assault and abuse in the real world. We know that women often think about stopping running because of this."Newman said. "Women feel unsafe having to run at any time of the day. And seeing a woman choose to run at 2 a.m. with headphones on, it's ridiculous."
This editor says that the advertisement does not provide motivation for running, instead "short-sighted, naive and funny".
Responding to negative reactions, Samsung said the Night Owls campaign was designed with a positive message to celebrate individuality and the freedom to exercise anytime, anywhere.
"We never intended to be insensitive to the ongoing stories surrounding women's safety. As a global company with a diverse workforce, we apologize for the way this may have been received." company representative said.
Refer Guardian

https://genk.vn/quang-cao-co-canh-phu-nu-chay-mot-minh-luc-2-gio-sang-samsung-bi-chi-trich-la-ngay-tho-202204290104316896. chn