Google is a very popular internet search engine for many years, perhaps everyone who uses the internet has been using this tool. However, Google seems to be putting revenue above quality, as many users find the tool to be getting worse and worse.
A group of programmers once proved this through a detailed analysis, but you don't have to be a programmer, you can even spot the bad things on Google just through normal use.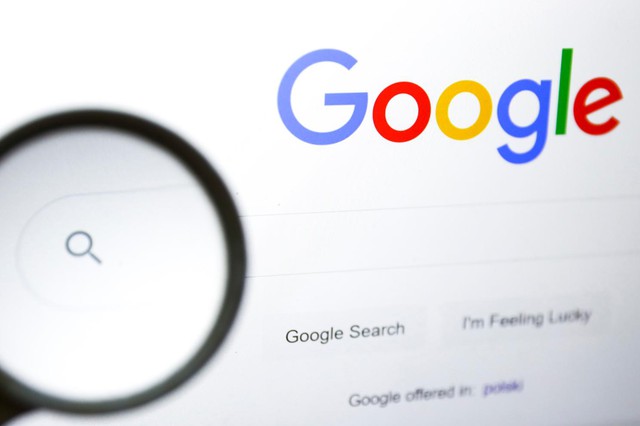 Search results from Google increasingly contain ads, spam sites are getting higher and higher positions by taking advantage of Google's algorithm.
Some experts say Google's search results are slowly becoming less useful and annoying, even as it remains the primary engine used by more than 4 billion people to search the internet.
"If you've been searching for recipes or product reviews lately, needless to say, you've noticed that Google search results are going bad."Dmitri Kyle Brereton, a software engineer and writer, writes in a blog titled "Google is dying."
Ads and Spam Content
For example, imagine someone working from home, looking for a new laptop.
If they go to Google and search for "best laptop for working from home", the ads from Microsoft, LG and Capital One will take up the entire screen.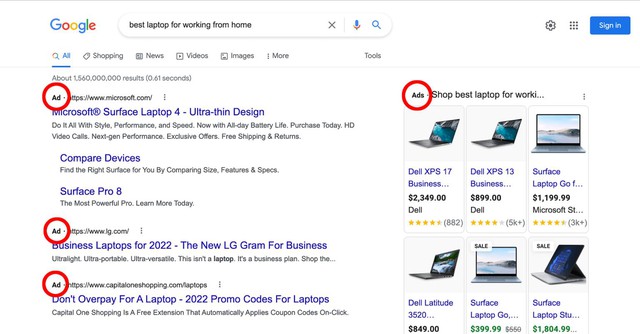 Scrolling down will see another Dell ad, and then the first unsponsored link, but it leads to a strange website called corporateshields.com.
The corporateshields laptop advice was written by an anonymous author named Patricia, and is itself filled with ads, the site appears to have fooled Google's algorithm by repeating keywords, including including the phrase "laptop" 155 times, "remote work" 14 times and "work from home" 10 times.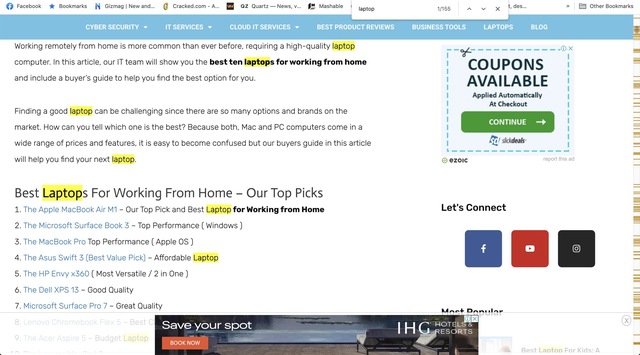 This process – known as search engine optimization, or SEO – can lead to confusing sentences that repeat key phrases.
Example of a website content: "Teleworking from home is more popular than ever, requiring a high-quality laptop. Their prices range from hundreds to thousands of dollars. So, how do you find the best laptops for working remotely?
Google's second, third, and fourth search results are also anonymous sites using the same keyword over and over again. There is very little chance that they were created by real writers for the purpose of sharing information, it seems that their goal is just to increase traffic by taking advantage of Google's system.
Breton wrote: "Some of the first non-advertising results are SEO-optimized web pages, filled with promotional links. To be fair, this could be an issue with any search engine, but as a leader, Google is expected to come up with a smarter algorithm."
In addition, Brereton thinks that Google is increasing the number of ads that appear in search results.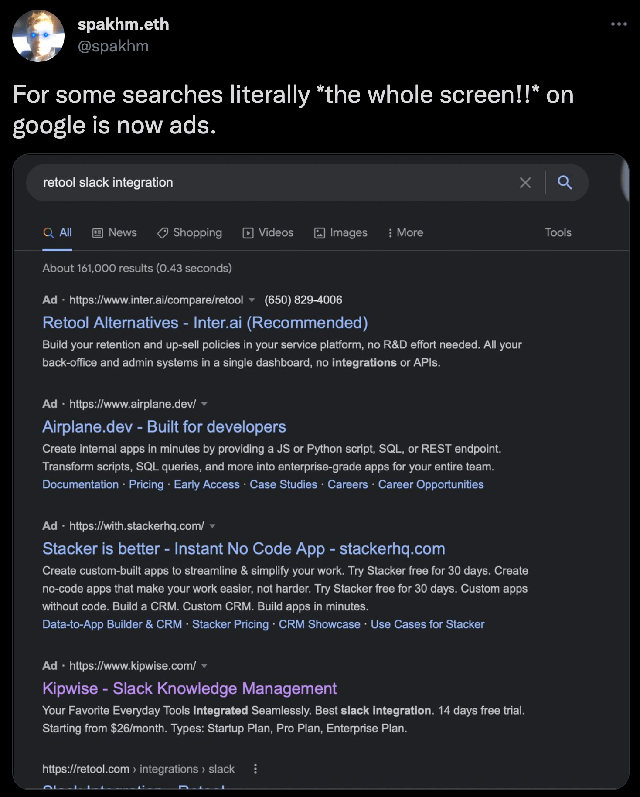 "Recently, they increased the number of ads to the maximum to collect every last penny before crashing"I said.
In a statement sent to The New York Post, a Google spokesperson argued that "The quality of Google Search has improved significantly over time."
"Every year, we make thousands of improvements to Google, and our testing provides clear evidence that these changes really make the search engine better for everyone.," added the spokesman. "Over the past seven years, we've reduced irrelevant results by more than 50%."
Google also says it has improved the way it ranks search results, including product reviews, and says ads haven't appeared on 80% of search results pages on average over the past four years.
Even Brereton admits that Google searches for actual questions – such as "What was the population of London in 1700" – to be "Absolutely amazing".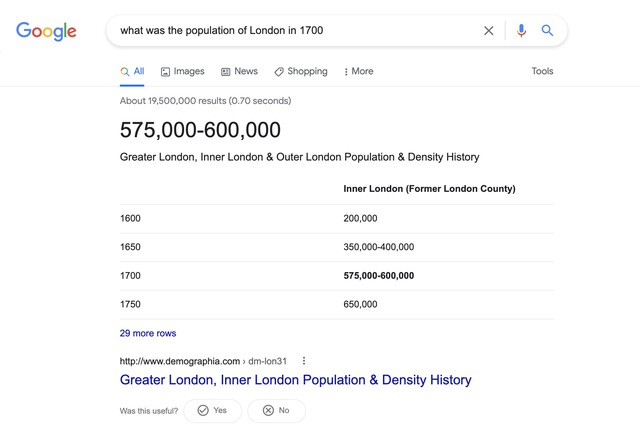 Brereton told The NY Post: "They built the best question answering system ever. But for everything else, like regular web results, that's where the problem lies."
The founders of Google, Larry Page and Sergey Brin, foresaw problems with advertising when they first created the search engine in 1998.
"We believe that ad-sponsored search engines are inherently biased towards advertisers and away from consumer needs,Page and Brin wrote in a 1998 paper while a graduate student at Stanford University.
However, Page and Brin still started selling ads alongside their search results in 2000, and Google's ad business has thrived since then. Google's advertising services — including from YouTube and third-party site ad placements — brought in a whopping $54 billion in revenue in the first quarter of 2022 alone.
Reddit "rescue"
Some users frustrated with the results from Google have found a way to get rid of the unwanted results, adding "Reddit" to the end of their search terms.
The name of the famous forum often appears in Google search suggestions.
"It's the only way to not have to find the answer in a post full of ads." a user commented.
"It actually gives better answers than Google,' said another.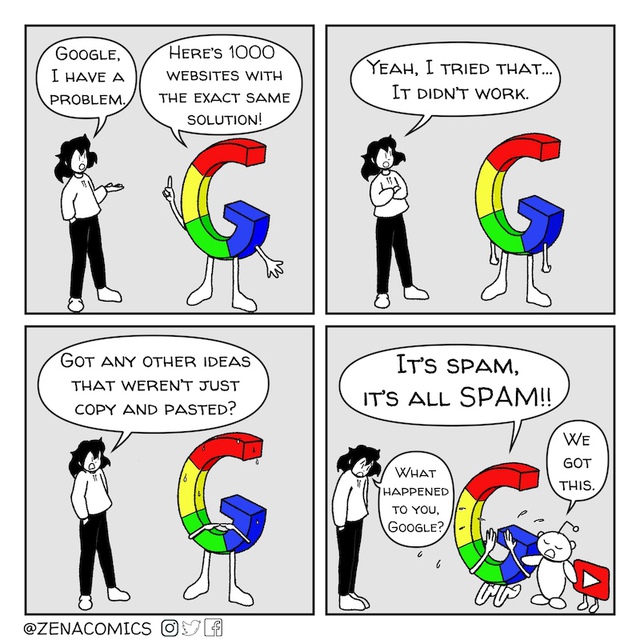 Brereton argues that adding "Reddit" to searches helps filter out "fake" results on the internet, such as spam sites. Google searches that include this word also typically have fewer ads.
Reddit spokesperson Courtney Geesey-Dorr declined to comment on Google but said that Reddit has upgraded search options on its own site.
Regarding alternatives to Google, Brereton told The NY Post that Bing and DuckDuckGo suffer from many of the same problems as Google, saying potential alternatives are sites called Neeva, Brave, and You. .com.
However, Google's grip on the search market makes it difficult for competitors to emerge, he added.
Reference: NYP

https://genk.vn/quang-cao-va-trang-web-rac-dang-giet-chet-google-search-2022050519425136.chn