Demand for high quality display experience

A high-standard picture is the premise for family members to continue to enjoy watching content on TV. Although the program's content is unique, if the conveyed image does not meet the expectations of sharpness, color and realism, it will more or less reduce the emotions of viewers.
Understanding this, Samsung has brought a step forward in display technology into the QLED 4K series with Quantum Dot technology that displays 100% of the color range and Dual LED backlight technology, delivering a breakthrough in color-tone optimization. content type. Since then, the image displayed on the screen has a clearer and more accurate contrast, allowing users to immerse themselves in unique and nuanced frames of real life.
With superior imaging technology, the QLED 4K Q60A delivers a truly immersive viewing experience that's crisp and clear in every detail. Photo: Samsung
QLED 4K also has light technology from Quantum Mini LED to help improve the maximum viewing quality for users. Specifically, the Quantum Lite 4K processor uses up to 16 different neural network models to optimize image quality to 4K resolution regardless of input quality. As a result, the TV model gives viewers the sharpest, most realistic cinematic frames.
Full entertainment needs
While images play the role of breaking through visual effects, sound is the "tool" to create viewers' emotions. Blockbuster movies are displayed sharp and realistic thanks to advanced technology, now optimized in terms of sound to help users become more immersed in the content being shown.
QLED 4K TV Q60A owns Adaptive Sound technology, which flexibly analyzes each scene on the screen to fine-tune the corresponding sound type. Users can freely choose different presentation content without worrying about how the emotional transmission of the sound will be limited or affected by surrounding noise factors.
Besides, for movie-loving members in the home, Object Tracking Sound technology on the TV will bring a world of true 3D surround sound right at home. Viewers can easily immerse themselves in the characters in the footage to clearly feel every detail and activity going on. In other words, when watching movies on the QLED Q60A TV, your family will be upgraded to a cinema-standard cinema experience.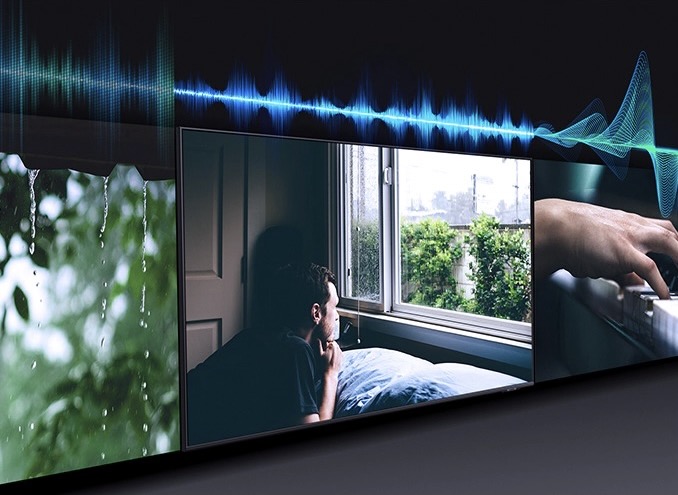 Elevate your listening experience with the QLED 4K TV. Photo: Samsung
For indoor gaming enthusiasts, QLED 4K also has Motion Xcelerator technology that automatically adds frames to make content smoother and clearer, limiting the phenomenon of "ghosting" on the screen. Combined with vivid sound quality, the matches will be more exciting and passionate, helping the game win rate to be increased.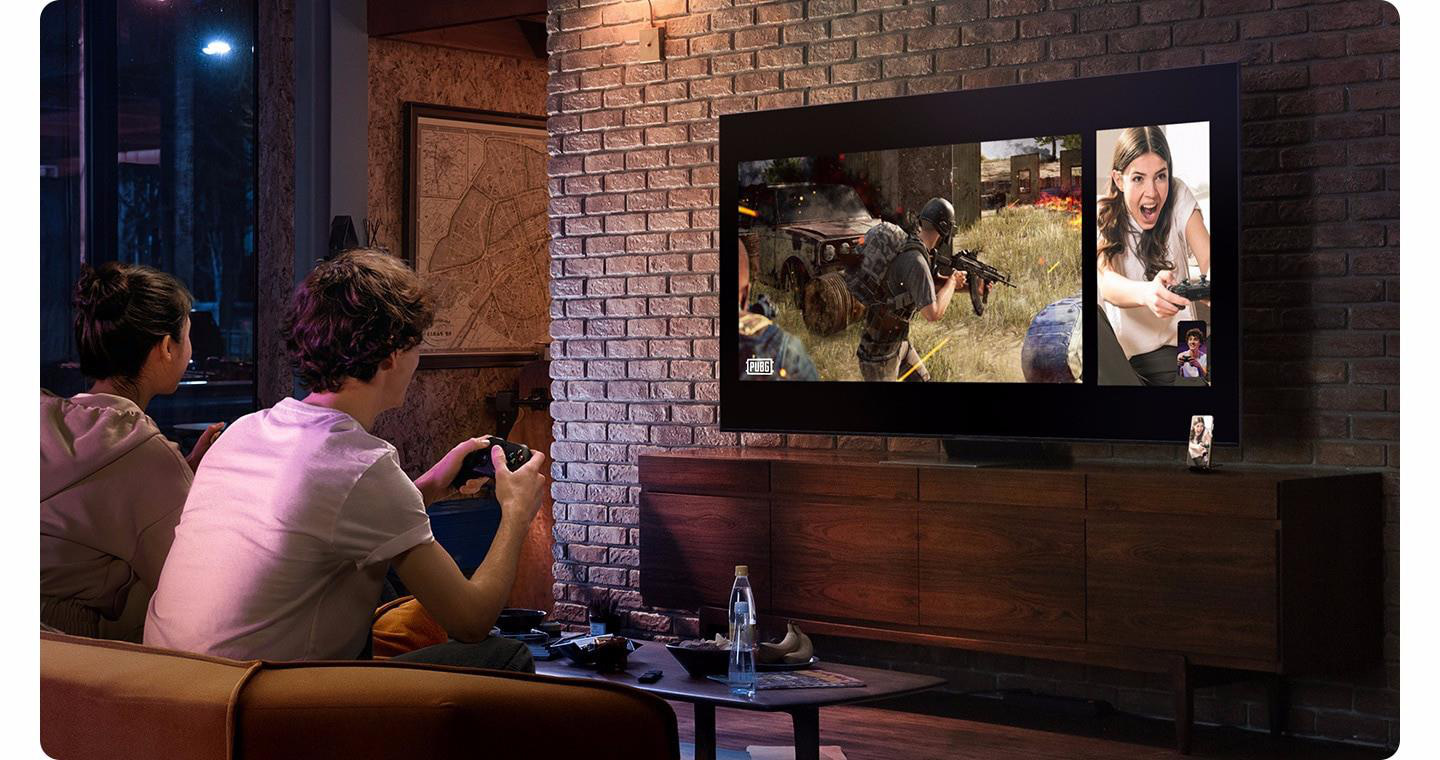 The Super Ultrawide GameView feature on the QLED 4K Q60A helps the view when playing games is maximized to observe space and opponents. Photo: Samsung
The need to raise the quality of life thanks to multitasking devices
In modern times, multitasking has become a way of life for many families as it allows performing and solving multiple activities at the same time with the help of technology.
The QLED 4K is the ideal multitasking device for any home, with its Multi View feature that lets you enjoy TV and phone content on one screen at the same time. With the ability to divide 4 frames, users can easily monitor one side of the work content, the other side is an educational program for children. From here, parents can both work and spend time playing with their children on just one TV.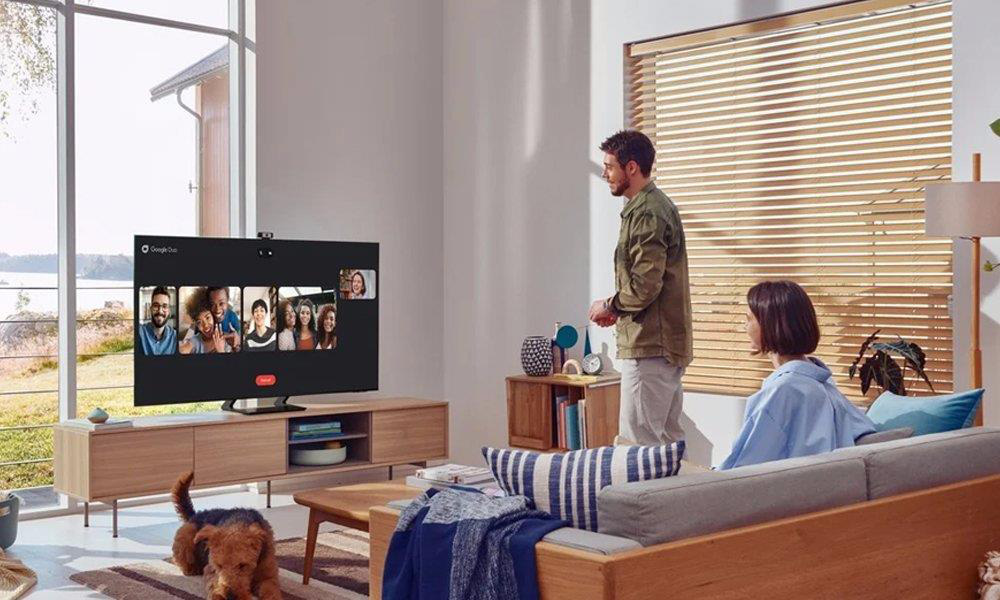 Home life is made easier with a multi-function display. Photo: Samsung
In addition to common interests, each family member will have their own favorite types of programs. Therefore, the Smart Hub entertainment store on TV with a variety of movie watching applications, international entertainment and exclusive Vietnamese programs will be a plus point to bring an effective relaxing time for the whole family after studying. – work stress.
Moments of entertainment with TV score points with an exclusive app store that allows previewing hot content and programs. Photo: Samsung
With modern features, the QLED 4K Q60A TV fully meets the required criteria for all the diverse needs of each family member. The TV is no longer just a pure entertainment medium, but a companion to connect family emotions and assist in solving work for users.
Readers can vote for Samsung 55Q60A QLED 4K TV in the best home TV category of Tech Awards 2021 organized by VnExpress online here.
.