For those who do office work, surely the image of a backpack is not too strange. Me too, because of the nature of my work, I carry a backpack most of the day and it contains laptops, cameras, tablets, chargers, cables, wallets… as well as many other miscellaneous things.
Because of this, I often tend to "leave" all the way on the weekends, which means no longer carrying a backpack but instead using a crossbody bag to store essentials like a camera, reading books, and more. wallet to make "chill" coffee only. This is a habit I started a few years ago, after years of walking along the street with my backpack to take pictures, now I feel it is very harmful to the spine and exhausting.
But why a crossbody bag and not another, like a stomach bag or a messenger bag? Here are some of the reasons that I discovered after a few years of use:
– Stomach bag worn across the waist easily makes my pants waist down.
– Stomach bags also make the body look bad, feel like the belly has fat… or at least it doesn't look very trendy.
– The capacity of the stomach bag is not large enough, the camera cannot be carried; and messenger bags are too big for weekend walking needs.
– The sling back crossbody bag is not new, it was designed a long time ago and is still made by many manufacturers until now. Compared to the capacity, it stands between the stomach bag and the messenger bag, so I can put enough things to go out, unlike the messenger which tends to be stuffed too much and causes shoulder fatigue because of wearing it on one side.
Some sling back bags I'm using right now:
And today I experienced another model from the tomtoc brand. Here are some pictures and a quick feel of it: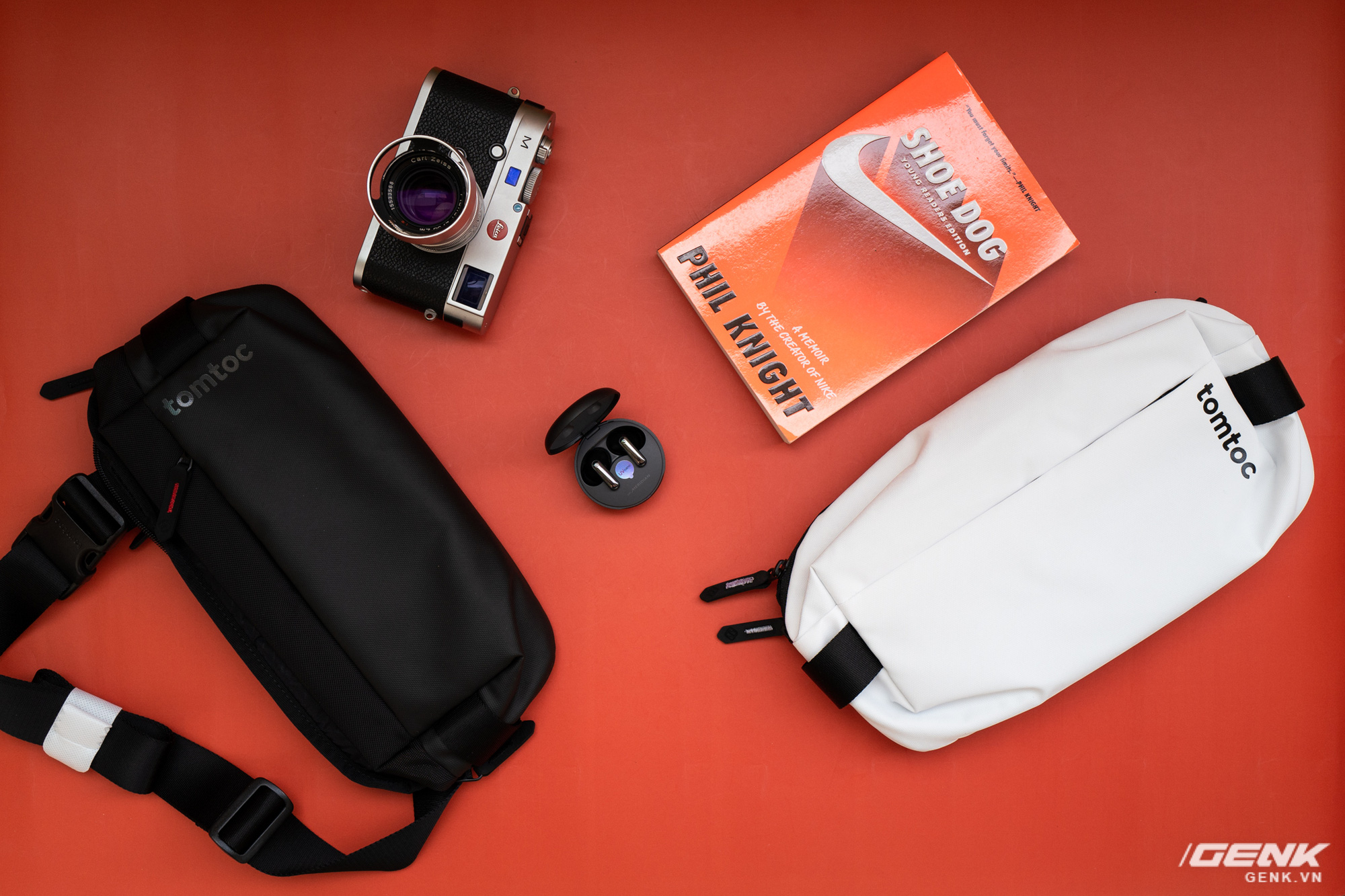 The size of the tomtoc Lightweight Codura Sling Bag is quite compact, slightly rectangular in shape, has a capacity of about 4.5L and is light at only 280g. The bag only has two colors to choose from, white and black, but under the condition of being used for walking, I still prefer to use black because it is less dirty.
The first impression is in this Cordura Ballistic Nylon material, which looks simple but is actually a high-quality material, providing certainty, durability and even water resistance, very suitable for conditions. weather in our tropical country. With today's times when technology is always attached to the person, a crossbody bag or backpack should be water resistant to avoid encountering unfortunate cases.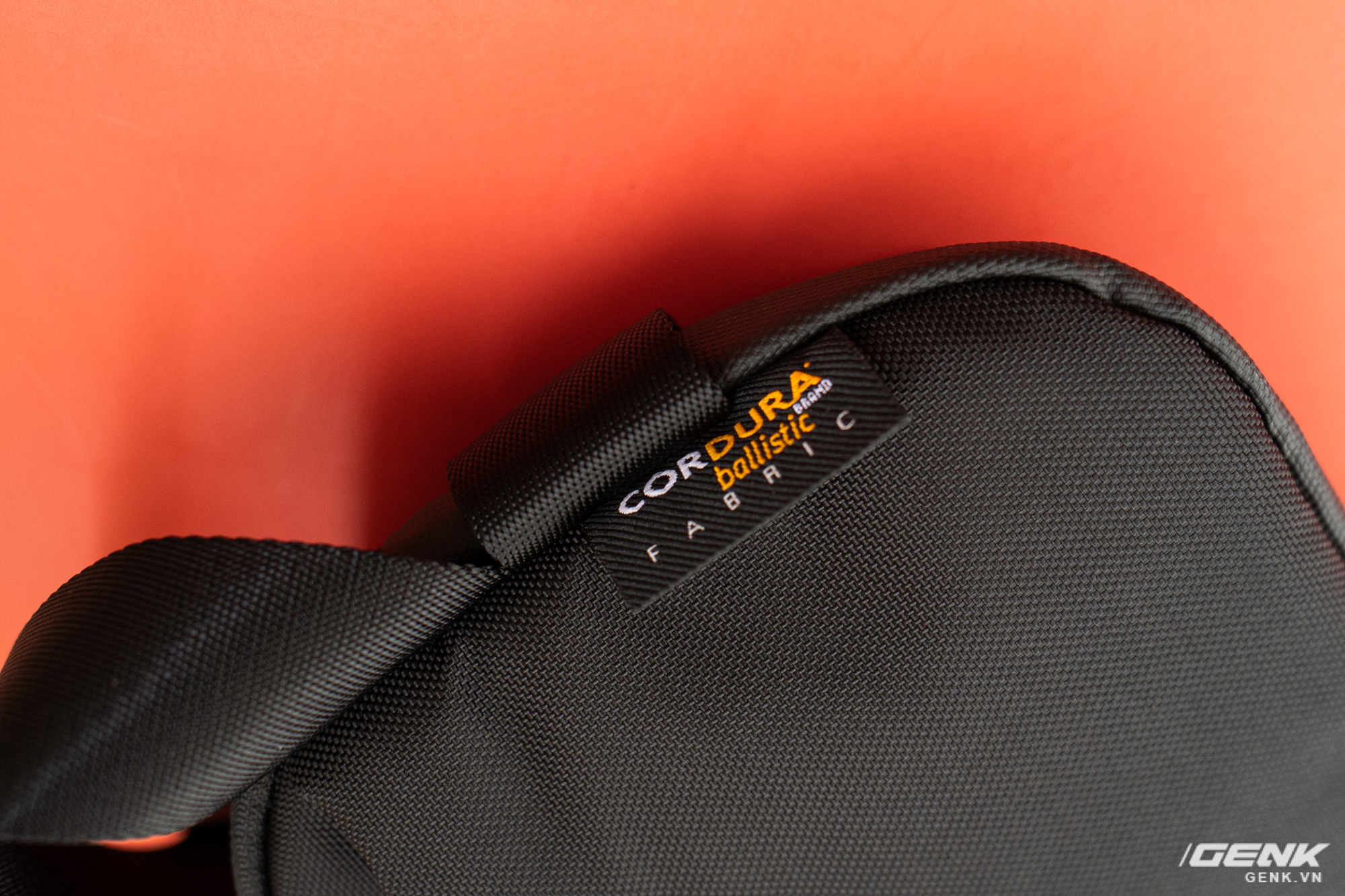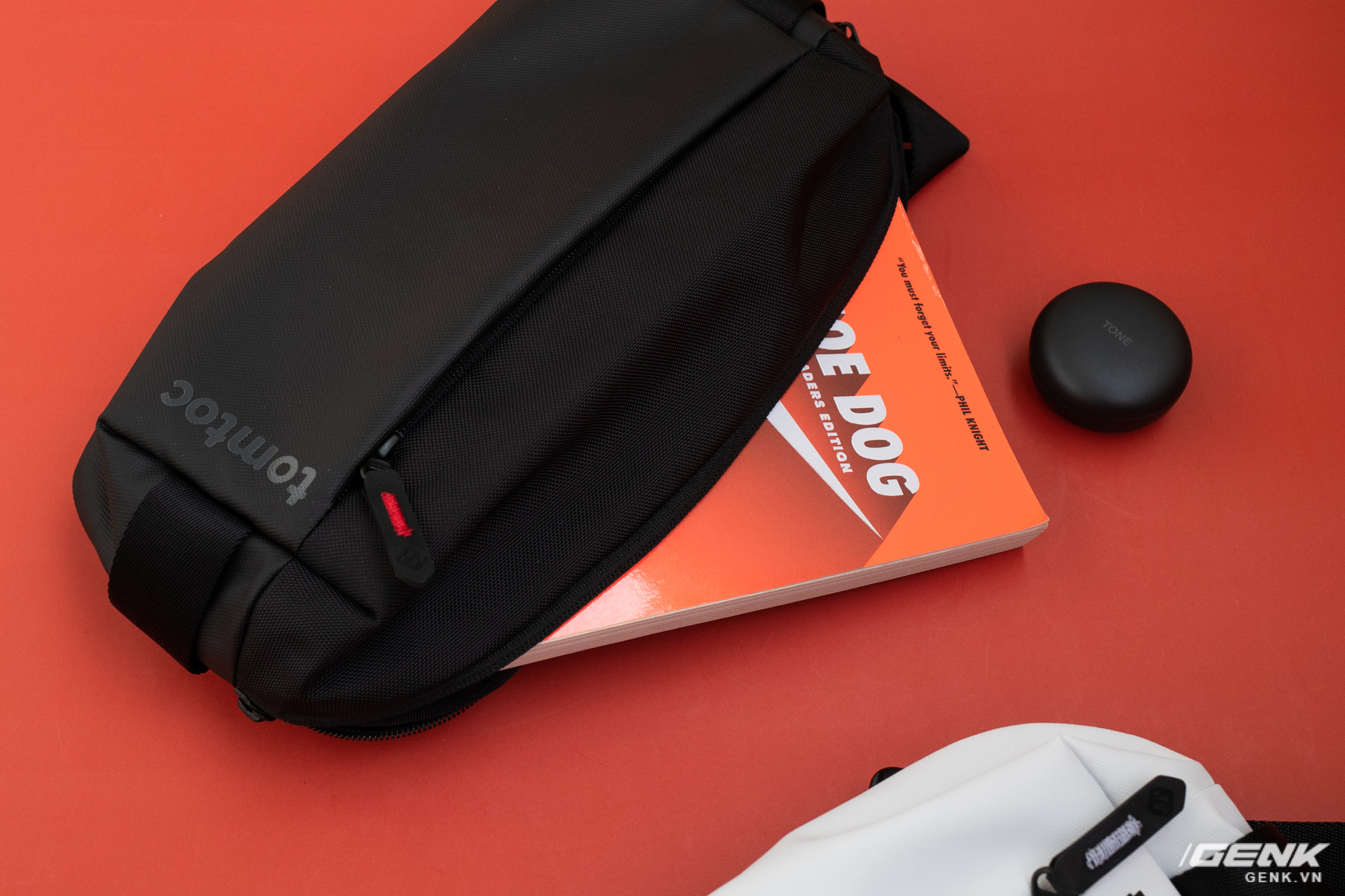 I myself often put my camera or book in my crossbody bag, so the fact that the bag is water resistant makes it more secure.
The bag has a total of 3 compartments, with the main compartment being divided so that we can arrange a lot of things neatly and take them out faster when needed. For example, I can put the camera in the largest compartment, the small compartments are often used for headphones, chargers, cables …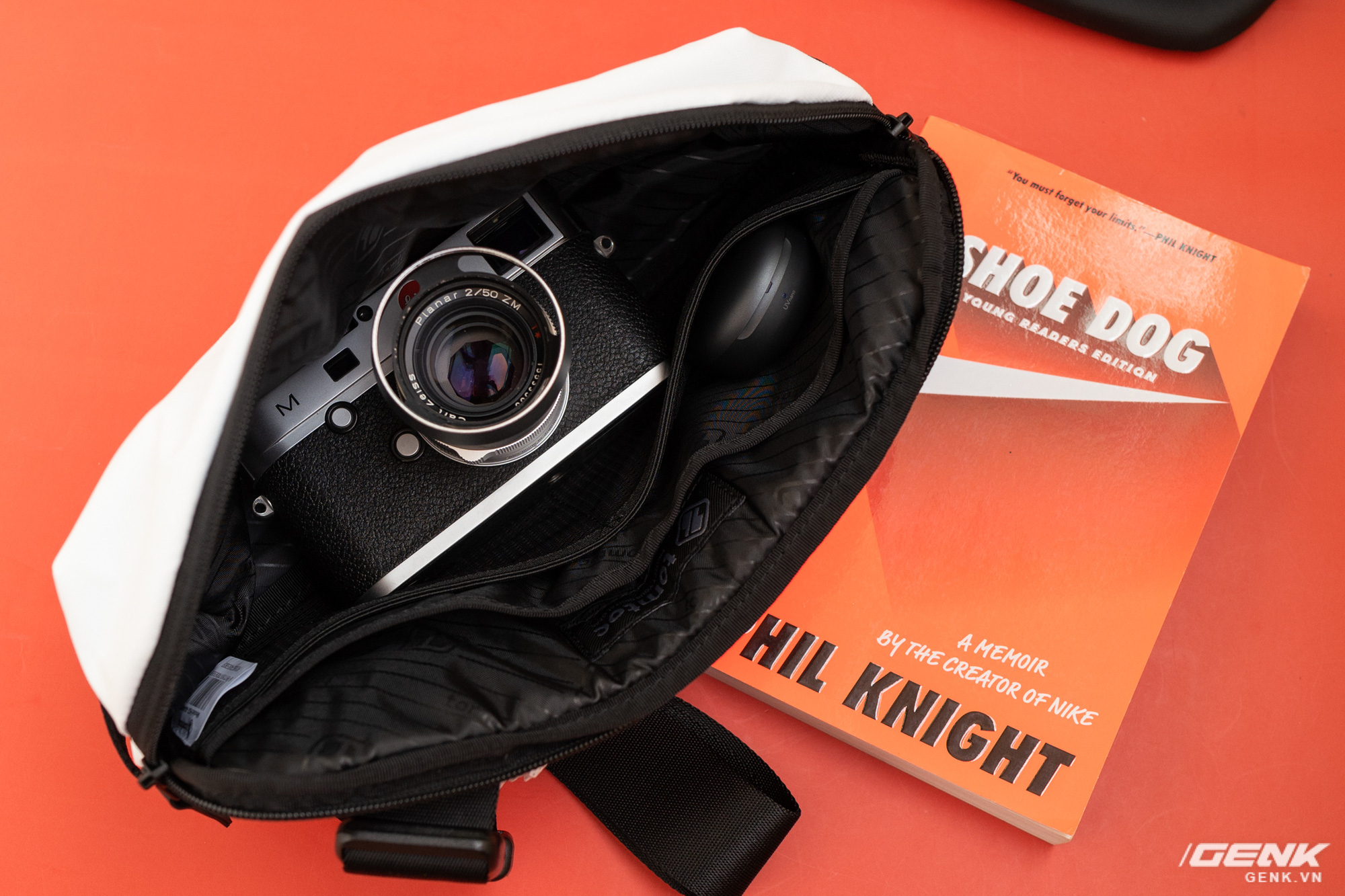 Inside is quite spacious, to fit a camera, headphone box and many other small things. All are divided into compartments so it is easy to arrange.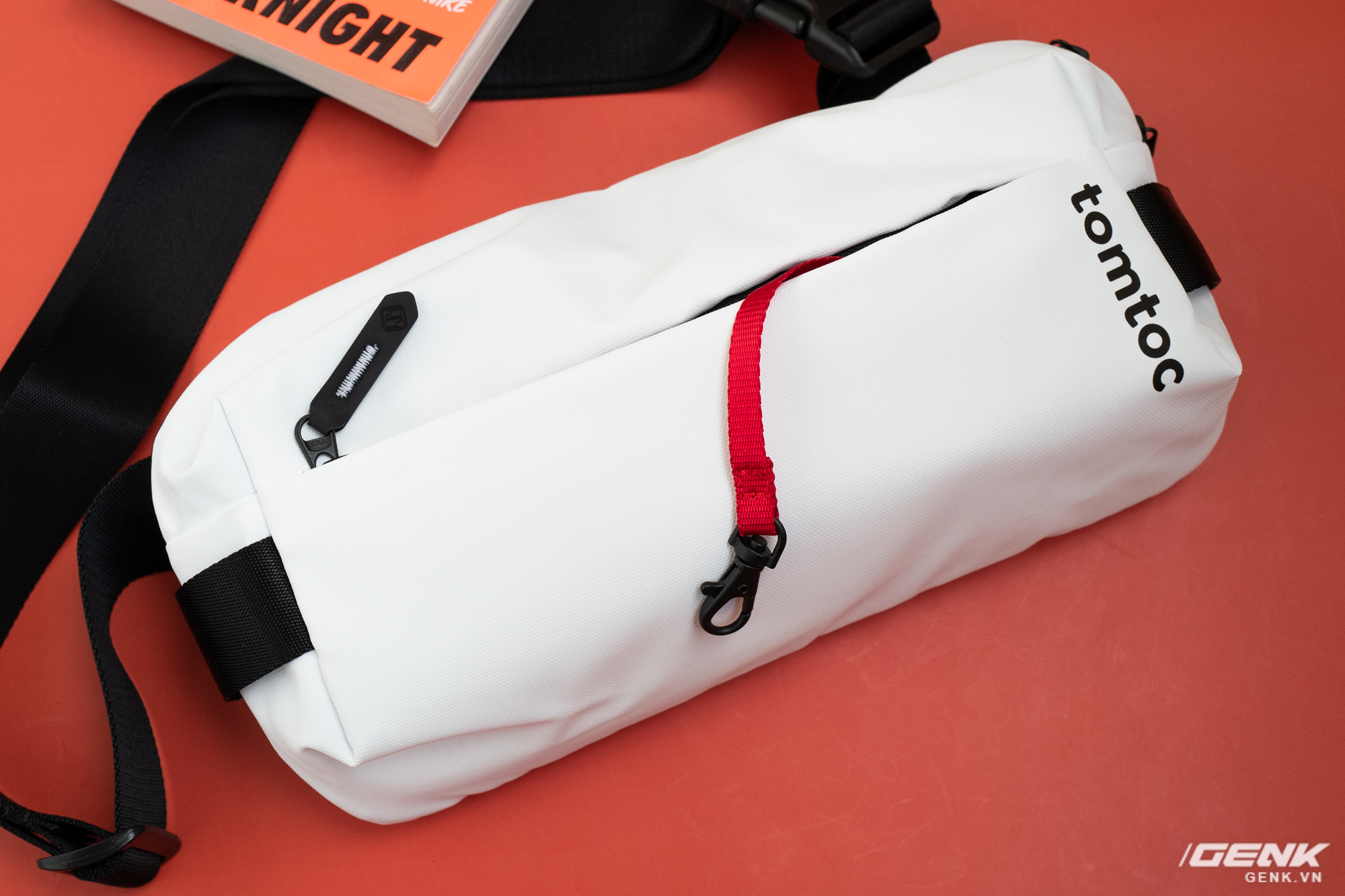 The front of the bag also has a compartment for keys or small items. The inside of this compartment also has a red string with a keychain, use it to hook your personal keys, to avoid slipping or falling out.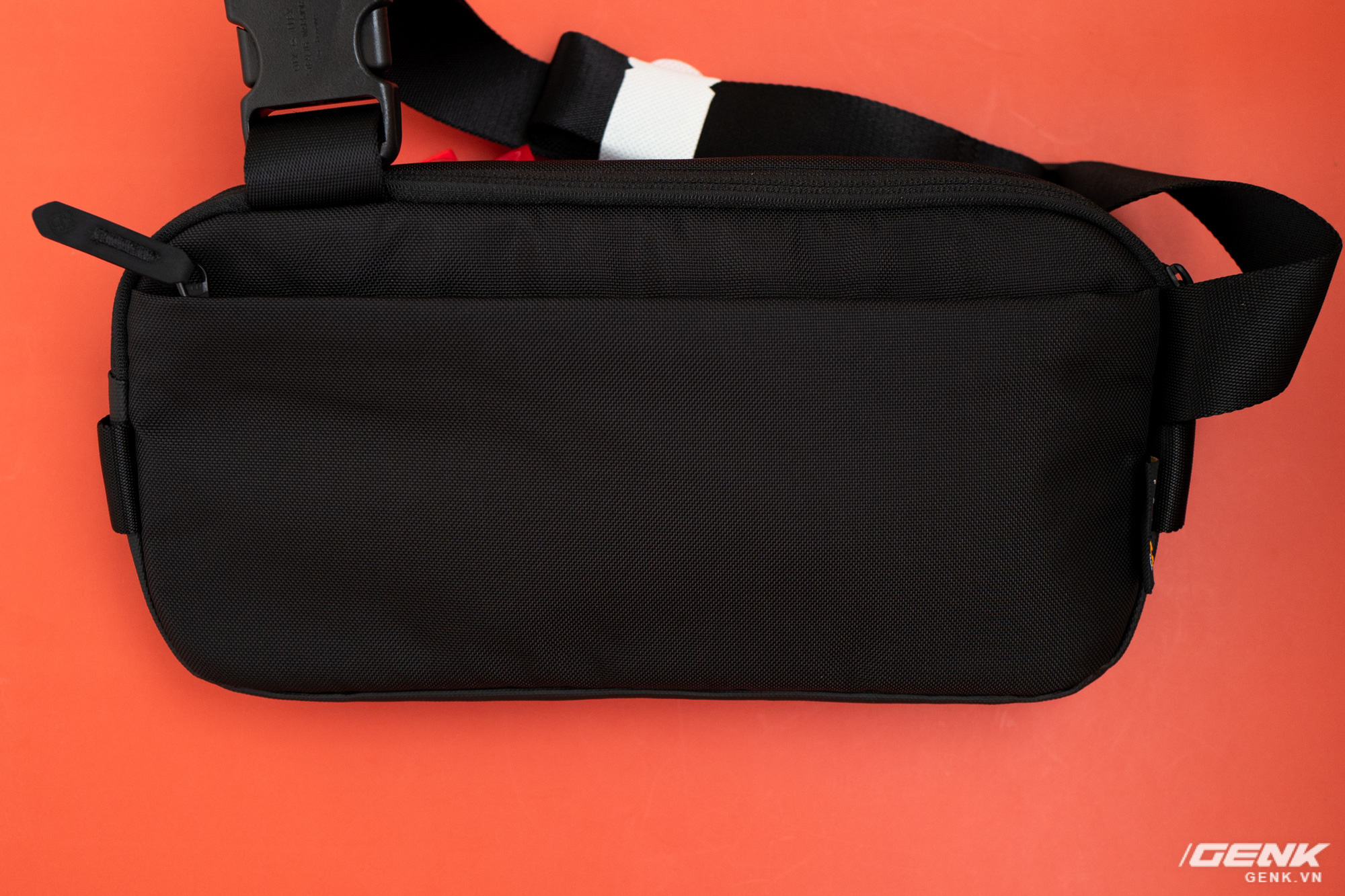 The compartment behind you can put your wallet or other important things, when worn on the back, it faces inward to avoid pickpockets.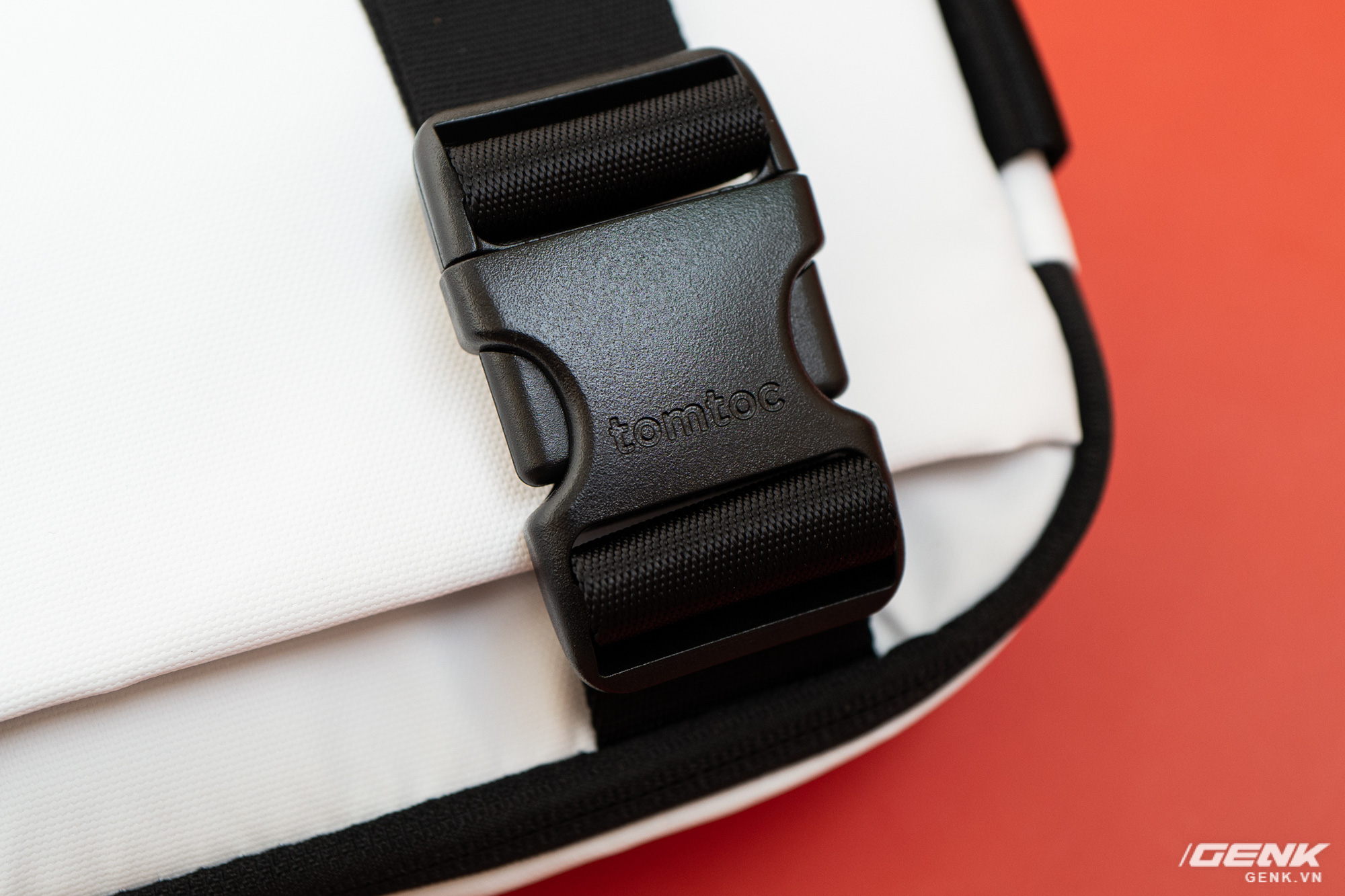 The paracord buckle looks big and sturdy, the tomtoc is engraved right here. One of the more reasons I like the sling back bag is that it has a buckle like that, which is very quick to get in and out without having to put it over the head.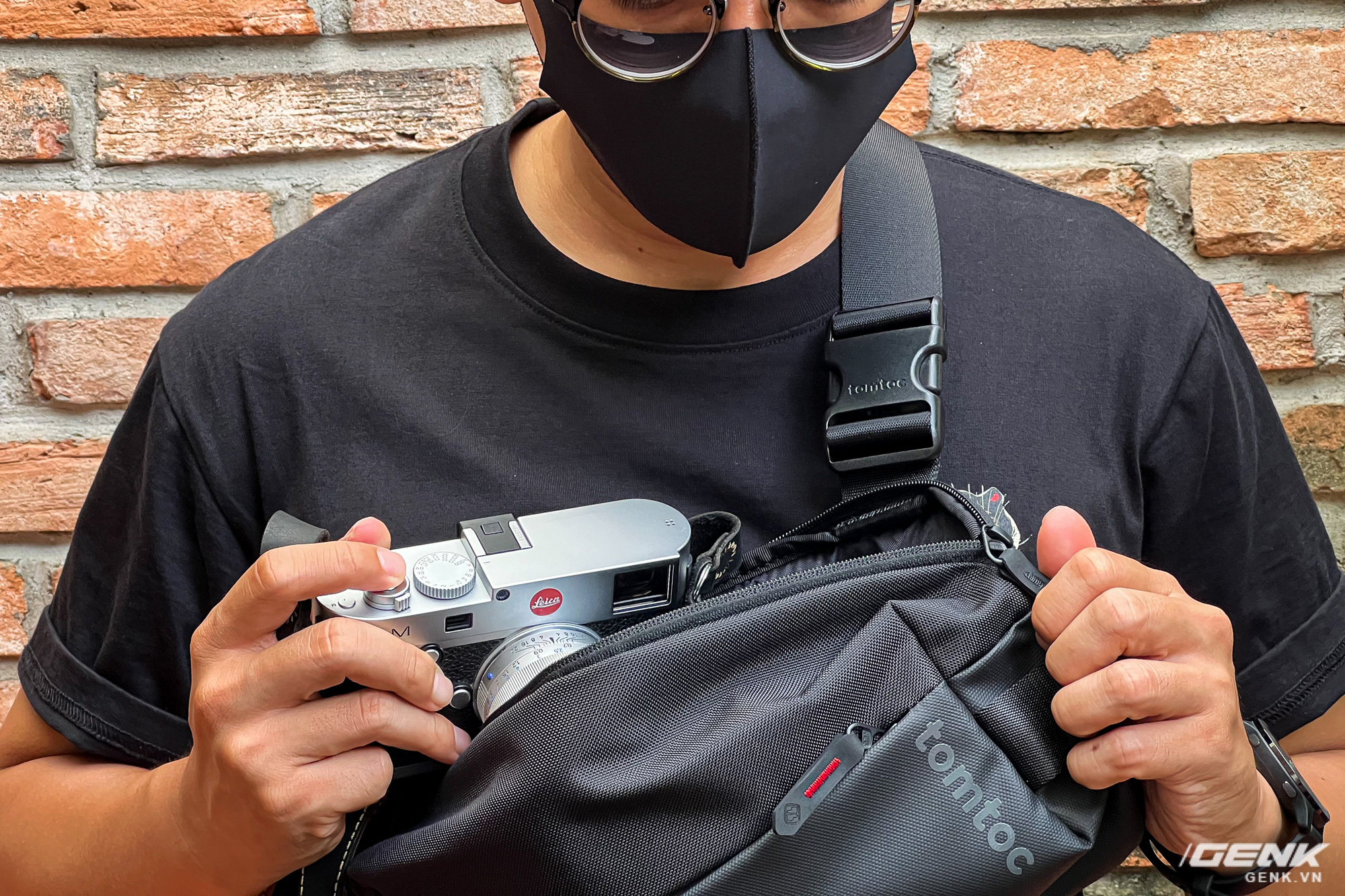 Moreover, using the sling back you can rotate the bag to the front to quickly access items such as keys, wallet, or camera, but not like a backpack, which has to be removed from the back and then retrieved.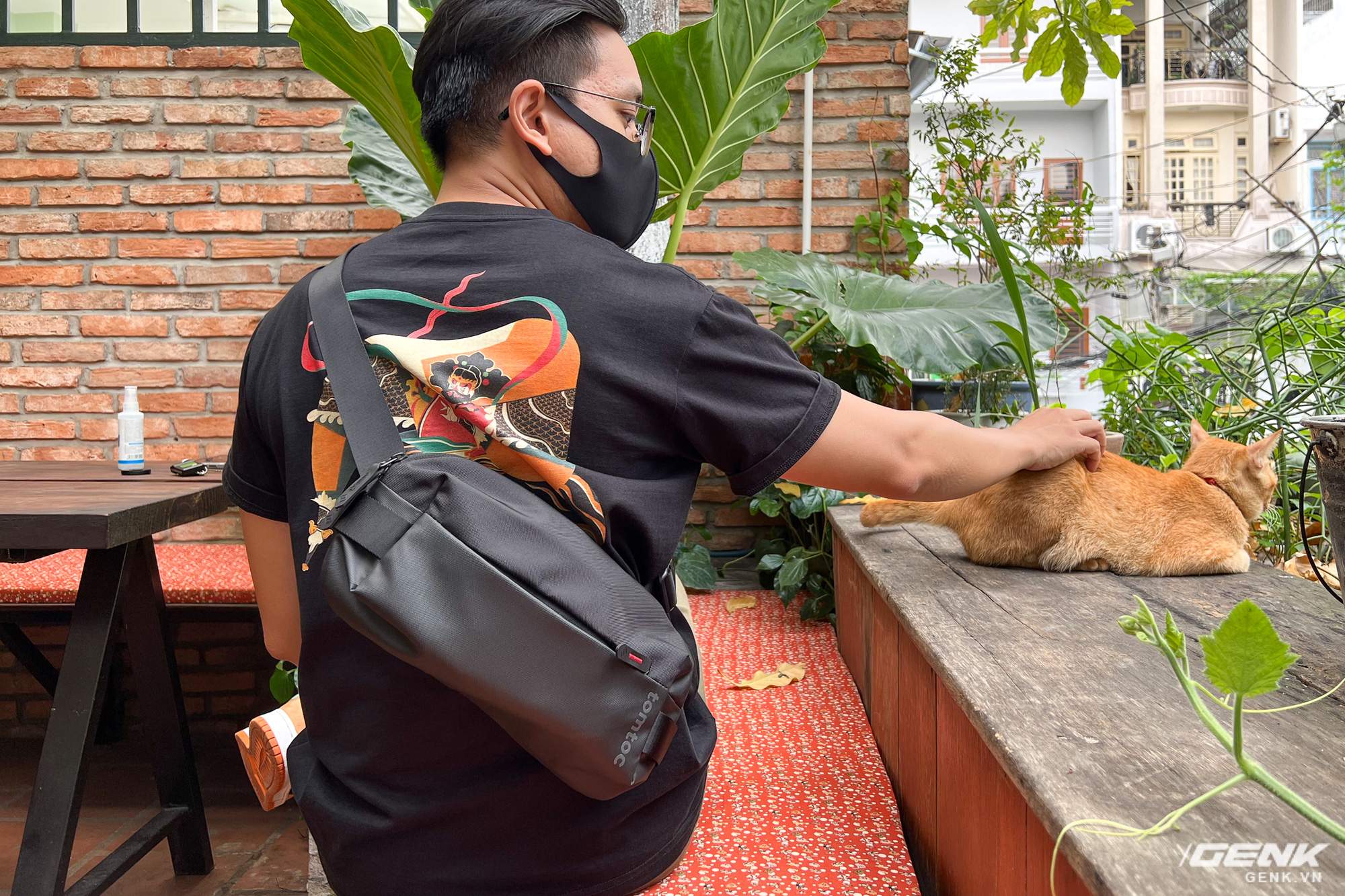 The strap is made of a large version, so it is not necessary to wear it, causing shoulder pain for a long time.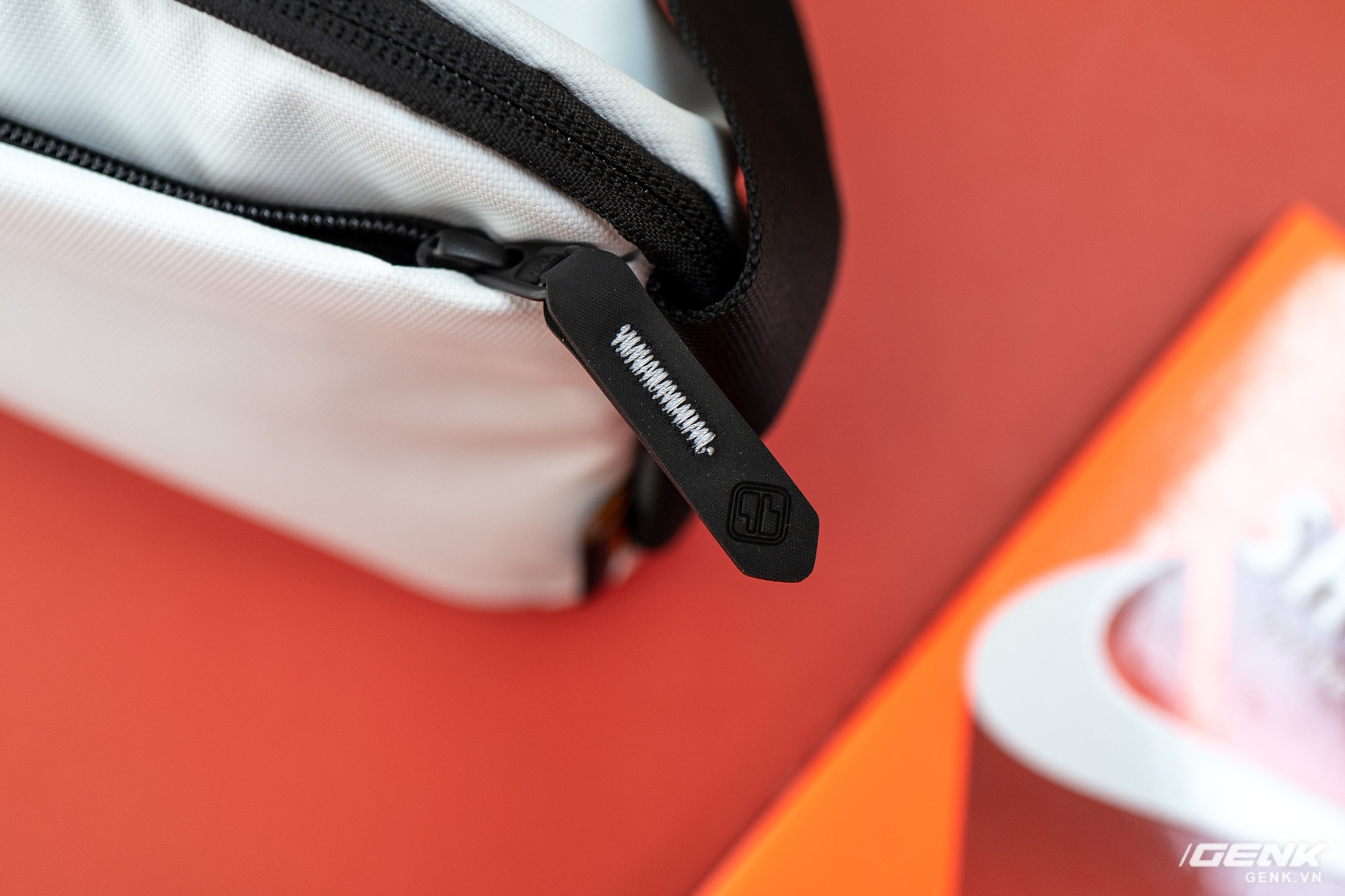 The bag uses a YKK zipper, but one thing I don't like is that the zipper is not waterproof, so some water can still get in if it rains too heavily or is out in the rain for a long time.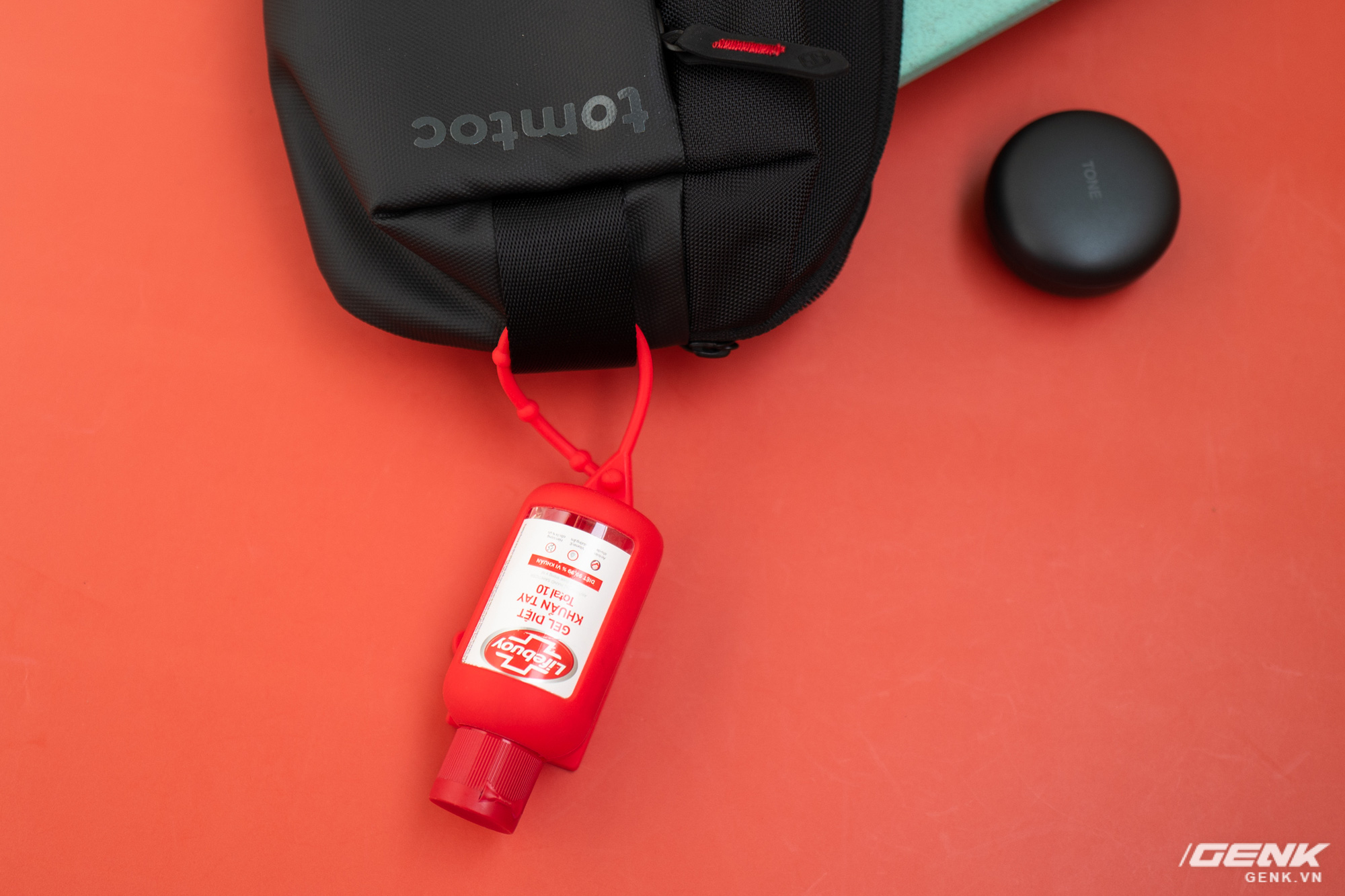 In addition, this bag also has a belt hook on 2 sides, I can use it to hang a bottle of hand sanitizer here, it's always very convenient to have when needed; or hang a cap is also very reasonable.
Currently tomtoc Lightweight Codura Sling Bag is on sale for 990,000 VNDIn general, this price is not high for such a convenient bag, with the advantage of many compartments and easy arrangement of things, besides being compact and suitable for coffee weekends, walking and taking pictures. or ride a bicycle.
Thanks to HD Accessories for helping us make this article.
.