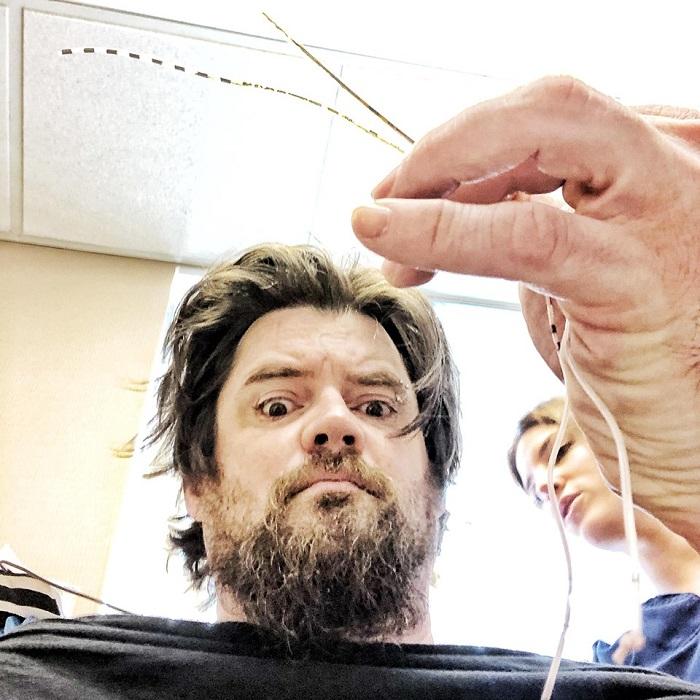 I joke around about becoming a cyborg. But I'm all for it. The best of man and machine, working in harmony. It's inevitable. It's evolution.
And now it begins.
Last week, on a trial-run basis, two smart wires were inserted into my spinal cord to see if they can mitigate severe chronic pain left over from a rare ligament condition in my arms, which has required multiple surgeries.
The rare bilateral genetic defect in my arms is due to there not being any grooves in the ulna bones to protect the ECU tendons and sheaths. Over time the sheaths deteriorated, the tendons were exposed, and they began to tear and cause excruciating pain.
I wasn't super-amped up about the trial as I didn't expect it to work. But I was definitely super-hopeful. I'm willing to try anything that will help me gain back some of the time and energy I've lost since the pain, the operations, and the medication began.
I have an awesome pain doctor who understands that I see him so I can work, not so I can sit on my couch all day and play video games more comfortably. Pills aren't great for you, but they've helped me continue some semblance of life.
To me, it's been better than the alternative of hurting so much that life feels less and less worthwhile. I went off the medication for a couple months after the last surgery, but it was excruciating.
You know how amputees have phantom pains years after their limb is gone? Pain will also develop a certain muscle memory, and if you suffer from it long enough it sticks with you despite the root cause being eliminated.
Now every month, as opioid regulations keep getting more restrictive and technology grows, my doctors and I revisit possible alternatives. When high-frequency neuromodulation first came out, it was a nonstarter for my situation. The procedure required having bulky batteries implanted under my skin. Welding machines and other industrial tools interfered with the frequencies used to block pain signals.
It was a big no-go for me unless I wanted to write full time, which, honestly, might be where I end up. But not just yet.
But with recent technological advancements, the neuromodulation procedure became a viable option for me by way of Stimwave, a wireless pain relief technology. Stimwave involves strings that basically have a computer chip and electrodes in them. They're powered wirelessly through a small controller, and frequency programs are changed with Bluetooth technology via a tablet.
There's an antenna involved too, but it's just like a 2- by 3-inch piece of fabric that I can wear. The company's clinical specialist, Jill Finch; my doctor, Ryan Pollina; and Aly Najarian, P.A., from Blue Water Pain Specialists were in constant contact with me throughout the weeklong trial, tweaking the programming to optimal performance.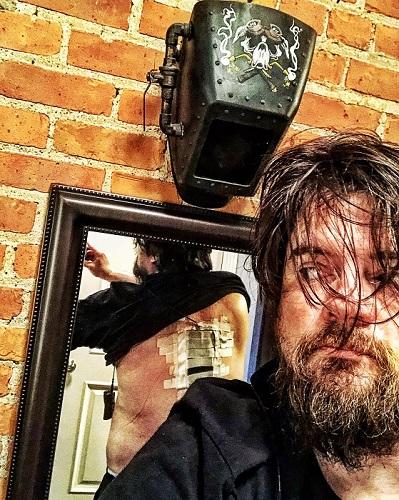 I'm not gonna lie. I was shocked at how well it worked. My arms felt light. My wife, Darla, asked how they felt, and I said good. She almost started crying, "I can't remember the last time you said that! If ever."
I gave it a test run and welded with it on. I broke out the Miller Multimatic 220 and did AC aluminum TIG at both 150 and 90 Hz, some DC TIG, and a little bit of short arc. Nothing seemed to interfere with either my welding arc or my internal frequencies. Good to go.
So now I'm getting it permanently implanted into my spinal cord on July 17. I have hope that, for the first time in a long time, I can live with a clear mind, and without pain. Stimwave still seems to be pushing the tech forward, so maybe there will be even less intrusive methods to tap the brain before too long.
And then maybe I can go full cyborg and shoot flames out of my fingers, or at least move objects with my mind.