Cloud
Cal Poly Launches Satellite Data Initiative
Cal Poly is working with Amazon Web Services to harness data from Low Earth Orbit satellites through the Satellite Data Solutions Initiative.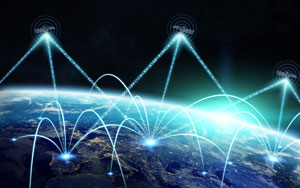 Researchers from the California Polyethnic State University are collaborating with Amazon Web Services for the Satellite Data Solutions (SDS) Initiative, a new effort that will harness data from Low Earth Orbit satellites through the use of AWS Ground Station to solve challenges. AWS Ground Station is a recently announced service that aims to make it cost-effective for customers to access satellite data using a fully managed network of ground station antennas located around the world.
The SDS Initiative is part of the Digital Transformation Hub that was formed by Cal Poly and AWS in 2017 to provide innovation guidance to public sector organizations and give Cal Poly students hands-on learning experiences. The initiative will address challenges related to forecasting natural disasters and assessing their impact, helping relief workers seek alternative access routes for delivering cargo or medical supplies, and weather tracking to alert ships and aircrafts.
"Imagine looking at an area affected by a tsunami, tasking several satellites to collect and transmit imagery to the cloud and analyze the data in near-real time to determine areas hardest hit, and then sending emergency responders to the areas in most need first," said Cal Poly CIO Bill Britton. "That's what makes SDS so exciting: the opportunity for Cal Poly faculty members and students to work hand-in-hand with AWS and other industry professionals to make a tangible, positive change to the world."
Students will also get opportunities to apply key data science and machine learning skills to real-world problems in the rapidly growing field of space technology, anchored by low-cost small and cube satellites.
More information about the Digital Transformation Hub can be found here.

Sara Friedman is a reporter/producer for Campus Technology, THE Journal and STEAM Universe covering education policy and a wide range of other public-sector IT topics.
Friedman is a graduate of Ithaca College, where she studied journalism, politics and international communications.
Friedman can be contacted at sfriedman@1105media.com or follow her on Twitter @SaraEFriedman.
Click here for previous articles by Friedman.