Detailed instructions for downloading and installing Microsoft Office 2016

1. Basic Functions of Microsoft Office 2016
1.1 General introduction
Office 2016 is the latest office suite with many powerful improvements in both features and interface to fully meet the needs of users, compatible on many platforms, including the latest Windows 10 platform. .
Office 2016 Professional Plus is a very handy office suite that has been used for many years. This kit is for all whether you are a student or a professional working in an organization.
Office 2016 Pro Plus has got new functions and tools that will allow users to organize their workflow and will increase their productivity. This package includes MS Excel which is used for budget calculations or for financial purposes.
It also has MS Word which is used to create simple text documents. With MS PowerPoint, you can easily create presentations with various slides and effects. This handy suite is handy for students and professors allowing you to create impressive documents, presentations, and spreadsheets.
1.2 Office 2016 Features
A complete productivity suite
Supports processing of all document formats
Use rulers and other tools to process documents
Change the layout and other details of the document
Manage email accounts and databases
Various templates for a quick start
Create eye-catching documents
Various transitions and effects for presentation
Add media files to documents
Manage email with Outlook
Support database management
Perform complex spreadsheet operations
Ribbon based user interface
Create eye-catching presentations
Handling various details of documents
Ink replay: To better understand what's behind the ink you see on a PowerPoint slide, click Draw → Ink Replay to rewind and replay the ink. Use this feature to follow a sequence of handwritten notes and drawings, review step-by-step instructions, or see the order in which someone else marks up slides.
Better audio recording: In PowerPoint, you can add a Recording tab to the ribbon, create a presentation of recorded slides, record screen, video, and then share to Docs.com to view from distant.
You can also embed quizzes to aid distance learning and make your presentations more interactive, and change the ink color right from the palette in the notebook window.
Accessibility built right in: In Outlook, Microsoft Office has improved the keyboard and upgraded assistive technology for reading emails, scheduling meetings, and being able to add signatures.
New data transformations and connectivity enhancements: In Excel, add parameters to your queries, or create new queries from Merge or Append operations.
1.3 Office 2016 suite includes
Microsoft Word 2016
Microsoft Excel 2016
Microsoft Outlook 2016 with Business Contact Manager
Microsoft PowerPoint 2016
Microsoft OneNote 2016
Microsoft Access 2016
Microsoft SharePoint Workspace 2016
Microsoft InfoPath 2016
Microsoft Publisher 2016
Microsoft Office Web Apps
Microsoft Lync 2016
Skype for business
2. Configure to install Microsoft Office 2016
CPU: 1 (Ghz) ​​or faster processor with SSE2 setup instructions.
RAM: 1 gigabyte (GB) RAM (32-bit), 2 gigabytes (GB) RAM (64-bit).
Hard Drive: 3.0 gigabytes (GB).
Screen: DirectX10 and 1024 x 576 resolution.
Operating system: Windows 7, Windows 8, Windows 10, Windows Server 2008 R2, or Windows Server 2012.
.NET version: 3.5, 4.0 or 4.5
Multi-touch: A touch device is required to use any multi-touch functionality. However, all features and functions are always available using a keyboard, mouse, or other standard input device. Note that the new touch feature is optimized for use with Windows 8.
3. Instructions for downloading and installing Microsoft Office 2016 software
First, please determine if your windows is 32 bit or 64 bit by the following: "You just need to right click on the icon My Computer on desktop >> then select Properties and see" as if the operating system I am using is windows 10 pro 64 bit.
Step 1: Download Microsoft Office 2016 software here: https://bit.ly/2CUzBkm
Step 2: After downloading the Office 2016 installation, click on the file Setup.exe to install.
Step 3: Next, choose the installation method as follows:
Install is that you install all the software in this office suite
Customize is that you can choose to install certain software such as word, excel, powerpoint ….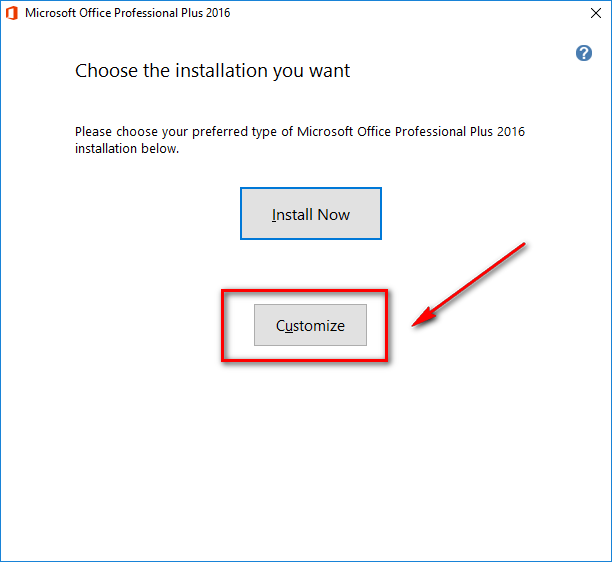 Step 4: Here I choose Customize
Step 5: Keep the apps you want to install, and those that don't, choose Not Available. Then press Install Now.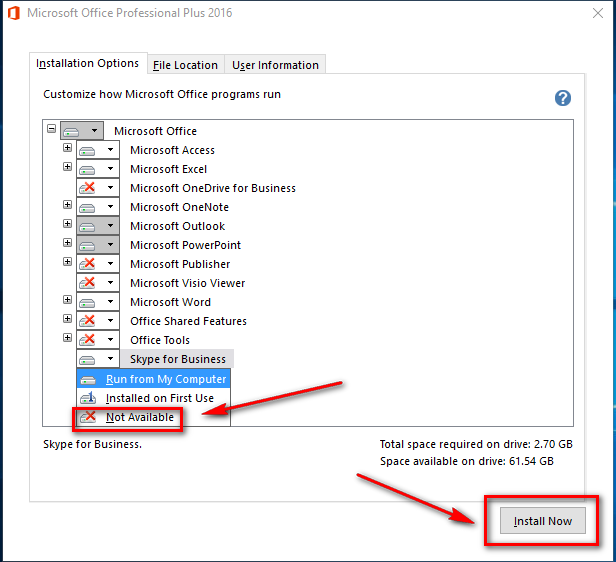 Step 6: Then press OK To confirm.
Step 7: After the installation is complete, click CLOSE to finish. Thus, the software in the Microsoft Office 2016 suite has been installed completely. Now just open it up and use it
Conclusion
So, just a few basic steps, you can install the software in Office 2016 yourself. Wish you successful operation.
.

=============