Submitted by WET Science Center
The WET Science Center is here to help support home science learning with our social media posts and At Home Bingo game. We love seeing the fun you're having at home, so be sure to tag us on social media or email us at [email protected].
Do a Daily Science Activity
Visit our Facebook or Instagram Monday through Saturday for a new 9 am science activity post designed for elementary to early middle school age students. Activities will feature a different theme each week. From science experiments to nature walks, everything you'll need can be found in your home and done anytime!
This week's theme is World of Wastewater. Explore wastewater with home activities and videos from local wastewater professionals. People at LOTT Clean Water Alliance are working hard to clean up our communities' wastewater!
Share with us any of the science activities that you do by tagging us on social media or emailing [email protected] All Thurston County residents who share their science activities with us will be entered into our weekly raffle. The prize this week is Mad Scientist Mad Libs!
Play At Home BINGO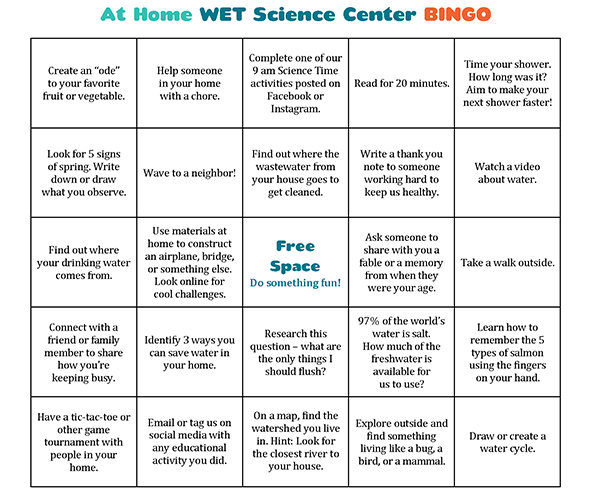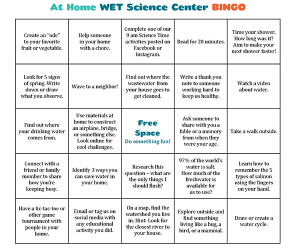 Who likes to play bingo? We have a special WET Science Center edition to get you thinking about nature and learning about water. Download the bingo sheet at wetsciencecenter.org/bingo to get started. Email us if you'd like a printed version of the bingo card.
When you get a BINGO or BLACKOUT, send a photo to [email protected] or mail it to:
WET Science Center
500 Adams ST NE
Olympia, WA 98501
We'll send you a small prize for doing an awesome job!
We miss seeing our curious and excited WET Center guests and would love to hear from you! Let us know what programs or activities you would like the WET Science Center to offer. Want to keep up to date with our activities and learn more about us? Be sure to visit our website.

===========
Website source