Jarrett Guarantano was largely a spectator for the routes-on-air period early in Tennessee's light practice on Saturday afternoon.
There's not anything wrong with Tennessee's starting quarterback, but the competition for the backup job in this instance took precedence on adding a few more throws to the redshirt junior's pitch count heading into the 2019 season.
Redshirt freshman J.T. Shrout and freshman Brian Maurer simply can't get enough reps this month, whether it be in warm-up drills like routes on air, 7-on-7 pass skeleton periods or 11-on-11 team sessions. Neither has taken a snap in a college game, and they will go into the season one snap away from becoming Tennessee's most important player. Both are still relatively early in their developmental progressions, too.
Second-year Tennessee coach Jeremy Pruitt had good things to say about the young quarterbacks after Saturday's practice, though his review also included some critiques you'd typically hear with a freshman at the position.
"I think both guys, they need experience," Pruitt said. "They both have really good arm talent. Brian can run around really well. Probably when the play breaks down, he can extend and hurt you a little bit with his feet there. They've got to quit throwing the ball the other team. They've got to take command of the offense when they're out there. They've got to understand situational football.
"We're throwing a lot at them, and both of them are doing a really good job competing every day."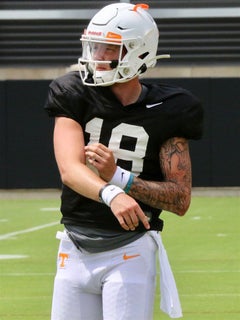 More important than any separation in the competition between Shout and Maurer is how much the Vols need to do everything in their power to get them ready as possible for the season.
Tennessee certainly will hope its pass protection woes from last season have been cleaned up by individual improvement on the offensive line, Guarantano's growth in setting protections and the new offense with first-year coordinator Jim Chaney, but the reality remains Guarantano was knocked out of three games in 2018.
"You have to have someone you can put on the field and trust to be able to execute the offense, see what happens," Chaney said earlier this month. "There will be some good competition there. I think it's important."
Tennessee last season could turn to an experienced graduate transfer in Keller Chryst as its backup quarterback, but the Vols this fall will have to turn to one or both of youngsters Shrout and Maurer should something happen to Guarantano.
There's an inherent concern there, but the good news is the Vols have seen some encouraging signs from Shrout and Maurer through a little more than a week of practices.
"They've created a lot of plays, both of them have," Pruitt said, "so we've just got to continue to coach them up, and they've got to keep working hard to improve every single day."