A hotel at the southern entrance to Ketchum is a fine idea, residents told the city's Planning and Zoning Commission during a special meeting Monday—but, they said, the 100-room, 72-foot-tall structure that's proposed is way too big.
"This is an entry to a town we all love," Ketchum property owner Susan Sahlberg said.
The planned development by Provo, Utah-based PEG Cos., would cover 135,000 square feet on the one-acre property, known as the Gateway parcel, in Ketchum's Tourist zone. It is at the corner of Main and River streets, adjacent to Trail Creek.
The proposed hotel would be part of the Marriott group, and would include 30 beds for employees, a rooftop bar and a ground-floor restaurant.
In early June, PEG asked residents to weigh in on the proposed hotel via an online survey.
"We're sensitive to involving the community. … It's important to me you guys are heard," PEG Senior Development Manager Nick Blayden said at the meeting Monday.
AJC Principal Architect Justin Heppler echoed Blayden's sentiment.
"We're good listeners," he said.
The proposed hotel is seeking four waivers to begin development, including a decrease in the front setback on River Street from the normally required 15 feet to 5 feet, an increase in floor-area ratio (the ratio of total floor area to lot size) from 1.6 to 1.9 and a waiver to build on one acre of land instead of the three acres minimum. The most controversial of the four, however, is a height/story waiver. PEG is requesting an increase in height from the 35-foot maximum in the Tourist zone to 72 feet.
Ketchum code allows those minimums to be waived for hotels.
Public opinion was generally in favor of hotel development at the Gateway site, but not in its current form. Major issues identified were traffic, height, parking and light preservation. Some residents expressed concern about the quick pace that the hotel application is following.
About 10 members of the public provided comments at Monday night's meeting.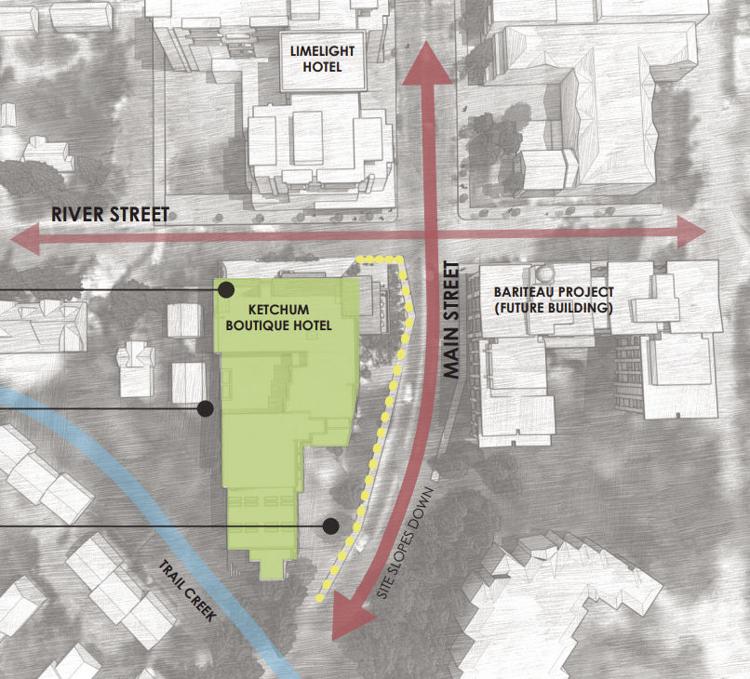 "Parking is a serious issue and has changed dramatically since the Limelight was built," said Ed O'Gara, a Ketchum resident who said he was closest to the project as a homeowner. "There is not adequate hotel employee parking [in the hotel proposal]."
Ketchum-based lawyer Ben Worst captured many of the attendee's thoughts in his comment, eliciting applause from the audience: "The project is not harmonious with [my client's] property."
Worst said there is only a single parking space for the restaurant.
"You can ask for more than that and require meaningful setbacks and preservation of light," he told the P&Z. "You have a duty to protect public health, safety and welfare."
Bob Korb, a River Street resident who shares a common boundary with the hotel site, said, "I'm opposed to the extent of the waivers the hotel is asking for and expecting, but I'm not opposed to a hotel. [However,] a massive hotel will block all sunshine and light from the east to my property."
South Leadville Condo owner John Sahlberg lightened the mood, commenting that "math is hard—but 72 feet is not four stories."
The meeting was preceded by a site visit, where attendees—including employees from AJC Architects, the Salt Lake City-based firm designing the hotel—got a first peek at the proposed hotel through the lens of virtual-reality goggles from two angles.
Ketchum property owner Robert Adolph said during the P&Z meeting that "there were notably no virtual reality views from the residential south, west and east," and suggested that the hotel could have "65 or 70 rooms instead … [and] off-site employee housing."
A traffic study conducted by Hales Engineering found that the hotel would generate 704 total daily trips on state Highway 75 (Main Street), which is 352 trips entering the site and 352 trips exiting it each day. There would be no access to the hotel directly from Highway 75—all access would be to River Street.
Without mitigation levels in place, Hales Engineering projected that with existing traffic conditions plus the project during the evening traffic peak, River Street would have excessive delays. Though there is still much that remains to discuss, the P&Z approved the hotel floodplain development and waterways design-review permit with conditions to protect Trail Creek and moved to recommend approval, with outlined conditions, of the proposed preliminary plat to the City Council.
The "meatier" decisions, as P&Z Chairman Neil Morrow described them, would be left until the meeting resumed Tuesday night, July 30. Those included accepting the submitted hotel design—with the four proposed waivers—which would move the project to full design review. PEG is looking to begin construction in April 2020, with a targeted completion in fall of 2021.