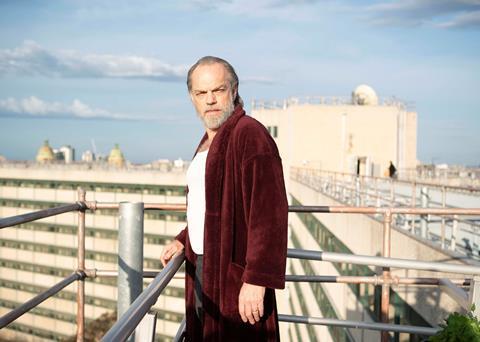 Dir/scr. Paul Ireland. Australia. 2019. 103 mins. 
In Measure for Measure, Shakespeare is given a social-realist spin in Melbourne's inner suburbs, a development that suits the infrequently adapted play more than is initially apparent. With a keen eye for everyday reality and a desire to probe Australia's multicultural society, writer/director Paul Ireland transforms the Bard's treatise on morality and mercy into a crime drama set in a busy block of housing commission flats.
Weaving oozes gravitas as the tired crime boss
Premiering at the Melbourne International Film Festival, this Hugo Weaving-led feature is a gritty and pensive affair, not to mention emotive both in front of and behind the lens. Scripted by Ireland with his Pawno collaborator Damian Hill, it marks the latter's final film following his untimely death last year. That alone guarantees local interest, as does a roster of on-screen local talent from Harrison Gilbertson (Upgrade), to Megan Hajjar (Breath), Mark Leonard Winter (Top of the Lake) and Daniel Henshall (Acute Misfortune). And while Measure for Measure doesn't always capitalise on its opportunities — it can feel simultaneously over-emphasised and oversimplified, and isn't as naturalistic, urgent or vibrantly executed as Ladj Ly's comparable take on Les Misérables — its textured portrayals could attract international festival interest.
The time is certainly right for an updated version of the source material, dealing as it does with power, corruption and escalating tensions in a fragmented society. Examining racial divisions, gender dynamics and the drug epidemic, Ireland's film hurtles into topical territory. Although cinematographer Ian Jones emphasises the visual reminders of the film's Melbourne location, from tourism-style montages to striking aerial views, Measure for Measure uses its central apartment block and the city around it as microcosms, with its themes clearly boasting broader relevance.
Love is a key element, between electronic musician Claudio (Gilbertson) and Muslim immigrant Jaiwara (Hajjar). The pair connect after an amphetamine-fuelled shooting in the apartment block's communal garden, despite her drug kingpin brother Farouk's (Fayssal Bazzi) forceful disapproval. This is a pro forma theme for Shakespeare, but Ireland and Hill have taken liberties with their direct inspiration, and good chemistry between Gilbertson and Hajjar lifts what might have otherwise been a standard forbidden romance plot.
 Claudio and Jaiwara's story brings sweetness, a clash of cultures and the threat of tragedy to the table. The character of Duke (Weaving) — the estate's self-appointed ruler — adds a hefty dose of world-weariness, plus the glimmers of a redemptive arc. Hiding out after the gun incident destabilises his home turf, he leaves his right-hand man Angelo (Winter) in charge, while still watching from afar. Weaving oozes gravitas as the tired crime boss hoping for the best from his wayward prodigy, especially as the young lovebirds ask for Duke's help.
The film feels more knotty than surprising, even for those unfamiliar with the source material and despite adding some twists. Yet it is still relevant, not only because of the setting but, like Pawno before it, the lived-in detail evident across the production. Ireland and Hill have crafted a layered Shakespearean adaptation that is intricate and immersive — a description that applies to the performances, including Winter in a role which was originally earmarked for Hill.
The propulsive pacing and visuals bubble with liveliness alongside an emotive score and soundtrack which comes complete with a well-placed Radiohead song.
Production company: Toothless Pictures
International sales: Bankside Films, films@bankside-films.com
Producers: Paul Ireland, Damian Hill
Screenwriter: Paul Ireland, Damian Hill
Cinematography: Ian Jones
Editing: Gary Woodyard
Production design: Vanessa Franz
Music: Tristan Dewey, Tai Jordan
Main cast: Hugo Weaving, Harrison Gilbertson, Megan Hajjar, Mark Leonard Winter, Daniel Henshall, Fayssal Bazzi, Doris Younane, Josh McConville