[ad_1]

While the MateBook X may draw immediate comparisons to Apple's sleek MacBook, these two notebooks are much more different than they are similar under the hood. With more powerful performance, the $1,099 packs more of a punch than Apple's $1,299 entry price point. In fact, Huawei's decision to focus on performance places the MateBook X in the same space as Microsoft's Surface Laptop and Apple's more premium 13-inch MacBook Pro.
Rather than iterate on the success of its first Windows 10 convertible, the original MateBook that launched last year, Huawei distilled the important things that students, business users and Ultrabook shoppers are looking for in a compact notebook. The MateBook X is the result of Huawei's attention to customer needs. For a 2017 notebook, the MateBook X omits support for touch and pen, both of which are gaining momentum in the convertible space, in favor of the pure notebook form factor. Unlike the first generation model, the MateBook X can't be converted into a tablet, and you can't even touch the screen to make your selection.
What you get, according to Huawei, is a brilliant display, an emphasis on great audio quality and uncompromised performance in a laptop that's thinner than Apple's best. For Huawei's first stab at the Ultrabook category, the company is, for the most part, successful in implementing and delivering its vision—you have an excellent keyboard with deep key travel, lending to an excellent laptop experience, and despite its improved performance when compared against the MacBook, the MateBook X is just as whipper quiet thanks to its fanless design.

Design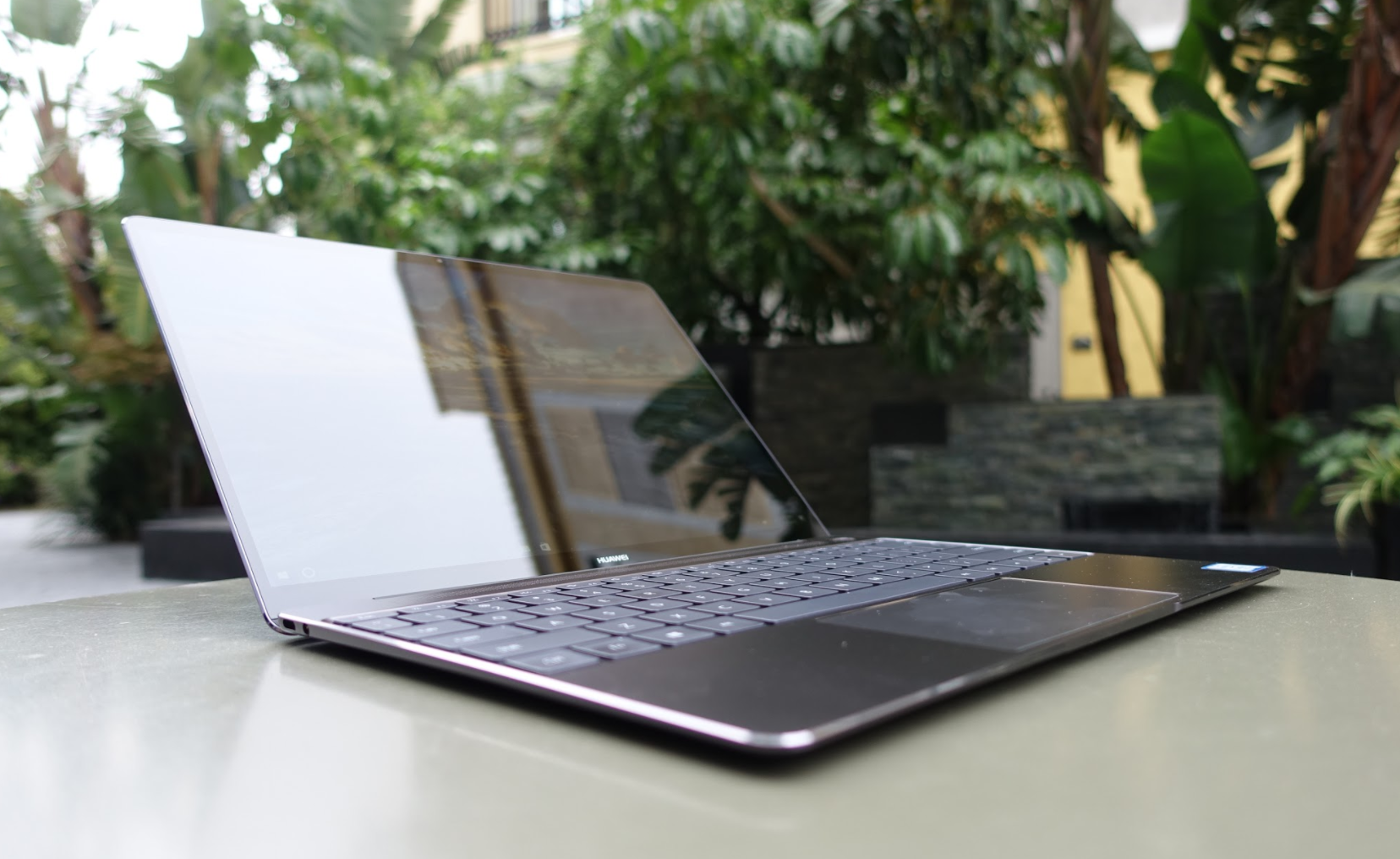 From its sleek aesthetics, minimalist white packaging and ultra compact charger, the MateBook X is proof that Huawei has the prowess to take on the best from Apple, Microsoft and PC veterans like Dell, HP and Lenovo in the consumer space. And even though the MateBook X, Huawei's second attempt in the PC space and its first Ultrabook, may look like another MacBook clone, Huawei out-Apple Apple in a lot of ways—it's slimmer, delivers improved performance and comes with a far superior typing experience.
Our review unit is clad in a space grey unibody aluminum shell with Huawei's lettering inscribed on the lid. Unless you're looking at the Huawei logo, you'll be forgiven in thinking that this is Apple's slim MacBook at a cursory glance given the similar sizes, build quality and design. This is a testament to how premium the MateBook X feels, and despite being a newcomer to the PC space, Huawei should be proud that it can build a notebook that consumers and the C-suite will covet.
The MateBook tips the scale at just over two pounds—2.3 pounds to be exact—and at 12.5mm thick, it immediately draws comparisons with Apple's MacBook, but don't let the slim size and lightweight portability fool you. The MateBook is a much more powerful competitor, and its under the hood design makes it a more natural competitor to Apple's beefier MacBook Pro. Unlike the more energy efficient Intel Y-series processors, also referred to as a Core M architecture, inside the MacBook, the MateBook utilizes a more powerful Intel U-series 7th Generation Kaby Lake Core i5 or Core i7 CPU—our review unit comes with a Core i5— giving it more mainstream computing performance. This means that you'll have the power and capabilities of a Surface Pro stuffed into the more portable and elegant laptop design of Apple's sleek MacBook.
The best part about Huawei's design is that despite benefiting from the improved performance from Intel's U-series processors, this laptop, like the MacBook, is completely fanless. Executives looking for a whisper-quiet laptop to use during boardroom meetings will appreciate how quiet this laptop is.

Looks Good and Looking Good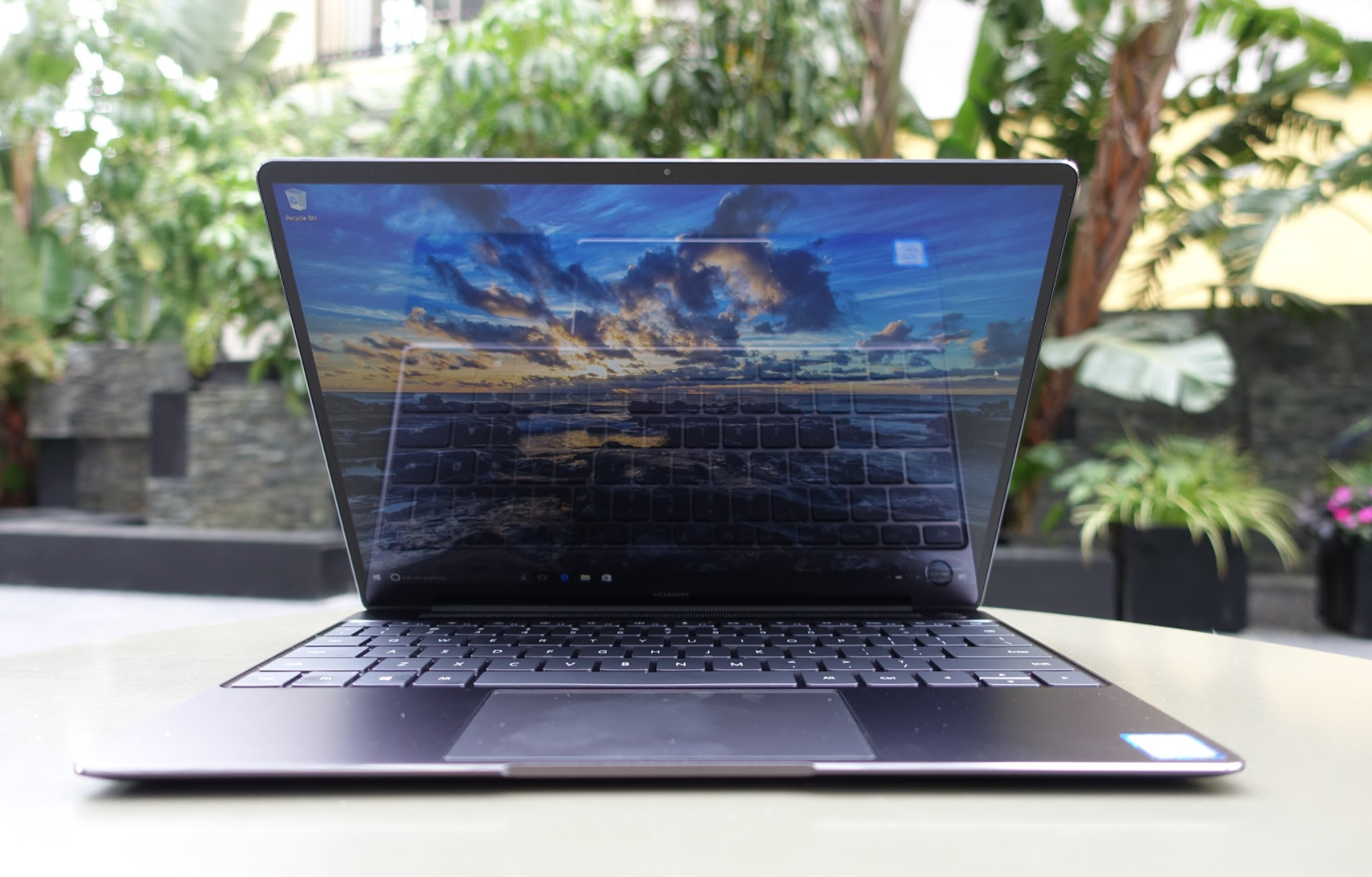 Huawei's attention to detail isn't lost upon us when we opened the gorgeous 13-inch IPS display. The screen comes in brighter than most Windows laptops at 350 nits, and it's vibrant and displays images and text clearly thanks to its 2K display with 2,160 × 1,440 pixels of resolution, giving the screen a sharpness of 200 pixels per inch.
The display is truly one of the highlights of this laptop, and Huawei made sure to call attention to the MateBook's bright screen with very slim bezels. While the bezels are larger than the infinity screen on Dell's XPS laptops, the thin strips of black around the display do a great job of framing the content on the screen without appearing too large and bulky, complementing the design of the MateBook nicely.
Huawei rates the display is capable of displaying 100 percent of the sRGB color gamut, and in real world performance, this display looks great. Even outdoors on bright days, the screen is still readable when the laptop is used under shaded areas.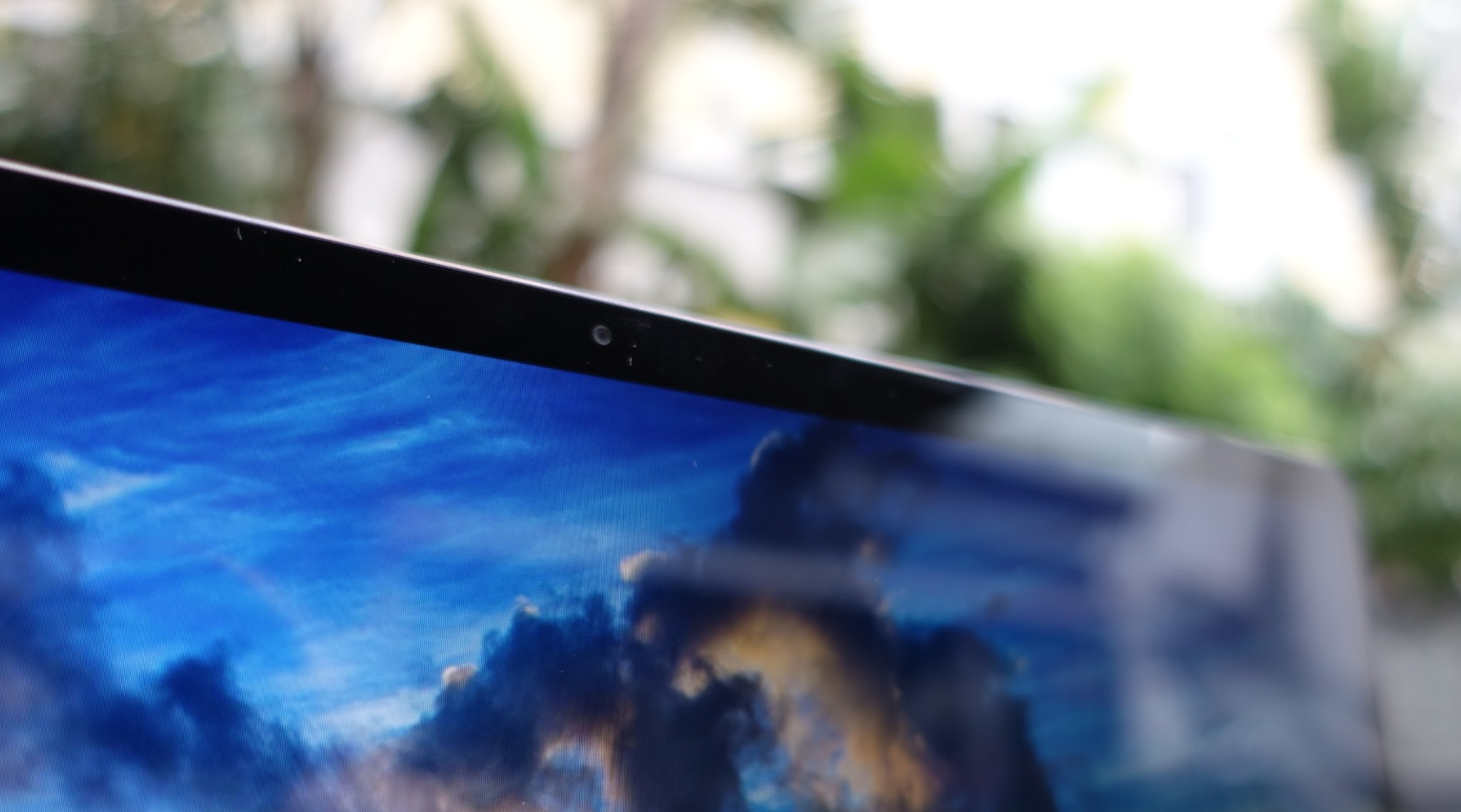 The best part about this display is that it uses the same 3:2 screen aspect ratio that Microsoft popularized on its Surface PC family. This means that the screen is taller than the typical 16:9 aspect ratio that has been standard on most PCs and laptops today. If you consume a lot of videos, you'll end up with letterboxing, but the taller screen is more suited for productivity tasks, requiring less scrolling.
Just above the screen, there is a 1-megapixel camera for video calls. While the front-facing camera can use a higher megapixel count, the executives that Huawei is targeting the MateBook X likely won't be using this laptop to take Kardashian-styled selfies, and the hardware does its job for Google Hangouts and Skype calls. The only improvement that Huawei could have made to the MateBook X's display is to include a touchscreen. The competing Surface Laptop, which utilizes the same 3:2 aspect ratio, supports both touch and pen inputs. Huawei chose to go the Apple route by omitting touch, a decision, executives told me, was made to prioritize battery life.

Joy to the Deep Keyboard Keys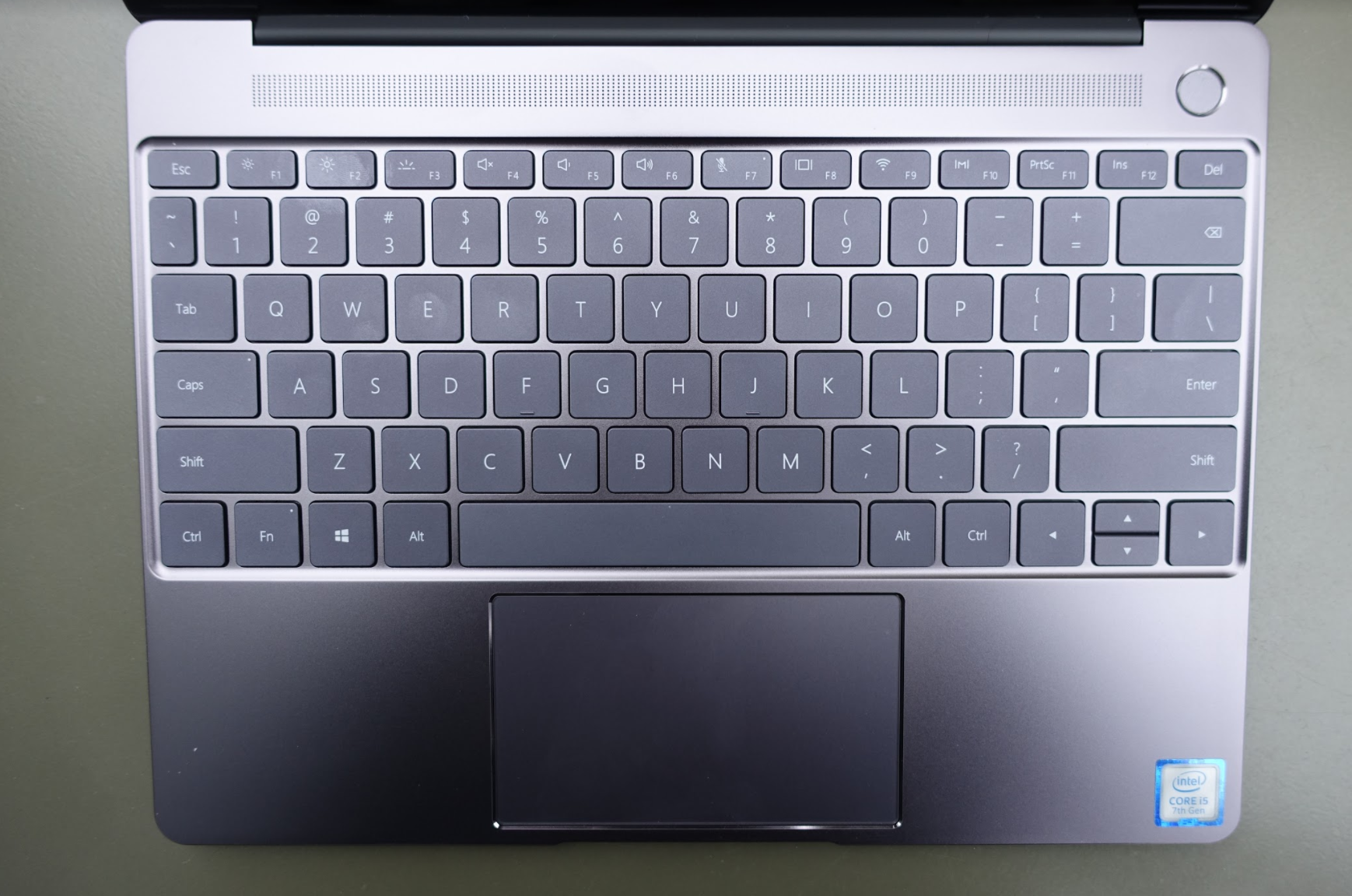 Even though the touchscreen was one area where Huawei made a conscious compromise in its decision of the MateBook, the keyboard is not one of those areas. Despite the MateBook being slimmer than the MacBook—12.5mm versus Apple's 13.1mm—Huawei offers a far superior keyboard on its laptop, an important consideration given that Huawei is positioning the MateBook as a pure notebook with no convertible option.
The backlit keyboard on the MateBook comes with an island-style layout. Unlike the shallow keys on the MacBook, Huawei's 1.2mm of key travel offers a superior typing experience. Since you're not bottoming out so quickly while typing, you won't get the same finger fatigue while working on the MateBook X as you would on Apple's MacBook, and there's adjustment curve needed. At 1.2mm of travel, the keyboard experience matches what's offered on most Ultrabooks.
My experience with the keyboard has been largely positive—there's no adjustment curve and I really appreciated the Ultrabook-like key travel. However, small improvements can be made to the keyboard to make the MateBook X even more competitive. Keys feel a little spongy, and more tuning on the keyboard actuation can help the keyboard stand out more. Still, for its first attempt at an Ultrabook, the keyboard on the MateBook feels a world ahead of the highly spongy keyboard on Dell's XPS 13 from a year or two ago. Business users comparing the MateBook to the MacBook will also appreciate that Huawei's keyboard doesn't come with the loud clacking noise from its competitor when in use, which is good for discretely taking notes or replying to an urgent email during a meeting.
Just below the keyboard is a very spacious trackpad, which uses Microsoft's Precision Touchpad drivers, enabling for faster updates, according to Huawei representatives in San Francisco, California. The capacious trackpad is important on this model, as the MateBook lacks a touchscreen, and fortunately, tracking precision is accurate.
In a laptop this thin—Huawei says it's about the size of a magazine—the MateBook X nails the input methods that it provides.

An Audio Blast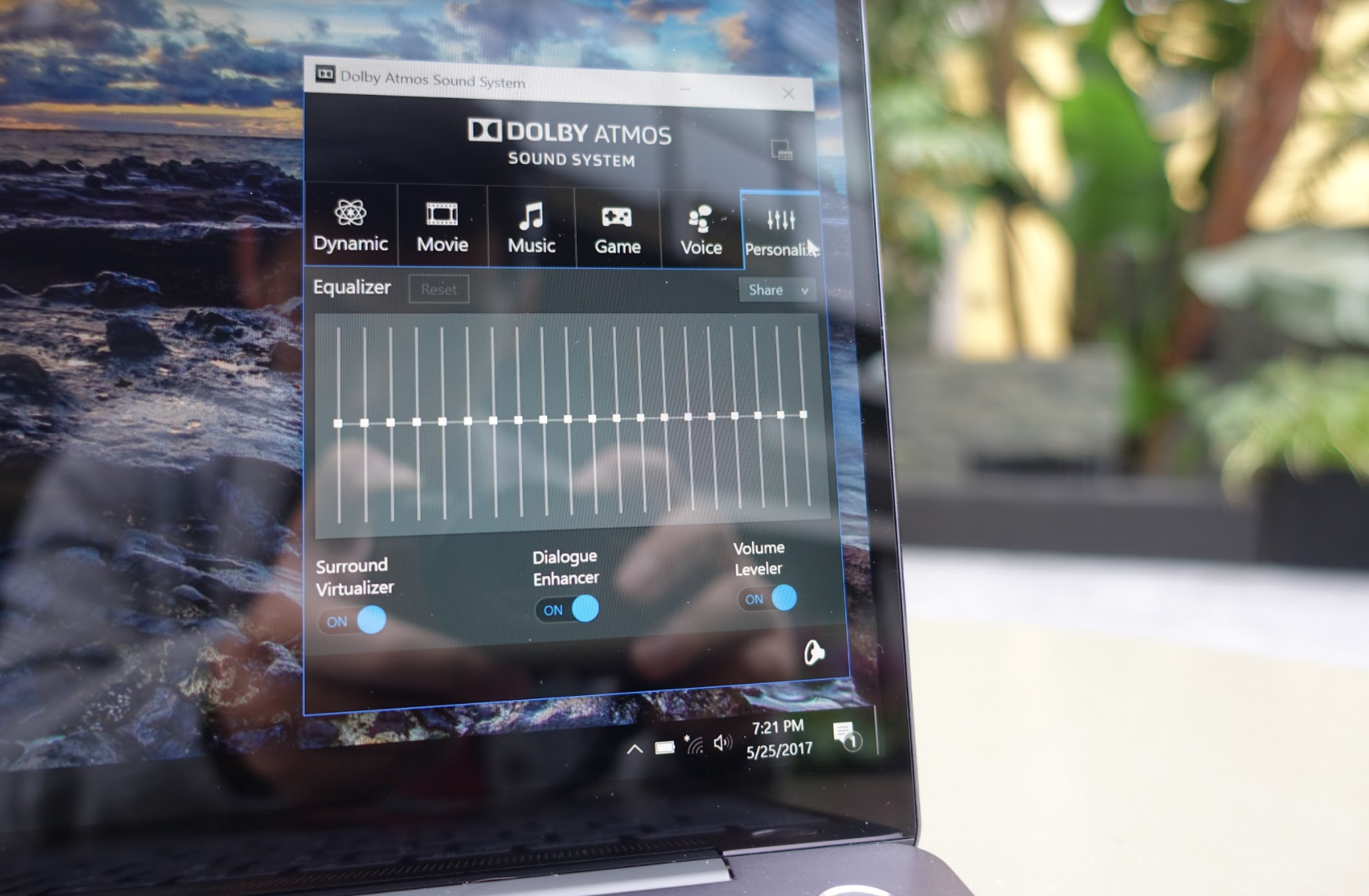 Using the MateBook X is a blast—literally and metaphorically. Just above the keyboard is a speaker bar, and despite its slim size, the MateBook packs quite the punch when it comes to audio output, thanks to the Dolby Atmos speakers on board. Dolby Laboratories representatives in San Francisco that the audio company isn't just responsible for the software tuning on the MateBook, like some other competing audio partnerships in the PC space, but that Dolby also worked closely with Huawei to design the speaker hardware.
And the result of the co-branding and co-audio engineering is superb. Despite the slim profile of the MateBook X, the upward-firing speakers are loud, crisp and vibrant. When plugging in some quality headphones to view movies, the Dolby partnership also yielded some impressive virtual surround sound quality. The Dolby software panel can automatically tune the sound profile to the specific mode you're using the laptop—movies, voice, music—or you can adjust the tuning through the software to your needs. There's even an equalizer for even more granular control.
Dolby reps claim that you'll receive the most benefit when viewing movies or listening to audio clips that were encoded with Atmos specifications, but there's upscaling of audio on tracks that weren't recorded for Atmos playback to deliver a similar level of richness.
To the right of the speaker bar is a small circular button that serves to power on the MateBook X and log you into Windows thanks to the built-in fingerprint sensor. While other Windows 10 systems on the market require you to power on the system and then swipe your finger to login, the login process with the MateBook X is a lot more seamless. Once you use your registered finger to power on the system, the MateBook X simultaneously scans your fingerprint, remembers your fingerprint and logs you in through Windows Hello when the system starts up.
Even though it doesn't sound too significant—Windows Hello already reduces a lot of the friction of unlocking a PC with a password—it's a lot more convenient than the two-step process that many Windows users are accustomed to. These small, yet thoughtful, design tweaks that enhance usability show that Huawei is ready to take on larger personal computing rivals, like Apple. Unfortunately, as a limitation of Windows 10, you can't use the MateBook's fingerprint sensor through other parts of the OS, and I'd like to see Huawei and Microsoft work together to enable biometric security to allow the Microsoft Edge browser to remember usernames and passwords, enable frictionless web commerce by remembering credit card information for online shopping and to secure files and folders in Windows.

Specifications
There are several configurations of the MateBook X and Huawei is offering different color options depending on the configuration and geographic availability. Our base review model starts at $1,099 and comes in a titanium gray finish, which is a darker grey that competes against Apple's space grey finish, and comes with an Intel Core i5 7200U processor, 8GB RAM and 256GB SSD. An upgraded $1,299 configuration gets bumped to a Core i7 CPU along with 512GB of storage, but memory remains capped at 8GB. That model will also be available in gold. TPM support, which is useful for encryption, isn't supported on all models.
For comparison, Apple's current MacBook starts at the same $1,2999 price of the upgraded MateBook X, but comes with a lower performance Intel Core m3 processor. The MacBook shares the same storage and memory as the $1,099 MateBook. The MateBook X delivers even more value in a laptop of its size even when compared against the MacBook Pro. The base 13-inch Apple MacBook Pro doesn't come with a TouchBar, making it a more fair comparison against Huawei's entry, and starts at $1,299. For that price, you're getting half the storage as the $1,099 MateBook at 128GB, but a similar 7th Generation Intel Core i5 processor and 8GB of RAM.
The MateBook utilizes Intel's HD 620 graphics, whereas Apple's MacBook Pro comes with a slightly more enhanced Intel Iris Plus Graphics 640. Neither model, given the smaller 13-inch form factor, come with discrete graphics options, so gamers and users looking for a mobile workstation will need to look elsewhere.

Performance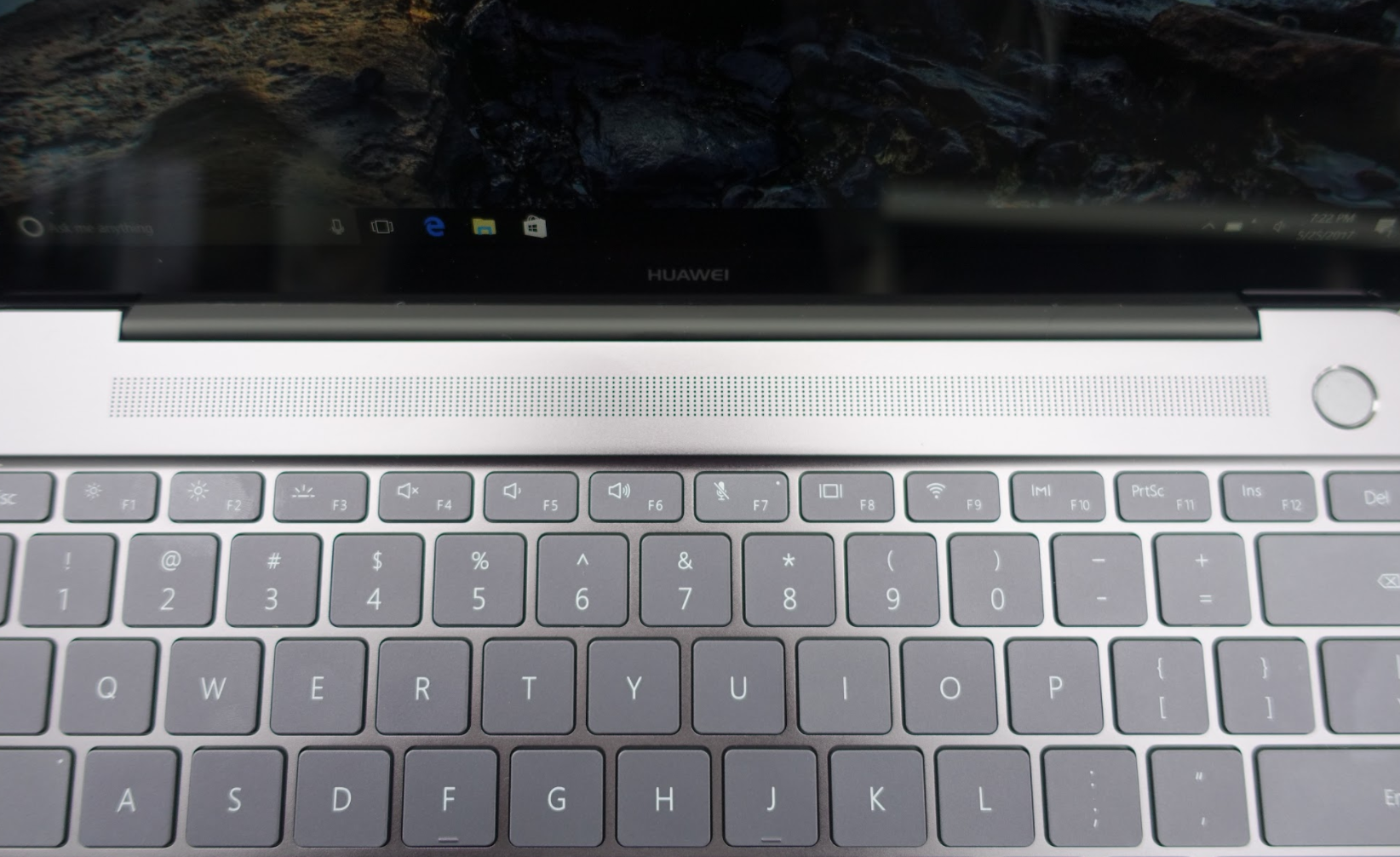 Like Microsoft's Surface Pro, the beautiful thing about Huawei's MateBook X is that it utilizes Intel's mainstream U-series CPU, but doesn't require a fan. When you're using the MateBook X to watch a movie, typing in a quiet room or surfing the Internet, the fanless design makes it a joy to use. Given how used I have become to hearing the fan whirl on U-series notebooks and convertibles, I sometimes forget that the MateBook X is even there when I am using it. In the past, fanless architecture was only possible on more power efficient Y-series processors, like Apple's MacBook, but here you're getting MacBook quietude with MacBook Pro performance in a package that's even slimmer than Apple's slimmest offering!
But going fanless isn't without compromise. The MateBook X does a great job of dissipating heat, and Huawei representatives informed me that the special thermal design allows the notebook to absorb the heat when it's under heavy load and to release and dissipate heat when it's performing under less taxing environments. To the user, it doesn't really mean too much, except that the MateBook X never felt too hot to touch.
Under heavy loads, however, the laptop will throttle down some of its raw performance to keep cool, and that's a problem that's present on most fanless or thin system and it's not just inherent to Huawei. This just means that things will slow down a bit to keep the MateBook X from frying itself, but even when the laptop was stressed, I didn't notice any perceivable lags. Using Office and working in Google Docs on Microsoft Edge with multiple browser windows opened, I didn't really notice any slow downs. The laptop is more than capable of some moderate Photoshop work.
Performance of the MateBook, in real-world usage and in benchmarks, is similar to other dual-core 7th Generation Core i5 systems on the market today, including the Microsoft Surface Pro and the HP Spectre x360 13-inch that we recently reviewed.
The MateBook X's Geekbench score of slightly over 3,800 points is a little bit under the 4,350 points that the Core i5 Surface Pro received—the Surface Pro benefits from an i5-7300U processor versus the i5-7200U on the MateBook X. The 2,830 points that the MateBook X received under PCMark 8's Home Conventional benchmark is within range of the Core i5 Surface Pro, and shows that this is a very capable system, despite its lack of fans and vents that are traditionally needed on an Ultrabook or convertible of this class.

Living the Dongled-Life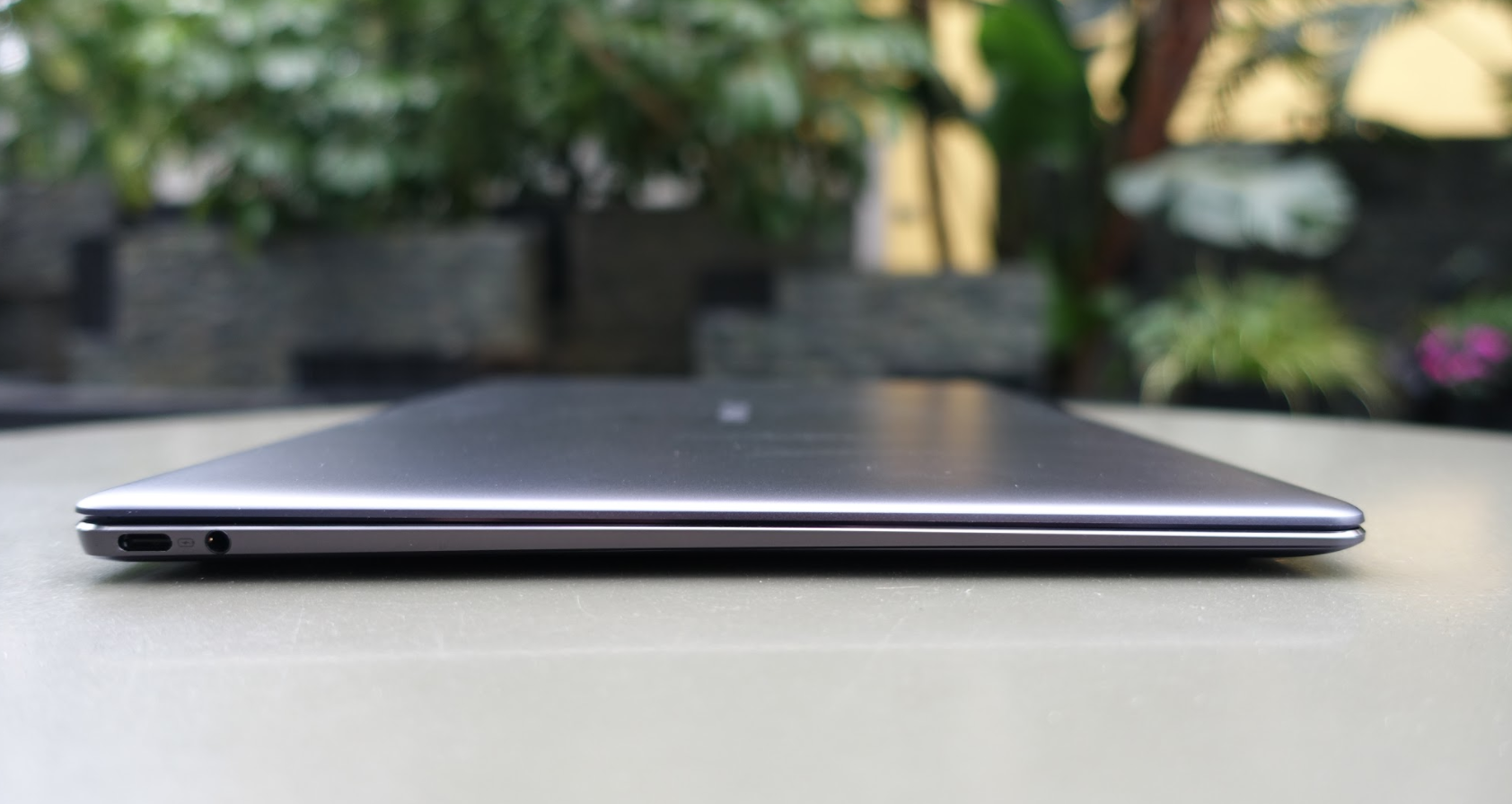 Despite strong performance and a sleek design, Huawei did make some compromises to get the aesthetics and slim profile on the MateBook X. One such compromise is ports. There are two USB Type-C ports on this device—one more than the number found on Apple's MacBook and the same number that's present on the entry-level non-Touch Bar MacBook Pro—but the port design is rather confusing.
The ports are placed one on each side, giving the MateBook X a sense of balance. Neither port supports the faster Thunderbolt 3 over USB Type-C protocol, but where things go downhill is that each port was made for specific tasks. Both ports can handle data—you won't have a problem connecting a USB Type-C flash drive—but only the port on the left can charge the device. The port on the right is used for video output.
I wish Huawei would allow both USB Type-C ports to handle charging, data transfer and video output, making the system more versatile.
In addition to the USB Type-C port, the MateBook X also supports a 3.5mm headphone jack, which is good if you want to take advantage of Dolby's virtual surround sound tuning.
Our review unit ships with a revised MateDock 2, which is slimmer than the bundled MateDock on last year's MateBook detachable. The MateBook 2 doesn't come with an Ethernet port like on last year's model, but it can connect a USB Type-A port, HDMI port and another USB Type-C pass-through port.

Battery Life
Because of its slim design, battery life is a challenge with the MateBook X. In real-world usage, I squeeze between six to seven hours of battery life, which will get most users through the day. The slim profile of the laptop means that Huawei wasn't able to squeeze in a beefier battery, but fortunately the MateBook X recharges pretty quickly. Because the USB Type-C charger is so slim—it's only slightly bigger than the plug that ships with most modern smartphones—carrying around the charger isn't a big deal to top off if you need.

Verdict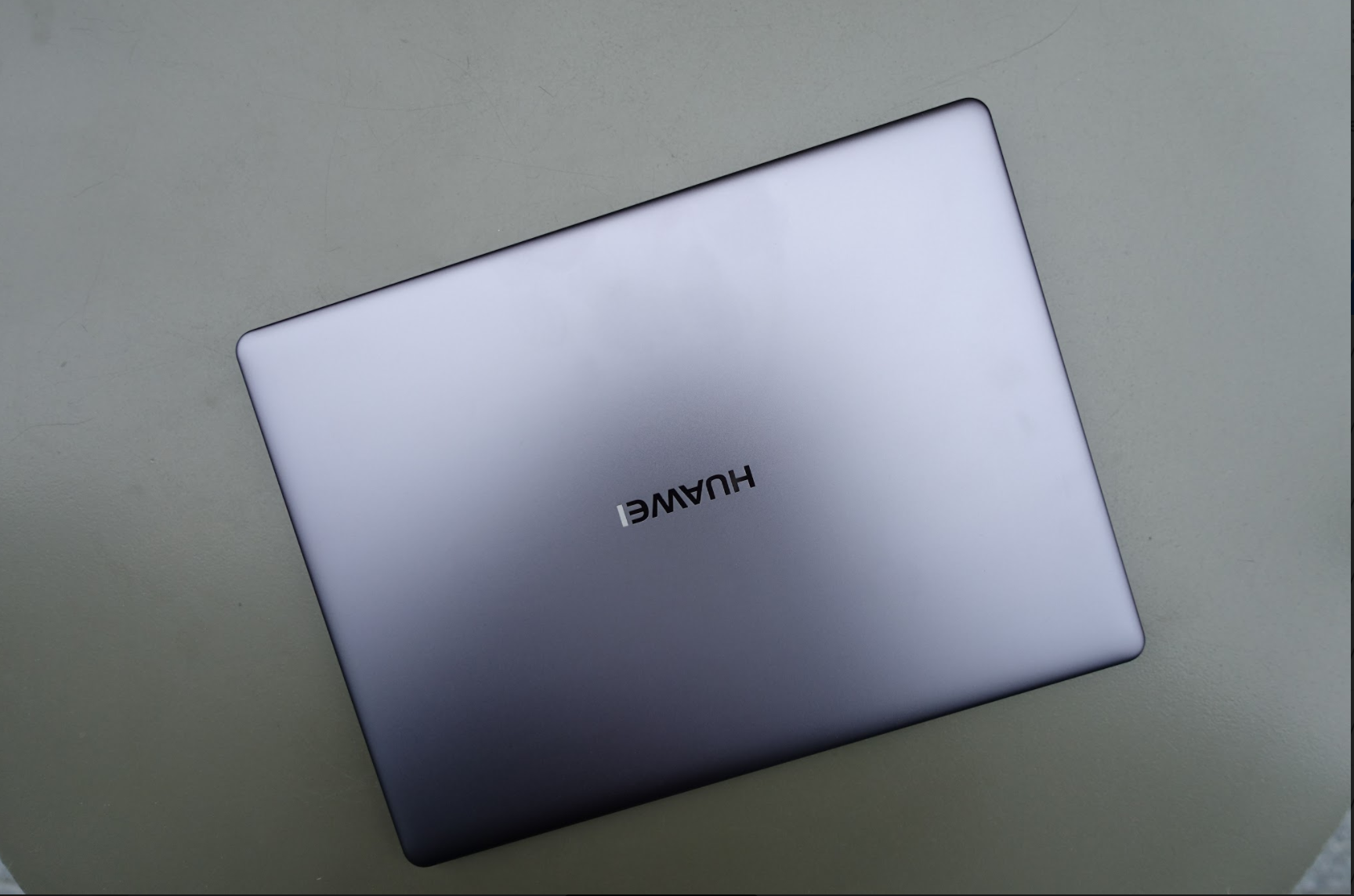 The Huawei MateBook X is one of the best Ultrabooks available today, and if you don't need the frills of pen input or touchscreen support, then this laptop delivers the power and performance of Windows 10 in a sleek, Apple-besting package. Slimmer than Apple's MacBook, Huawei made very little compromise in delivering the MateBook X, and it really shows—top-notch unibody machined aluminum construction, mainstream U-series Intel Core i CPU delivers fast performance, Dolby Atmos tuning brings vibrant audio tuning and a fantastic keyboard with plenty of key travel makes the MateBook X a joy to use.
Business users and students will appreciate the MateBook X's slim profile—it's even thinner than the MacBook—and the lightweight makes it suited for travel. If you can live without touch don't mind carrying the small charger to top off or aren't bothered by Huawei's odd division of labor between the two USB Type-C ports, then the MateBook X offers plenty to love in a compact package. Sure, there are convertibles and Ultrabooks that deliver better value today, but none with the MateBook's aesthetics and the 3:2 display is a still a unique and attractive feature on a machine designed for productivity.
[ad_2]

Source link