[ad_1]

Huawei has made really good phones for years, but the Mate 20 Pro is the Chinese firm's first truly cutting-edge device with a triple camera, 3D face unlock and an in-screen fingerprint sensor.
The Mate series of phones has always delivered one thing above all else – battery life. This year Huawei has gone out of its way to deliver even more.
The Mate 20 Pro is the best feeling, most premium device the Chinese firm has made. It's incredibly solid, smooth and well built, but at 189g is still surprisingly light and manageable compared to the 208g iPhone XS Max and 201g Samsung Galaxy Note 9.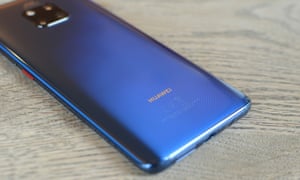 It looks like the lovechild of an iPhone XS Max and a Galaxy S9+. The Huawei has the curved edges and metal band of the Galaxy, with the all-screen design and wide but shallow notch of the iPhone. The result is a striking phone that squeezes an enormous, beautiful and crisp 6.39in display into a manageable device that is narrower and easier to handle than any of its rivals.
The Mate 20 Pro is no small phone by anyone's yardstick, but it doesn't feel too big in your hand. You can use the phone one-handed, and I never felt like I was going to drop it.
Part of that is vinyl-like grooves in the glass back making what Huawei calls a "hyper-optical pattern". It still feels smooth, almost silk-like to the touch, but run your nail over it and it sounds like a record. It gives the glass back a nice shine, but it also masks fingerprints and makes it considerably less slippery. It's still glass, of course, so if you drop it it will still smash.
The bottom of the phone has the sim slot and a USB-C port, but no visible speaker, because the sound comes out of the USB-C port. It's weird, but effective.
Specifications
Screen: 6.39in QHD+ OLED (538ppi)

Processor: octa-core Huawei Kirin 980

RAM: 6 or 8GB of RAM

Storage: 128 or 256GB plus nano memory card

Operating system: EMUI 9 based on Android 9 Pie

Camera: Triple rear camera 40MP, 20MP ultra-wide angle, 8MP telephoto, 24MP front-facing camera + 3D depth sensing camera

Connectivity: LTE, Wi-Fi, NFC, Bluetooth 5 and GPS (dual-sim available in some regions)

Water resistance: IP68

Dimensions: 157.8 x 72.3 x 8.6 mm

Weight: 189g
Top performance and battery life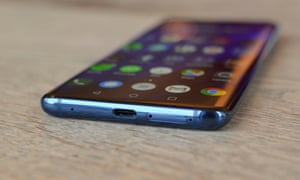 The Mate 20 Pro is the first device to use Huawei's new Kirin 980 processor, which the company says is a significant improvement on last year's Kirin 970, and is one of the first chips produced using 7nm processes.
Performance was excellent throughout, matching rivals running Qualcomm's Snapdragon 845 such as the OnePlus 6 or Google's Pixel 3 XL. Launching apps and switching between them was rapid with no noticeable lag anywhere during general use. Gaming performance was excellent too, both in smooth frame rates and in battery efficiency, with a 30 minute bout of Shadowgun Legends consuming around 9% battery and staying cool throughout.
Even with Huawei's gaming mode active, which turns up the processor to maximum, battery consumption and heat weren't much higher. Performance should be even better for games that support the firm's GPU Turbo system.
Battery life was excellent too. With heavy usage it lasted about 35 hours between charges, meaning it would make it all the way from 7am on day one until 6pm on day two. That was with hundreds of emails, messages and push notifications, lots of browsing, five hours of Spotify via Bluetooth headphones, watching 60 minutes of Netflix, 30 minutes of gaming and shooting about 10 photos a day.
With lighter general usage the Mate 20 Pro got closer to 48 hours between charges, and will last far longer with one of Huawei's power saving or ultra power saving modes. If you needed the phone to last for three days it genuinely could – maybe even longer.
A full charge took under an hour via cable with the included 40W charger, hitting 30% in 13 minutes. The Mate 20 Pro can charge up to 15W wirelessly too, and with the flip of a switch, can wirelessly charge other devices, including other phones and headphones. You have been able to do similar via USB-C cable for a while, but back-to-back wireless charging of another phone is certainly a novelty.
EMUI 9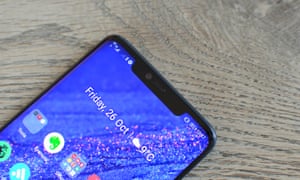 Huawei's smartphones run a customised version of Android called EMUI, here based on the latest Android 9 Pie.
Some will love it, others will hate it. EMUI 9 is the most polished version yet, with more refined animations and actions, but it still has some odd quirks.
It uses an old-school button for the app drawer, for instance, but has complete theming support, so it's easy to change the look of icons, colours and the wallpaper.
It's also got Huawei's version of Google Lens called HiVision, which does image and product recognition using Amazon, a load of knuckle-based gestures for things such as screenshots and opening apps, plus a mini-display mode which shrinks what's on screen into the bottom right or left corner so it's easier to reach.
EMUI 9 still has the standard Android navigation buttons that Google ditched for the Pixel 3, but it also has a weird floating navigation dock-come-joystick thing and full swipe gestures as options. The swipe from the left or right edge of the screen to go back is a nice idea.
Huawei also has its own version of Google's digital wellbeing tools showing you how long you use your phone, which apps, how many times you unlock it and with the ability to set limits.
There are a lot of options throughout, but it doesn't feel overbearing. One area that is strangely lacking in customisation options is the status bar. The notch in the screen is quite wide, leaving little room for icons. If you have the phone set to vibrate only, you can only fit the battery, time and vibrate symbol in the right side. With two sims and wifi connected, there's only room for the Bluetooth icon, which is replaced when a mail or similar notification pops up. It would be good to be able to prune back the status bar icons for more room.
Huawei's biggest change to Android is in power saving features. The system is much more aggressive at blocking apps from running in the background than Google's battery systems. This is fine for the most part, but you might have to whitelist some apps such as Strava to make sure they work correctly.
Biometrics