[ad_1]

Innovating an ereader is a difficult task and something Amazon has struggled with in its most recent iterations of the Kindle brand.
The Kindle Oasis (2017) marks the ten year point since the release of the first ever Amazon ereader and this feels like one of the biggest steps forward for the tech in recent history.
With a waterproof design, audiobook playback features and a much larger screen than before, the all new Kindle Oasis looks to be the best ereader the company has ever created, but is it worth all that money?
Amazon Kindle Oasis (2017) price and release date
You can pre-order the new Kindle Oasis from today, but it won't begin shipping until a couple of weeks time.
It'll cost £229.99/$249.99 (about AU$330) for the 8GB version and there's also a 32GB version that costs £259.99/$279.99 (about AU$360).
If you want to have free cellular connectivity so you can download books anywhere you want it'll cost £319.99/$349.99 (about AU$450).
Design and display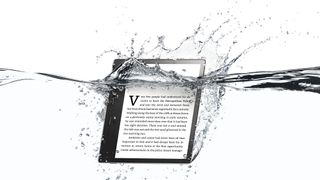 In perhaps the biggest departure in terms of design, the Kindle Oasis (2017) comes with an all-metal design for the very first time. It's an aluminum material that doesn't feel slippery in the hand.
It's heavier than the last generation Kindle Oasis at 194g, but it's still a comfortable weight in the hand and weighs less than the Kindle Paperwhite. 
The design on the rear is similar to the previous Kindle Oasis, with one end thinner than the other, and the thicker end is intended to sit in your fingertips to offer good grip. 
The real reason for this thicker part is to house the battery, but this time there's no ugly case connector on the rear and overall it looks superior to the original version.
In fact, Amazon has taken the case mechanic of the Kindle Oasis away altogether. Instead you can find covers to protect your Kindle, but there are no battery cases available for this model.
For cases you'll have the choice of water-safe fabric covers for £39.99 (about $50, AU$70) or more premium-feel leather options for £54.99 (about $70, AU$90). We haven't seen any of these yet, but we'll try some out for our full review.
Image 1 of 2
Image 2 of 2
There's a 7-inch e-ink screen on the front of the Kindle Oasis (2017), which is the largest we've ever seen on an Amazon ereader. It's sharp at 300 pixels per inch, meaning both the written word and comics look good on the display.
It's black and white unlike the reading experience you'll get on normal tablets, but it's a great display that beats most of the competition out there, and of course it has a built-in light, like most Amazon ereaders.
Plus, the Kindle Oasis is also waterproof for the very first time. It can handle up to an hour submerged at up to 2 meters deep, which means it'll survive the odd dunk in the bath or a splash from the pool.
It's not a necessary feature as you won't often be washing off your ereader, but it's an added bonus to know your Kindle will be protected when you're using it next to a pool.
Key features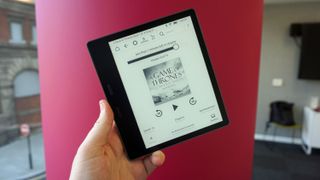 You'll have access to Amazon's ebook store with the Kindle Oasis, which gives it an advantage over a lot of the other ereaders you can buy. 
It means you have the most comprehensive store to buy from, plus you can use services such as Kindle Unlimited or, if you're an Amazon Prime subscriber, Prime Reading.
Unlike its predecessor, the Kindle Oasis (2017) also works with Audible titles. If you use the audiobook service from Amazon you'll be able to listen to them on your Oasis with the use of Bluetooth headphones or a speaker.
There's no 3.5mm headphone jack, which means you won't be able to listen to audiobooks with wired headphones and that will be a bit of a shame for some people. That's likely been sacrificed to allow for the waterproof design though.
One great touch included with the Kindle Oasis (2017) is that if you own both the Audible and ebook version of a title, you can quickly switch between the two without losing your place.
That means you'll be able to read physically on the screen but then switch it over to the audiobook while you're on a walk and seamlessly switch back when you have a chance to read on the screen again.
Owning both the audiobook and ebook may sound like an expensive endeavor, but Amazon will sell you the audio alternative for £2.99 if you already own the ebook. It's all extra money, but if you ever want to make serious progress on a book you may decide to use this feature.
If you're also planning to use the Oasis for your audiobooks, it's likely you'll want the larger 32GB version to ensure you have enough room for all of your titles.
We know very little about what's under the hood in the new Kindle Oasis, but with our limited testing we found it worked quickly with new books loading quickly and even audio files playing instantly.
In terms of battery, Amazon estimates it should last for up to six weeks from a single charge depending on how much you use it. That's a great amount of time and you'll be able to easily charge it up when you're running with a microUSB cable plugged into the bottom of the ereader.
The OS on Kindle products has been easy to use for quite some time, but now new features to allow you to fiddle with the font size, type and boldness will make it even easier to read your books.
If you buy the Kindle Oasis (2017), be warned you'll be tied into Amazon's store. To easily download ebooks you'll have to buy them from Amazon's own store, but that does mean you have access to a huge ebook store and can get lots of benefits if you're a Prime subscriber.
Early verdict
The Kindle Oasis (2017) looks to be the best ereader the retailer has ever produced, bringing in genuinely useful upgrades such as a waterproof design and the ability to have audiobooks loaded up and ready to go.
It's still expensive though and we'd only recommend buying the Kindle Oasis (2017) if you're going to be using your ereader a lot. Check back soon for our full review to see our final verdict on the new Kindle from Amazon.
[ad_2]

Source link
Reader Interactions