[ad_1]

Angela Valdez was devastated when she didn't get to tour East Career and Technical Academy in eighth grade. She thought that meant she had little chance of getting into the magnet school.
"I remember that there was a certain pick of students that got to go, and I wasn't one of them," she said. "It shattered my heart. I remember crying and thinking, 'If I'm not able to go in this field trip just to tour East Tech, does that mean I'm not going to be eligible to go to East Tech?'"
Valdez worked hard, though, keeping her grades and attendance up. It paid off — she graduates from East Tech this spring with the dream of going to college.
But thousands of other Clark County School District students aren't so lucky.
This year, 16,120 students applied for 9,614 spots in the district's 37 magnet schools, including career-technical academies. That means less than 60 percent of those who wanted to attend got in. And those were the odds even after a 68 percent increase in the number of available spots with the opening of 12 new magnet schools in the past three years.
"Every single program that we have has a pretty high demand," said Gia Moore, director of the district's magnet schools and career-technical academies.
The reason is clear: Magnet schools are a glimmering ray of light in a historically underperforming school district. They've won national awards and typically enjoy higher achievement rates.
But the limited number of seats available also deepens the divide between the educational haves and have-nots — those who land a seat in the lottery and those who don't.
Leaving a 'problematic' school
Valdez and a classmate, senior Johan Gaytan, wanted to get out of their zoned high school, Eldorado, which coincidentally also has a magnet program.
They say the school is "problematic," referring to gangs and violence.
"You hear, you talk, you see on social media and the word gets around," Valdez said. "You know some of the people that go to that school and you just know that that's not the environment that you want to be around."
Both give rave reviews of East Tech and its marketing program, which they say fueled interest in their future careers — Valdez loves fashion and Gaytan has his eye on business administration.
"I realized what I'm good at, which is public speaking, and I realize I have a great passion for business," Gaytan said.
The district's career-tech schools have a vocational focus, offering programs in mechanical engineering, education and more. They are filled purely on the lottery system.
Other magnet schools, such as Valley High, may be traditional neighborhood schools with a magnet program open to students across the district. Those programs can focus on science, performing arts or international studies.
Admission to these schools is a matter of chance and circumstance: Students choose three programs at three schools. Preference is given to those in a certain geographic area, those who have siblings in the magnet school and those who attended a feeder school in lower grades.
No guarantees
"It's not a guarantee by any means, and that's the thing we try to emphasize a lot with our communities," Moore said. "Even if you were to get a preference or even multiple preferences, because you can fit in more than one category, it's not a guarantee."
Those who don't get in initially are placed into a pool where they wait for an opening. It's not an easy process for East Tech Principal Darlin Delgado to watch.
"We are on the east side of town, so my students come from schools that are having challenges, and the families see that," she said. "The hardest part for us is when they get those rejection letters and they don't get in. We need more of this — not just districtwide, but nationally."
The issue of access is a national one. A survey by the nonprofit Magnet Schools of America found that 67 percent have waiting lists across the country.
Barriers to opening magnet schools include transportation and cost, said John Laughner, the group's legislative and communications manager.
"It's rare that you find the states adding … funds into a magnet program, so it's really on the district's budget," he said.
Federal dollars are available through the federal Magnet School Assistance Program. The Clark County School District received $5.5 million through that program in 2004, which helped open Knudson, Canyon Springs and Desert Pines schools.
Higher achievement
District officials are immensely proud of the magnet schools, which have won a number of national awards.
On average, they outperform both the state and Clark County in many areas: More of their students are proficient in reading and writing in nearly every grade from third through eighth, according to a Review-Journal analysis of 2015-2016 test score data from the state Department of Education.
At the high school level, the average ACT composite score of 18 for magnet school students was a point higher than state and county averages. The average 2016 graduation rate at the district's magnet schools was 87.6 percent, well above 74.9 percent rate in Clark County and 73.4 statewide.
University of Connecticut Professor Casey Cobb found similar results in 2009 research on Connecticut's magnet schools.
His study found that students in inner-city magnet schools fared better in both math and reading at the high-school level than those in traditional schools.
"There's a certain pride that I think students take, and staff takes, at a magnet school because they're doing something a little more special," Cobb said. "They're focused on some theme, and that's distinct from a traditional kind of comprehensive curriculum."
Selection bias?
The other reason magnet schools may perform better, he said, is selection bias. In other words, schools of choice may naturally attract stronger students simply because they have the motivation or push to apply.
Delgado attributes students' success at East Tech, which had nearly 99 percent graduation rate in 2016, to strong programming.
"I think there has to be a purpose," she said. "And career and technical education provides that purpose for our students and our families, where you have that hook for the kids."
That's a purpose that Valdez, along with her classmates, says they can feel.
"No matter what grade you're in, no matter what program you're in, it's the best environment," she said. "Because we all have one dream, and that's to pursue whatever passion we have for whatever program we are in."
Contact Amelia Pak-Harvey at apak-harvey@reviewjournal.com or 702-383-4630. Follow @AmeliaPakHarvey on Twitter.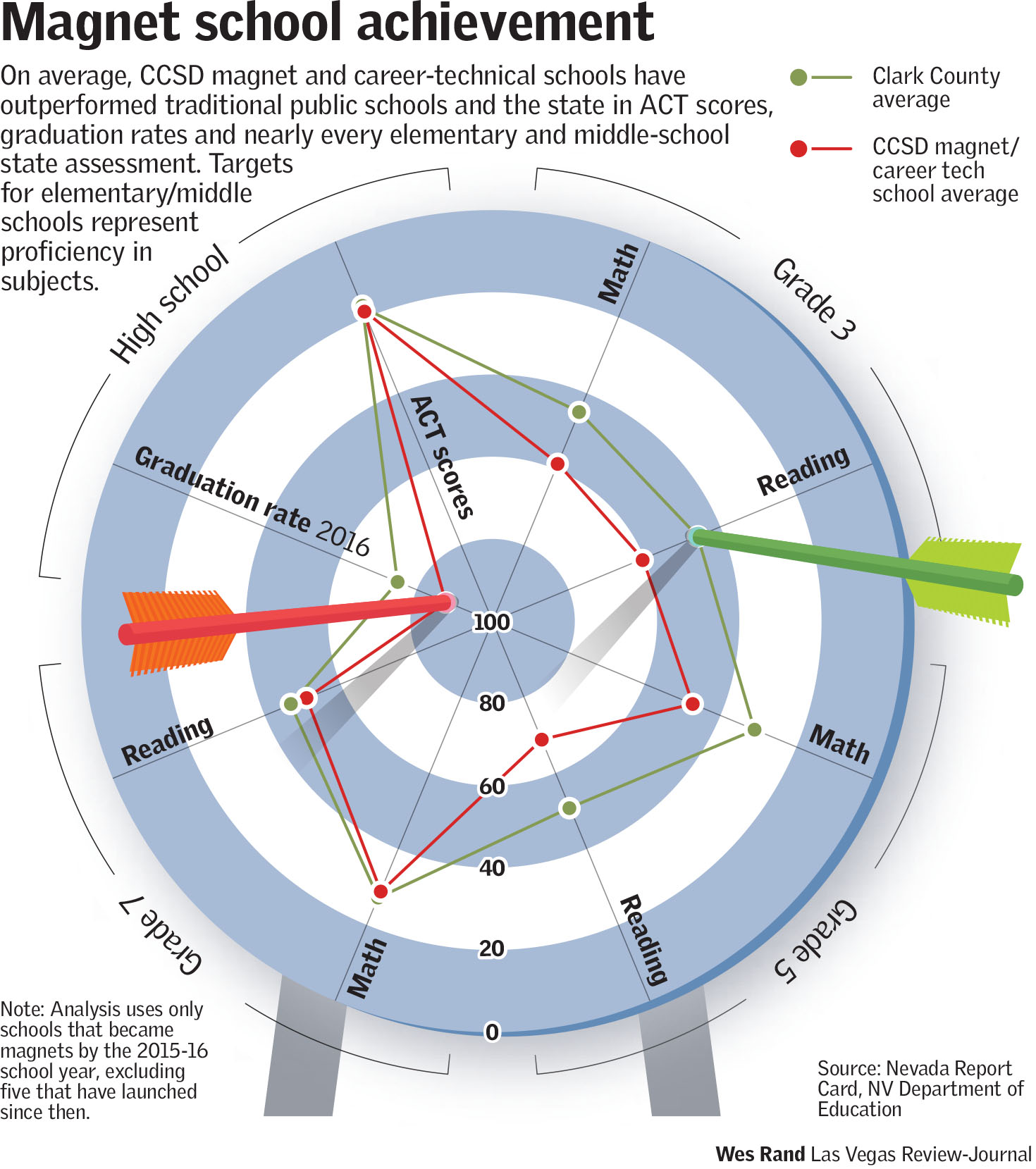 [ad_2]

Source link