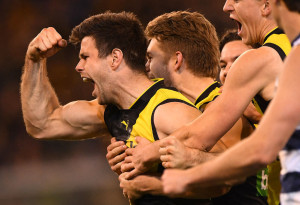 Seven's Kurt Burnette believes Australian sports codes like AFL are stronger with the mass reach provided by free-to-air TV.
Seven's revenue chief Kurt Burnette has urged the government to consider expanding the anti-siphoning laws amid fears global tech giants could inflate the local sports rights markets, pricing free-to-air broadcasters out of the equation.
Facebook, Amazon and Twitter have been eyeing major global sports properties to help them bulk out exclusive content offerings on their platforms and there are concerns the tech giants could turn their attention to the Australian market.
Globally, Facebook recently failed in an audacious bid for the Indian Premier League streaming rights, Amazon snapped up rights to an ATP tennis tournament, Twitter and Amazon have picked up games to the NFL and rumours are building that Facebook and Amazon will bid for the English Premier League.
In Australia, Optus has taken the exclusive rights of the English Premier League from pay TV broadcaster Fox Sports and Burnette admits free-to-air TV executives are concerned about further competition inflating the cost of rights to major codes such as AFL, NRL and the cricket.
"I think having global players come in to pinch our sports and make Australians pay for it is a concern for us and all media companies as well as for all Australians," Burnette says.
"Under the current laws there is no anti-siphoning (laws applicable to tech platforms). I wouldn't want to be the government that allows foreign players to come in and make people pay for everything on major sport.
"That could have some serious political ramifications not to mention what it might do to some of the media organisations."
Burnette tells AdNews communications minister Mitch Fifield has already suggested he will look at anti-siphoning laws over the next few years once the media reforms package has passed. 
A balancing act
It's not just the government that needs to act. Burnette believes sports administrators should consider how free-to-air TV can grow sports but providing mass reach and sponsorship interest that is difficult to replicate on pay TV and other tech platforms with controlled ecosystems.
The example he points to is Ten's success in transforming the Big Bash League from its previous home Fox Sports.
In Ten's first season (2014-15), average crowds grew to 23,590 from 18,778 under Fox Sports. Fast forward to the 2016-17 season and the average attendance was 30,534 – making it among the top six highest attended sports tournaments in the world – while ratings have soared and are often north of 1 million per match.
"If you look at some of the other sports that may have gone to a paid service broadcaster, what happens is the short-term dollars goes to the sporting code but it weakens the long-term viability of that sport," Burnette says.
"If you can't go to the masses with your sport, the next time you go to the rights the sport won't be the same when you first went to the money.
"Sporting codes need to think about their model for the future and whether they take the short-term money or the proposition that can help grow the code."
Further reading: Tech giants, telcos are biggest threat to live sport on FTA TV
Have something to say on this? Share your views in the comments section below. Or if you have a news story or tip-off, drop us a line at [email protected]
Sign up to the AdNews newsletter, like us on Facebook or follow us on Twitter for breaking stories and campaigns throughout the day. Need a job? Visit adnewsjobs.com.au.