​Overseas expansion is high on the agenda for U.S. technology companies, according to a new survey report.
Eighty-five percent of tech firms in the U.S. said they have plans to expand into new markets soon, according to research conducted by survey firm Censuswide for the international employment solutions company Velocity Global. Currently, 54 percent of the 500 companies surveyed said they operate in the U.S. only, but this is expected to fall to just 22 percent by the end of 2019.
Almost half (45 percent) of the respondents said access to talent was a top reason to expand into international markets, right after growing the customer base (49 percent).
"The businesses we polled recognize that when it comes to tech, people are everything," said Ben Wright, CEO of Denver-based Velocity Global. "Many of them are expanding overseas not just because U.S. tech carries with it a reputation for innovation and excellence, but also because they want to ensure they have a presence in markets with the brightest talent."
Richard Burke, the CEO of Envoy Global, an immigration technology company in Chicago, agreed, saying that access to top skills and a workforce with diverse experience, whether gained through expansion into foreign markets or recruiting foreign national workers to the U.S., are paramount for talent acquisition.
"We know that the No. 1 reason companies hire foreign nationals to the U.S. is to get access to the best talent," he said. "It's the same phenomenon when going overseas."
[SHRM members-only toolkit: Understanding and Obtaining U.S. Employment Visas]
Asia and Europe Key Destinations
Sixty percent of respondents consider Asia and Europe the key target markets for recruiting tech talent, with both regions regarded equally for the availability of tech skills. Only 20 percent consider the U.S. the primary place to access the right expertise.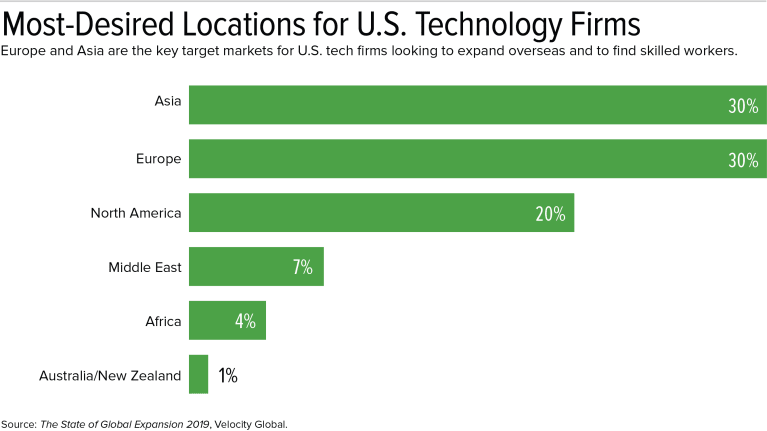 For those that named Asia as a target region, China was the clear front-runner, Wright said. About 57 percent of U.S. organizations chose the country as the most important market, followed by Japan (41 percent) and India (38 percent).
In Europe, respondents chose the United Kingdom first (40 percent), ahead of Germany (30 percent) and France (29 percent).
Immigration policies have led many U.S. companies to look at Canada as a future talent hub, Burke said. "Canada has liberalized their immigration policies, speeding up the process and becoming more immigration-friendly," he said. Sixty-five percent of 400 HR and mobility professionals surveyed by Harris Poll for Envoy said they view Canada's immigration policy as more favorable than U.S. policy, and 38 percent said their employers are considering expansion to Canada.
Expansion Challenges
Despite U.S. tech companies' confidence in entering overseas markets, respondents are aware of the difficulties involved. The most-prevalent HR barriers include recruiting and managing employee immigration, managing different payroll processes and dealing with communications issues.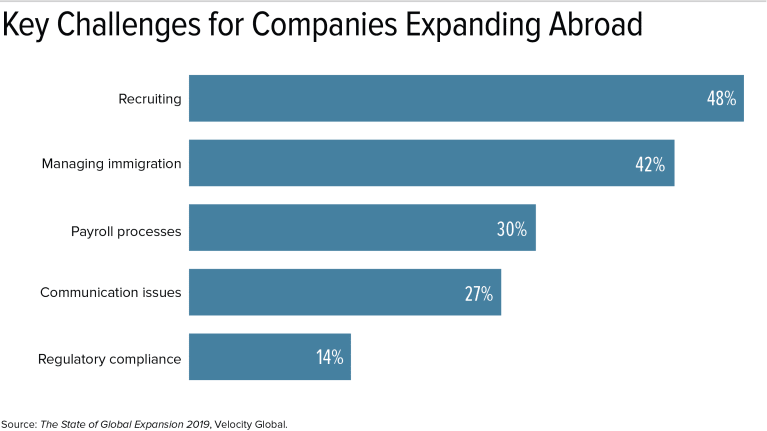 "The possibility of failure has been a reality for many of the firms surveyed," Wright said. "More than a third have exited an international market after setting up operations there. Of those businesses, 40 percent said sourcing talent was a key factor, 36 percent said immigration management had been a key issue, and 35 percent blamed managing payroll processes. One in four said compliance with local regulations contributed to the withdrawal."
The biggest immigration challenge for U.S. companies is managing the differing regulations in each country, Burke said. "Just because you have a U.S. passport doesn't mean you can go anywhere for work—it depends on the length of your stay, the nature of your stay and the particular jurisdiction. There are consequences beyond immigration, including taxes, reporting, currency conversion. At the corporate level, you may have an incorporation or registration obligation. You will certainly have an immigration obligation, tax and reporting requirements."
Wright said that acquiring an existing business, establishing a joint-venture partnership with a company in the destination country, or working with an international professional employer organization (PEO) are all ways to mitigate risk when expanding operations abroad.
International PEOs allow businesses to employ people without setting up a legal entity in the country by acting as their employer of record, Wright said.