Box Score (.pdf) | Full gamebook (.pdf) | Multimedia | Photo Gallery | Postgame Notes
BLACKSBURG, Va. – Moses Wright recorded his fifth double-double of the season, scoring 26 points and pulling down 10 rebounds to lead Georgia Tech men's basketball to its third-consecutive win and perhaps its biggest victory of the season to date, a 69-53 triumph over No. 16/15 Virginia Tech on Tuesday night at Cassell Coliseum.
With the win, Georgia Tech (12-8, 8-6 ACC) picked up its fourth victory of the year over a nationally ranked opponent (tied with Virginia Tech for most in the Atlantic Coast Conference) and also secured a coveted "Quad 1" win according to the NCAA's all-important NET rankings. With its second-straight ACC road win, Tech also moved one step closer to potentially earning its first NCAA Tournament berth since 2010.
Both teams scuffled offensively in the first half to send the game to halftime tied at 24-24 apiece. However, the Yellow Jackets came out red-hot after the break and, sparked by making their first four shots, went on a 17-4 run over the first six-and-a-half minutes of the second half to grab a commanding 41-28 lead. Virginia Tech (14-5, 8-4 ACC) drew back within six points at 48-42 with 7:20 to go in the ballgame, but Georgia Tech scored 21 of the games final 32 points to pull away. The Jackets shot 61.5 percent (16-for-26) from the field and outscored the Hokies by a 45-29 margin in the second half.
Wright's 26-point performance was sparked 9-for-11 shooting from the field. Jose Alvarado and Michael Devoe added 13 and 12 points, respectively, to round out three Yellow Jackets in double-figures.
Defensively, the Jackets forced 16 turnovers, with Alvarado scooping up five of the team's nine steals. Georgia Tech finished with a commanding 19-8 advantage in points off turnovers, while handing the Hokies their first ACC home loss of the season.
Georgia Tech returns to action on Saturday, Feb. 27, when it hosts Syracuse at McCamish Pavilion. Tipoff is slotted for noon (EST) and will be televised nationally on ACC Network.
Moses Wright recorded his fifth double-double of the season with 26 points and 10 rebounds in Tuesday's win at No. 16/15 Virginia Tech. (VT athletics photo)
Post-Game Notes
TEAM NOTES
Georgia Tech and Virginia Tech are now tied for most wins over AP top-25 teams this season – four. Tech beat all four by double digits and by an average of 15.5 points. The Yellow Jackets won their first road game against a top-25 team since defeating No. 23 Miami on Jan. 28, 2015, breaking a streak of 21 straight losses.
Georgia Tech captured its second consecutive ACC road win after losing its first five this season, the Yellow Jackets' first back-to-back ACC road wins since North Carolina and Boston College in January of 2020. The two wins have vaulted Tech from No. 55 to No. 40 to No. 33 in KenPom.com's rankings.
Tech won at Cassell Coliseum for only the second time in 12 tries. The Jackets have won the last two games in the series by a total of 35 points.
Tech now has a winning streak or has won the last meeting against nine of its 14 ACC foes. A win over Syracuse Saturday would make it 10 of 14.
Tech's wins at Miami and Virginia Tech makes only the second time in team history that the Yellow Jackets have won back-to-back ACC road games by double digits, and the first time by more than 15 points each. The Jackets defeated Clemson (83-71) and NC State (67-54) in back-to-back ACC road games during the 1985-86 season, when Mark Price and John Salley were seniors.
Tech improved to 9-1 this season when Jose Alvarado and Michael Devoe both score in double figures, 7-0 in ACC games.
For the 17th time in its last 18 games, Tech won the turnover battle (seven to Virginia Tech's 16), and the Yellow Jackets have a plus-4.7 turnover margin in conference play, plus-4.6 in all games. Both rank No. 1 in the ACC. Tech also leads the ACC in turnovers forced in conference games (15.4) and is second in all games (15.6).
Tech has shot 50 percent or better in seven ACC games this season (52 percent at Virginia Tech, 57.1 at Miami, 52 and 57.4 in two games against Clemson, 58.3 against Notre Dame, 50 against Wake Forest, 52.9 against North Carolina), and has connected on 47.8 percent of its shots in ACC games this season. The Jackets pulled away from the Hokies by making 61.5 percent of its field goal tries in the second half.
Tech has snapped out of a five-game funk from the three-point line in its last two games, hitting 19-of-46 (41.3 percent) in its wins at Miami and Virginia Tech (11-of-26 vs. Miami, 8-of-20 at Virginia Tech). Tech went 5-of-9 from distance in the second half against the Hokies. The Jackets had shot just 30.1 percent over its previous five games.
Tech held its third straight team under a point per possession (KenPom.com defensive efficiency) and has done so in five of its last eight games (four of those were wins).
One of the bottom teams in the ACC in rebound margin, Georgia Tech outrebounded both Miami (35-26) and Virginia Tech (31-23).
Since going to its smaller lineup in the season's third game, Tech has had just 44 shots blocked in its last 18 games (2.44 per game), 14 of those by Virginia in two meetings. The Yellow Jackets had 13 shots blocked in their two season-opening losses.
Tech collected nine steals against Virginia Tech and is averaging 9.1 in conference games, 9.0 in all games, both rank No. 2 behind Syracuse.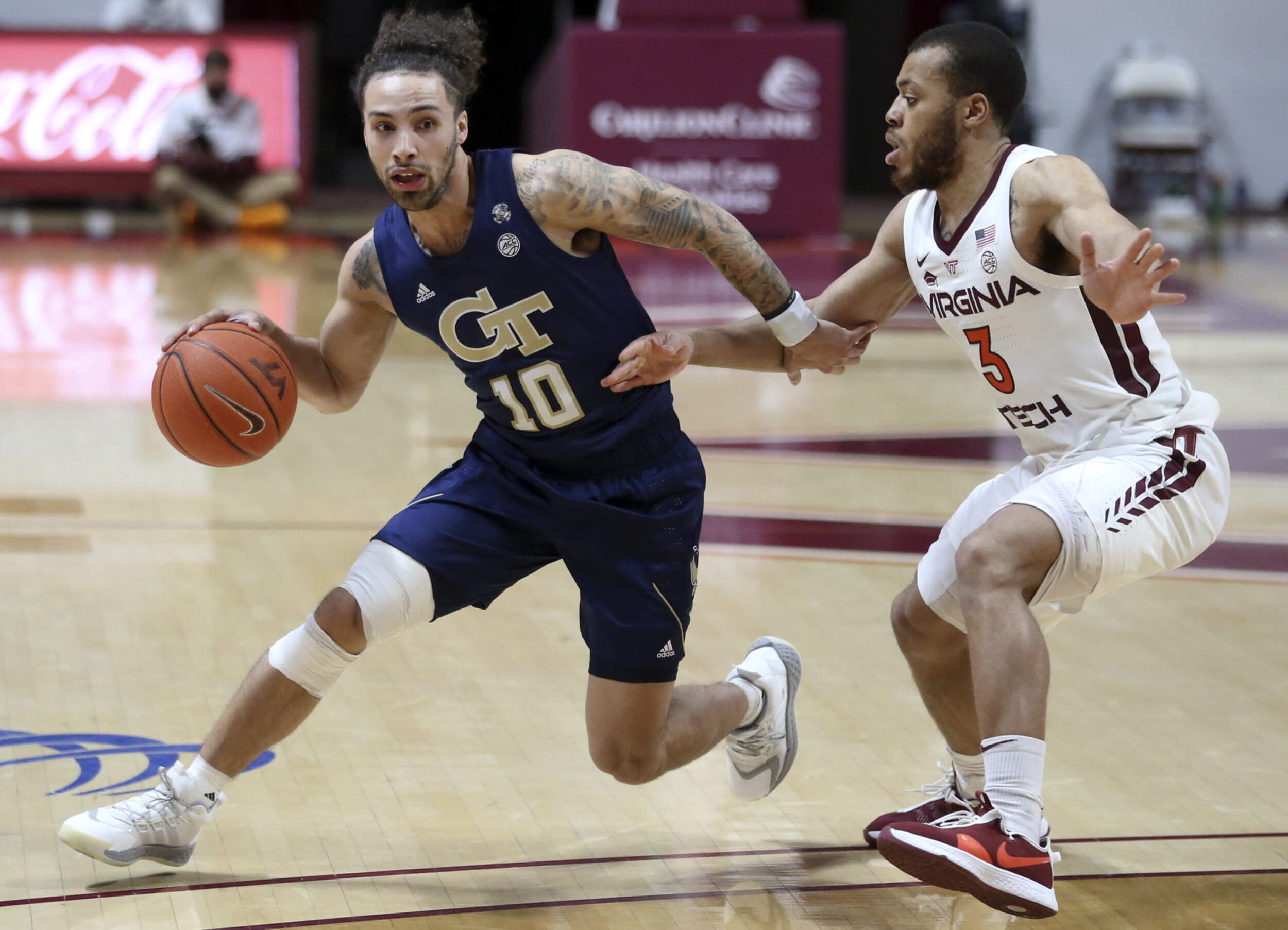 Jose Alvarado scored 13 points and had five steals to help lead Georgia Tech to its third-consecutive win on Tuesday night at Virginia Tech. (VT athletics photo)
Post-Game Press Conferences
Head Coach Josh Pastner
Moses Wright
Jose Alvarado
===========
Website of source