Pairings and live scoring via Golfstat
Palm Desert, Calif. – Andy Mao fired a 1-under-par 71, and Noah Norton an even-par 72 in the face of severe winds Saturday to lead Georgia Tech, which took over first place after 36 holes at the Wyoming Desert Intercollegiate. The Yellow Jackets lead Oregon by four strokes headed to Sunday's final round, which begins with a shotgun start at 11 a.m. Eastern time.
TECH LINEUP – Tech made the turn at 2-under-par in fairly calm conditions before strong winds, same as those that forced suspension of Saturday's third round of the PGA Tour Genesis Invitational in the Los Angeles area, sent scores soaring across the board. The Yellow Jackets finished the round at 7-over-par 295.
Mao, 2-under-par after nine holes, overcame a double bogey at the 11th to play last four holes at 2-under-par and finish with a 71. The sophomore from Johns Creek, Ga., is tied for sixth place at 3-under-par 139. Norton was bogey free at 3-under-par at the turn and finished even-par for the day. The senior from Chico, Calif., is tied for third place after 36 holes at 4-under-par 140.
Freshman Christo Lamprecht (George, South Africa) shot 2-over-par 74 Saturday and is tied for 18th place at even-par 144, while sophomore Luka Karaulic (Dacula, Ga.) provided the Yellow Jackets' fourth counting score with a 78. Junior Connor Howe (Ogden, Utah), who shot a 68 in the opening round, did not count for Tech Saturday after posting an 80 and fell into a tie for 47th individually.
Freshman Adam Bratton (Newburgh, Ind.), competing as an individual, shot 76 Saturday and is tied for 52nd place at 149 (+5).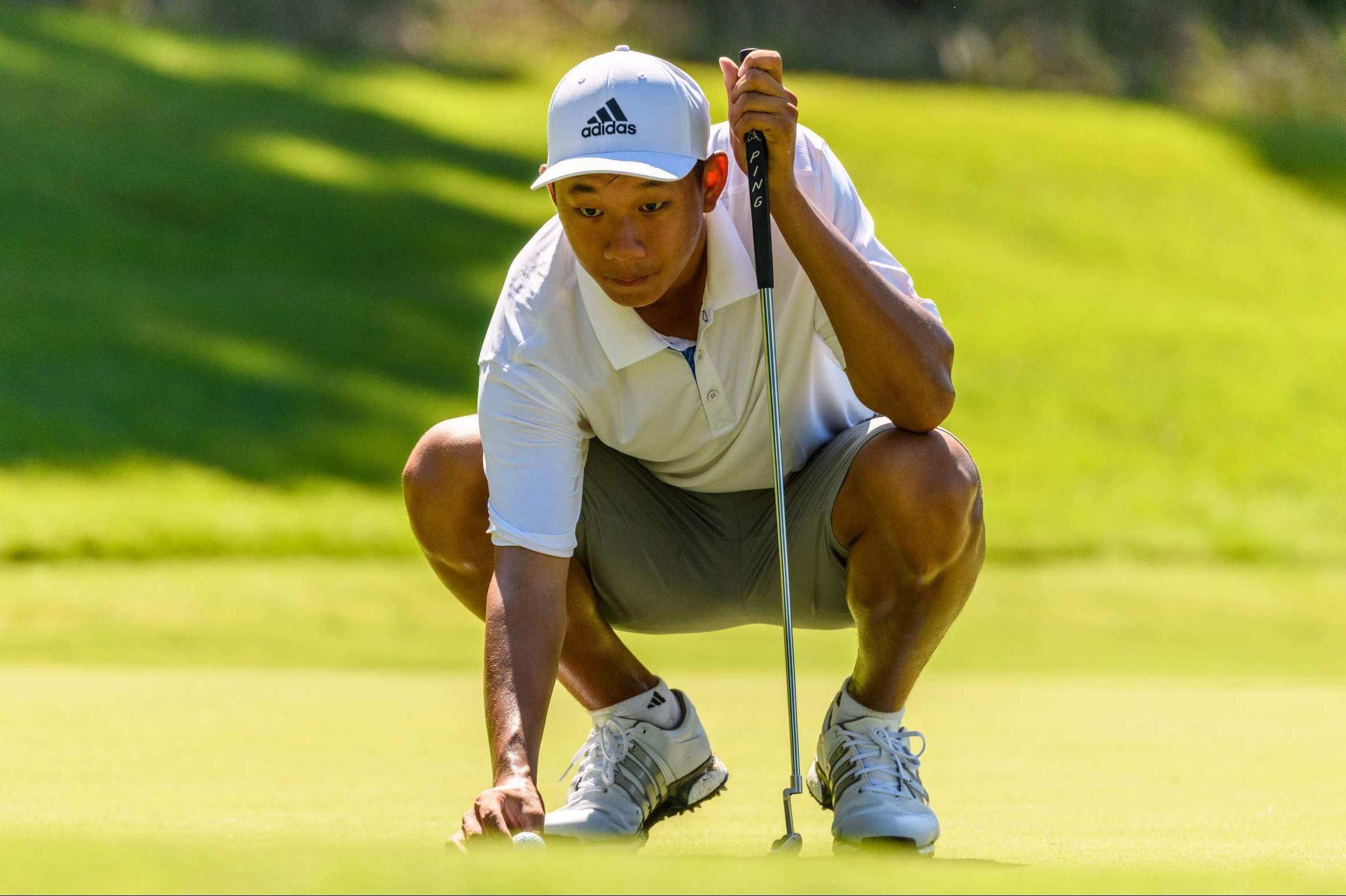 Andy Mao paced Tech with a 71 Saturday.
TEAM LEADERBOARD – Despite losing ground to par Saturday, Tech took a four stroke lead into the final round and sits at 5-under-par 571, with Oregon (297 Saturday) and Charlotte (298) tied for second place at 1-under-par 575. Those two teams have one subpar round between them Saturday.
San Diego State and Boise State, two of three teams to break par Saturday with 1-under-par rounds of 287, are tied for fourth place at even-par 576.
First-round leader Kansas (-14) withdrew from the tournament prior to the beginning of the second round due to a positive COVID-19 test within its team.
INDIVIDUAL LEADERBOARD – Colorado State's A.J. Ott took the lead after 36 holes after posting a 4-under-par 68 and a 7-under-par total of 137. He is two shots ahead of San Diego's Charlie Reiter, who shot 70 Saturday and has a tournament total of 139 (-5).
Tech's Norton is tied with Wyoming's Jared Edeen and Charlotte's Dohnjin Park at 4-under-par 140, while Mao is tied for sixth with UCLA's Devon Bling at 3-under-par 141.
Seventeen of the 120 competitors in the field are under par through 36 holes.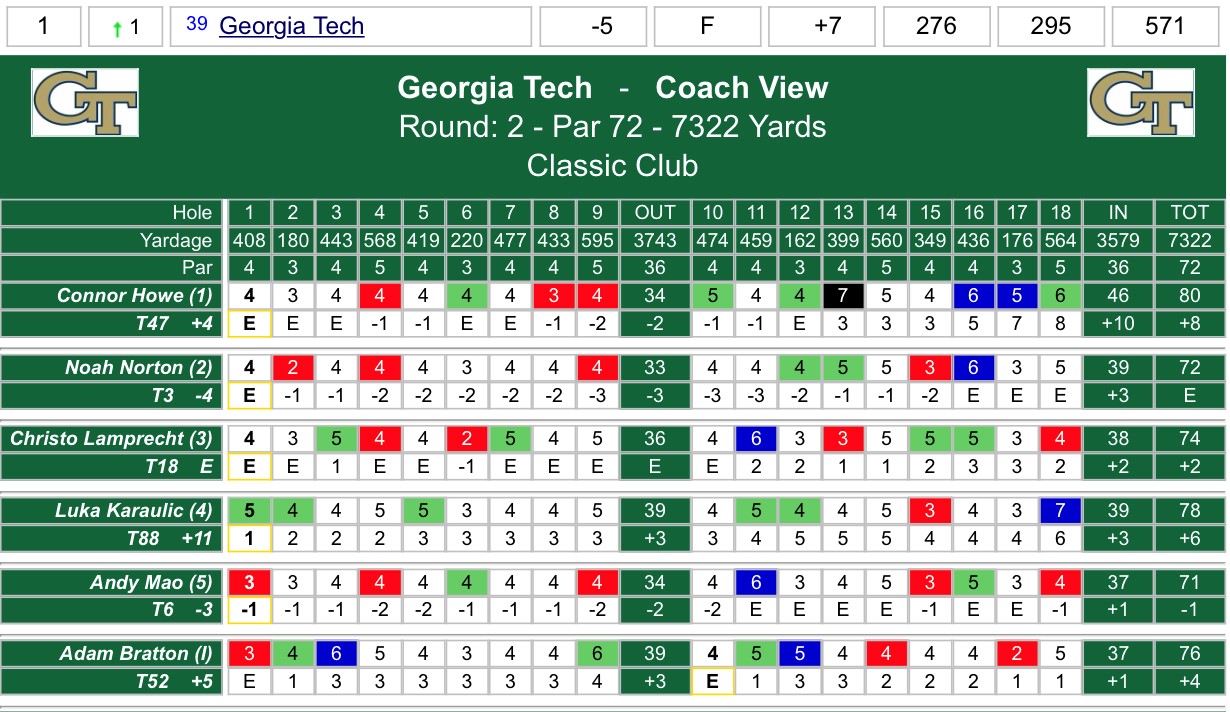 "Andy finished strong today and Noah and Christo held it together through some really tough conditions on the back nine. Things were going well for the first nine holes and then the wind came up and made things very difficult for everyone. But we're happy to have a lead going into the final round."
Head coach Bruce Heppler
TOURNAMENT INFORMATION – A first-time event on the Georgia Tech schedule, the Yellow Jackets are part of a large field for the 13th renewal of the tournament which is played at the Classic Club in Palm Desert, Calif., which plays to a par of 72 and measures 7,322 yards. The inaugural Wyoming Desert Intercollegiate was held in 2008 and has been conducted every year since with the exception of 2010.
The format is 54 holes, 18 each day, with the low four individual scores of five each day counting toward the team total. The field includes 21 teams, including six from East of the Mississippi River. Six teams are listed among the nation's top 50 in the most recent Golfstat rankings – Auburn (15), Southern Utah (20), Kansas (28), Georgia Tech (39), UNC Wilmington (47) and San Diego (49).
ABOUT GEORGIA TECH GOLF
Georgia Tech's golf team is in its 26th year under head coach Bruce Heppler, winning 64 tournaments in his tenure. The Yellow Jackets have won 18 Atlantic Coast Conference Championships, made 29 appearances in the NCAA Championship and been the national runner-up four times. Connect with Georgia Tech Golf on social media by liking their Facebook page, or following on Twitter (@GTGolf) and Instagram. For more information on Tech golf, visit Ramblinwreck.com.
===========
Website of source