Final Leaderboard via Golfstat  |  Complete Results (PDF)
Palm Desert, Calif. – Noah Norton, Christo Lamprecht and Connor Howe all fired rounds under 70 in Sunday's final round, and Georgia Tech posted an 11-under-par score of 277 to pull away for a seven-stroke victory at the Wyoming Desert Classic. It was the first victory for the Yellow Jackets in four events this spring and the 65th under head coach Bruce Heppler in his 26th year heading the program.
TECH LINEUP – Tech began the day four strokes clear of Charlotte and shot the best round of the day on the strength of a 5-under-par 67 from Norton, a 4-under-par 68 from Lamprecht and a 3-under-par 69 from Connor Howe. Sophomore Luka Karaulic (Dacula, Ga.) provided the Yellow Jackets' fourth counting score with a 73.
Norton, a senior from Chico, Calif., started fast with a pair of birdies and an eagle in his first four holes and added three more birdies during his round. He finished as the tournament individual runner-up at 9-under-par 207 and notched his 10th career top-10 finish. Lamprecht, a freshman from George, South Africa, recorded seven birdies in his final round and tied for sixth place at 4-under-par 212. Howe, a junior from Ogden, Utah, birdied six holes and tied for 19th at 217 (+1).
Sophomore Andy Mao (Johns Creek, Ga.) was bidding for a top-20 finish after 36 holes but fell back to a tie for 39th (220, +4) after carding a 79 Sunday. Karaulic tied for 76th place individually at 228 (+12).
Freshman Adam Bratton (Newburgh, Ind.), competing as an individual, shot 74 Sunday and tied for 59th place at 223 (+7).
Tech racked up 61 birdies over three rounds, one shy of the tournament lead (Boise, 62).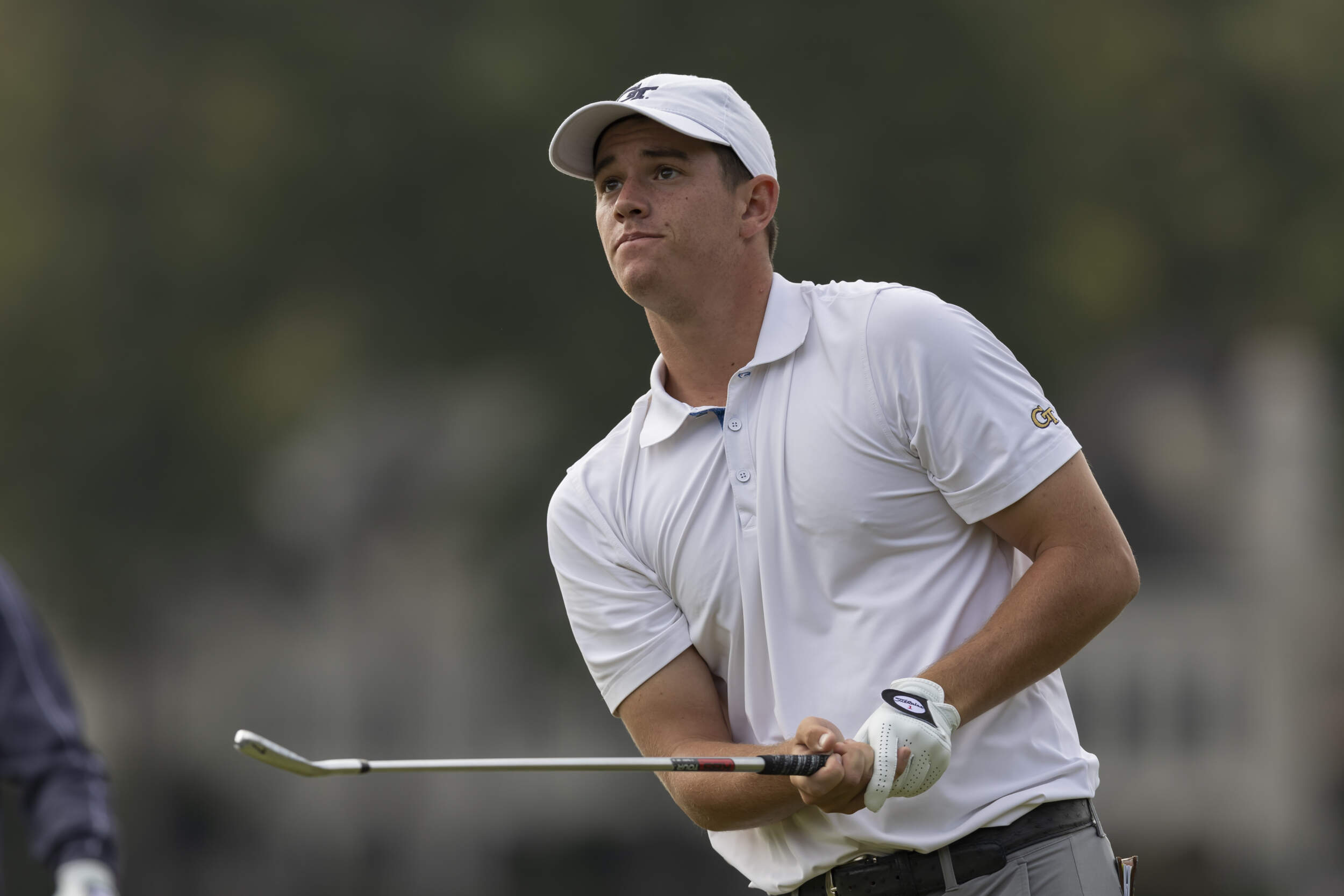 Noah Norton logged his 10th career top-10 finish.
TEAM LEADERBOARD – The Yellow Jackets posted a 54-hole score of 848 (-16), holding off Charlotte (855, -9) and San Diego (858, -6), each of whom had strong finishing rounds. The 49ers shot 8-under-par 280 Sunday, while the Toreros shot 6-under-par 282
Oregon and Boise State were the only other teams to finish 54 holes under par at 2-under 862.
INDIVIDUAL LEADERBOARD – A.J. Ott of Colorado State, the only competitor to post three rounds in the 60s, held onto his 36-hole lead with a 68 Sunday to hold off Tech's Norton. Ott posted an 11-under-par total of 205, while the Yellow Jacket junior finished at 9-under-par 207.
UCLA's Devon Bling finished solo third at 209 (-7), while Fresno State's Tommy Stephenson and San Diego's Charlie Reiter tied for fourth at 211 (-5). Tech's Lamprecht and Florida Atlantic's Enrique Dimayuga tied for sixth at 212 (-4). Only 15 of the field's 120 competitors finished 54 holes in red figures.
TOURNAMENT INFORMATION – A first-time event on the Georgia Tech schedule, the Yellow Jackets were part of a large field for the 13th renewal of the tournament which was played at the Classic Club in Palm Desert, Calif., which plays to a par of 72 and measures 7,322 yards. The inaugural Wyoming Desert Intercollegiate was held in 2008 and has been conducted every year since with the exception of 2010.
The field included 21 teams, including six from East of the Mississippi River. Six teams are listed among the nation's top 50 in the most recent Golfstat rankings – Auburn (15), Southern Utah (20), Kansas (28), Georgia Tech (39), UNC Wilmington (47) and San Diego (49).
Alexander-Tharpe Fund
The Alexander-Tharpe Fund is the fundraising arm of Georgia Tech athletics, providing scholarship, operations and facilities support for Georgia Tech's 400-plus student-athletes. Be a part of developing Georgia Tech's Everyday Champions and helping the Yellow Jackets compete for championships at the highest levels of college athletics by supporting the A-T Fund's Annual Athletic Scholarship Fund, which directly provides scholarships for Georgia Tech student-athletes, and the Support The Swarm Fund, created to give fans an opportunity to help Georgia Tech athletics maintain its recent momentum through the financial challenges of the Covid-19 pandemic! To learn more about supporting the Yellow Jackets, visit atfund.org.  
ABOUT GEORGIA TECH GOLF
Georgia Tech's golf team is in its 26th year under head coach Bruce Heppler, winning 65 tournaments in his tenure. The Yellow Jackets have won 18 Atlantic Coast Conference Championships, made 29 appearances in the NCAA Championship and been the national runner-up four times. Connect with Georgia Tech Golf on social media by liking their Facebook page, or following on Twitter (@GTGolf) and Instagram. For more information on Tech golf, visit Ramblinwreck.com.
===========
Website of source