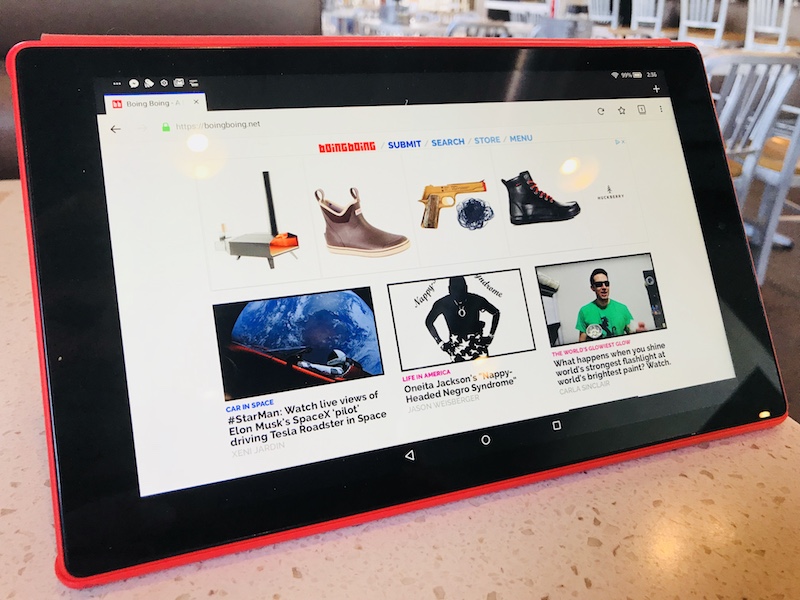 I use my Amazon Fire HD 10 every day. At $120 it is the bargain tablet I wanted.

My bright red Amazon Fire HD 10″ tablet is amazingly darn useful. Compared to the Apple equivalent I've saved $100s of dollars on features I didn't want to use. I bought this tablet as soon as it was announced, and it has become a pretty constant companion.

Tablets haven't been central to my computing experience. I kinda feel like they are an in-between world of kludges for work-stuff and smartphone-features. As a work device I avoid them, but as an entertainment device I thought a tablet could be awesome. Awesome they be.

I tried an earlier Amazon tablet when I wanted to see what the world of Android was like. I quickly jailbroke that tablet and really enjoyed it. Without the world of Apple-connectedness I could use the tablet as a recreational device. I could avoid work and business communications! After a while Gmail and Slack found their way on to the tablet, and I tried using the FireHD to post to WordPress, but mostly what I found these tablets good for was the entertainments. When this 10″ tablet with faster cpu and high-resolution screen became available I knew I wanted it, and I knew I didn't want to jailbreak it. Amazon's OS offers me a few things I really like.

Amazon's Android OS variant is designed to integrate your Prime libraries of video and e-books right into your tablet-top. Video is so easy to access, be it Amazon Prime, Netflix, Hulu or Plex. These four have largely replaced the 4 channels I grew up with (ABC, NBC, CBS and PBS) and with YouTube (the late night local station) are all we get. I have the same access to video content on the FireHD as I do on my big TV screen. I pay for those services and internet, I do not get cable, satellite or OTA tv here. I live in the sticks.

It is easy to download content to the device via Amazon, Netflix and Plex. I can take videos and music on plane rides, camping trips and live-aboard diveboats without worrying about connectivity. It pairs easily with all the bluetooth stuff I've tried. The SD card slot allows for plenty of storage and the integrated the storage space seamlessly once you insert a card.

Yes, Amazon also throws some shopping at you… You can ignore it. As far as I can recall all ads are screensaver-based unless you go into the Amazon shopping apps. You can pay to remove ads but I don't really care. I don't look at a screeensaver and an occasional ad for some kitchen gadget or a romance novel doesn't bother me. I like kitchen gadgets and romance novel covers.

I do read books on this tablet, but only when I have decided to leave my Kindle home! I do find the display on my Kindle Voyage to be far better for long periods of reading. Games however are just fine there is lots of CPU for any tablet game I've downloaded. There are also some Amazon Twitch Prime perks that come through and let me have access to freebies and powerups I don't really understand, but again this device is heavily integrated into the Amazon Prime economy.

The Google App store is easy to add, I offered some instructions here previously but I am not sure they are up-to-date with the current OS. Amazon has done nothing over several updates to disable this functionality. Having added the Google apps I use Firefox as my browser and Gmail as my email client. Everything I could possibly want to run, except Fortnite, is available. My 11daughter uses her Amazon tablet for everything except playing Fortnite, and does not like a computer with a keyboard, fwiw.

This is an entertainment device. It is super nice to have it separated from my work environment. If someone starts texting me, my teevee show isn't interrupted. I don't have messages flashing on the screen while I am looking at a recipe in the kitchen, or watching a Twitch stream.

Fire HD 10 Tablet with Alexa Hands-Free, 10.1″ 1080p Full HD Display, 32 GB, Black – with Special Offers via Amazon
Behold the incredibly weird-looking Horten Ho 229 — an all-wing "wonder weapon" plane that the Nazis frantically developed even as they were collapsing and losing WWII.
READ THE REST
On Fox News tonight, Rudy Giuliani shared some jaw-dropping things.
READ THE REST
Anti-Muslim hate personality John Guandolo was speaking just a couple of weeks ago about his desire to arrest Democratic and GOP leadership, then execute people. Mr. Guandolo's 'training workshops' on the dangers of jihad have some popularity among some police officers in the U.S., as evidenced by past speaking engagements with various police departments. Mr. […]
READ THE REST
Machine learning is all around us. From Google's search engines to Tesla's self-driving cars, this field powers many of today's AI innovations, and, as more of these products find their way into the mainstream, understanding how they work is going to be a valuable skill. Regardless of your experience level, the Pay What You Want: The […]
READ THE REST
If you have aspirations of making it as a web developer, you're likely going to need to master JavaScript. A browser language that supports object-oriented, imperative, and functional programming styles, JavaScript is the tool in a coder's toolbox that lets them display dynamic information on a webpage, like interactive maps, content updates, animations, and the like. […]
READ THE REST
A group selfie is a great way to document a successful adventure, but getting everyone in the shot can be tricky when you're with a large group. And, while you can roll the dice on a good Samaritan to take the shot for you, there's a better way to immortalize a memorable outing. Meet the AirSelfie […]
READ THE REST