[ad_1]

Lest you doubt that Google is serious about spreading its AI to every nook and cranny of the consumer electronics universe, consider today's CES 2018 reveal: Google just announced four new "smart displays" from Lenovo, JBL, LG and Sony, plus a bevy of smart speakers and TVs from other partners, almost too numerous to mention. And all these devices come with Google Assistant baked in.
This is a shot across the bough of Amazon, whose Alexa digital assistant is appearing in more and more third-party devices, as well.
Google also announced that Google Assistant is coming to Android Auto dashboard units, and gave an official name—"Actions"—to all the commands and queries you can voice to Google Assistant.
But the big news centers on smart displays, which offer capabilities you won't find in Google's own Google Home, Google Home Mini or Google Home Max smart speakers. Check out our demo video of the Lenovo Smart Display below for details.
Google Assistant smart displays
The smart displays are essentially Google Assistant-imbued HD tablets that sit on your desk or kitchen countertop like a fancy digital picture frame. Think Amazon Echo Show (which we love), but with Google Assistant instead of Alexa. The new smart displays range in size from 8 to 10 inches, and come with front-facing cameras and built-in speakers of varying quality. But the star of the show is Google Assistant.
On a table-top display, Assistant behaves much like it does on a smart speaker, but with the addition of rich visuals. For example, when you ask Assistant to share what's on your calendar, you'll see cards for each appointment, and then from there, you can ask the smart display to show a map of your destination.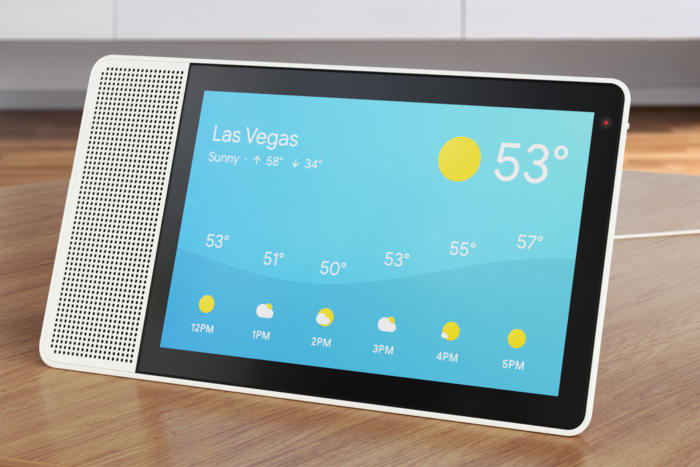 You can also ask Assistant for recipes, and voila, they'll show up on the smart display in an easy-to-follow format. And because the display has a voice-driven interface, you don't necessarily need to touch the screen with messy fingers to advance through the recipe.
The smart displays will also show images from Google Photos; provide visual interfaces for security cameras and other smart home devices; and serve as video phones for face-to-face chats over Google Duo.
The first Google Assistant smart displays should be available this summer. The JBL Link View will have an 8-inch HD display; a 5-megapixel front-facing camera; and two 10-watt front-firing stereo speakers along with a rear-facing passive radiator for low-end thump.