[ad_1]

Amazon's new 10in tablet aims to offer users media viewing that rivals top-end competitors, but for under half the price of even the cheapest 10in iPad.
While the company has found great success with its smaller and cheaper Fire 7, and now the excellent Fire HD 8, the previous Fire HD 10 was been a bit hit and miss. This time round the right corners have been cut in pursuit of a cheaper price.
A couple of things have changed for the 2017 Fire HD 10. The most obvious is the switch to a hardier, textured plastic shell, which is the same design used by its smaller siblings, instead of the glossy plastic used last time round. It looks particularly good in the vibrant red colour, and is comfortable to hold.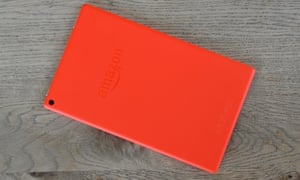 There's a bit of flex and give in the body, and it's quite thick and heavy by premium standards at 9.8mm and 500g, but it's perfectly fine to hold on a lap or propped up on the arm of a seat for extended viewing sessions.
The other big change is a much improved, higher resolution screen. The 10.1in screen is now full HD 1080p, up from just 720p, and looks a lot crisper and brighter. Movies and TV shows look great, and photos look pretty good too. It's not quite in the same league as Apple's £619 10.5in iPad Pro, but only costs a quarter as much.
Indoors it looks great, with good viewing angles and is still up to the task on a train in the British sun.
The speakers along the top edge are similar in quality to the Fire HD 8: fairly clear and loud for a tablet and make Amazon's virtual assistant Alexa sound pretty good. I couldn't hear them over my cooker hood fan going full blast and the kettle boiling in the kitchen, but dialogue was perfectly audible in most situations.
Specifications
Screen: 10.1in 1920×1200 LCD (224ppi)
Processor: 1.8GHz quad-core
RAM: 2GB
Storage: 32 or 64GB; microSD slot also available
Operating system: Fire OS 5 based on Android 5 Lollipop
Camera: 2MP rear camera, 0.3MP front-facing camera
Connectivity: Wi-Fi ac, Bluetooth
Dimensions: 262 x 159 x 9.8 mm
Weight: 500g
Battery to last three movies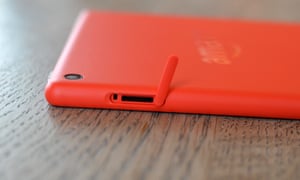 The new Fire HD 10 has a new 1.8GHz quad-core processor and double the RAM of its predecessor at 2GB. Everyday performance is much smoother, with swiping through and loading apps fairly snappy and browsing with multiple tabs in the Silk browser mostly smooth, while game performance was solid even in graphically intensive games such as Real Racing.
It's not going to win any performance awards – a top-end smartphone will be faster – but it was more than acceptable, feeling slightly snappier than the Fire HD 8.
Battery life was also pretty good. Amazon reckons it will last about 10 hours of mixed use, which was about right in my testing. I could just about watch three full-length downloaded movies before the battery gave out with the brightness near maximum.
Charging the Fire HD 10 takes quite a while, with 80% added to the battery in three hours and a full charge taking about four hours.
Fire OS 5.5