Synthesize and evaluate English learning applications for preschool children from 3-6 years old

1. Monkey Junior
Monkey Junior is an English learning app for beginners (0-10 years old). With Monkey Junior app, kids can learn 6 different languages ​​including: English, Vietnamese, Spanish, Russian, French, Chinese.
Monkey Junior is considered as a popular English teaching application today for children, especially children aged 4.5 months and from kindergarten upwards. With a diversely designed program framework, Monkey Junior is really a software that helps impart an extremely valuable foundation of English knowledge to young children right from the first years of life.
Monkey Junior English learning software is a comprehensive learning program that helps children learn English through games, instead of traditional methods.
The product is highly appreciated for its many outstanding advantages such as a rich and regularly updated topic system, lessons, and creative teaching methods, thereby stimulating and evoking curiosity from young children. In particular, Monkey Junior is equipped with a smart learning program management system, which is easy to access and can be used on many mobile platforms, even when offline.
However, besides the advantages, this application still has some minor bugs such as sometimes losing the sound or exiting the application unexpectedly. But anyway, Monkey Junior is still considered as one of the perfect suggestions for teaching English to preschool children today.
2. ABC Kids-Tracing and Phonics
The alphabet and how to distinguish vowels and consonants in English is probably the first lesson for all learners, especially children. ABC Kids – Tracing & Phonics is designed for children aged 2 and up to completely meet that basic need. As an English learning software for children, ABC Kids has an interface integrated with vivid and funny images of fruits and animals, helping to stimulate children's love of learning.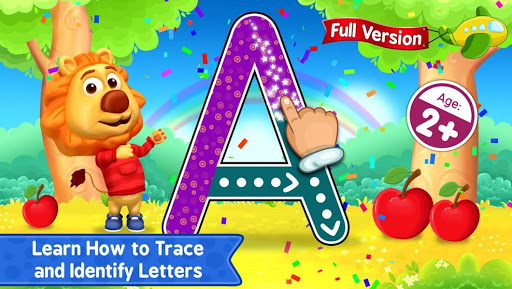 For children between the ages of 3 and 5, parents can refer to the English learning software ABC Kids-Tracing and Phonics. With fun games, suitable for preschool age such as: tracing objects, matching sounds, practicing writing letters according to instructions, etc. ABC Kids-Tracing and Phonics attracts a lot of children who are more fascinated in the future. Study English.
Advantages:
Give your baby simple games

The app makes your baby recognize letters faster, adding sounds to pronounce each letter

Wake up your baby's mind

Give your baby quick reflexes and better memory

Create for your baby to have the best listening skills
Defect:
This application facilitates children's reflexes with the alphabet, simple words

Not for use by children 6 years and older
This is also an English teaching software for preschoolers that is highly appreciated in both form and content. The interface is designed to be lively, eye-catching with bright colors, focusing on simpler lessons and without ads.
3. ChuChu TV
ChuChu TV is a famous worldwide English teaching and learning youtube channel. However, nowadays, parents can still download this software to their phone or tablet to make learning more convenient for their children.
The application is a collection of many vivid, attractive, colorful educational cartoons suitable for children of many different age groups, from children 0-3 years old to preschool children 3-5 years old. With an easy to understand, interesting and creative approach.
ChuChu TV will help children learn English in the most natural way, without being forced to crawl so that children can be happier and more comfortable with each of their lessons. This is also a safe software for children because it not only has a beautiful, age-appropriate design but also has no ads.
Advantages:
Defect:
Because the content is entirely in English, parents must have basic knowledge to support children to learn effectively.
4. Kids Learning game
The software is integrated with many games, rich colors and sound effects, which is the English learning App.
Games with sound effects and colorful graphics help children familiarize themselves with the alphabet, spelling, reading numbers, recognizing colors, shapes, objects, fruits, etc. With pictures With HD presentation and flashcards, Kids Learning game will help children have fun and learn in a more comfortable and enjoyable way.
Advantages:
There are many games to help the brain, create the ability to remember for a long time
Improve your ability to hear, see and pronounce
Defect:
It takes time to get used to the app
5. English Flashcards
This is a learning application that provides preschool children with a standard vocabulary program through flashcards, with the main purpose of helping children memorize and remember English vocabulary.
In this software, the vocabulary will be classified by each topic clearly such as family, house, greeting, weather, color, clothes…. Besides, there are vivid illustrations to make the learning process more useful and interesting.
In addition, English Flashcards is also integrated with a number of other useful features such as text-to-speech, more choice of words to learn, etc. so that children can develop English more effectively.
Although English teaching software for preschool children is considered useful and effective, parents still need to pay attention to a few issues such as learning and playing with their children, controlling study time on mobile devices. motion or computer so as not to affect children's eyes.
Hopefully, parents have had more options in finding an effective English learning method for their children.
.

=============