Guide to effective English learning methods for children

1. Methods of learning English for children
1.1 Method of "language bath"
"Language bath" means that if you don't understand English, just listen and don't try to understand. Let your ears be exposed to this language before understanding the meaning.
Just like a child, before they can speak, they also have a period of 1-2 years when they cannot speak, now they only listen. During this time, children will gradually get used to the sounds happening around them, forming thinking about language.
Next, they can babble and say a few simple words, then after entering kindergarten, they talk more and begin to know how to read and write. And over time, Vietnamese becomes a familiar language to you. If you look back at this time learning Vietnamese, it's very magical, isn't it? You can learn a language without any effort.
So why don't you apply this listening – speaking – reading – writing sequence to learning English for children?
In the first years of life, expose children to English by letting them often hear sounds in English. At first, let your child listen to simple songs with fun rhythms, suitable for children's ages. Or English programs for babies are also a good suggestion.
After a while, children will get used to pronunciation and intonation in English. So later on, it will be easier for you to teach your children the next parts!
1.2 Practice correct pronunciation from the beginning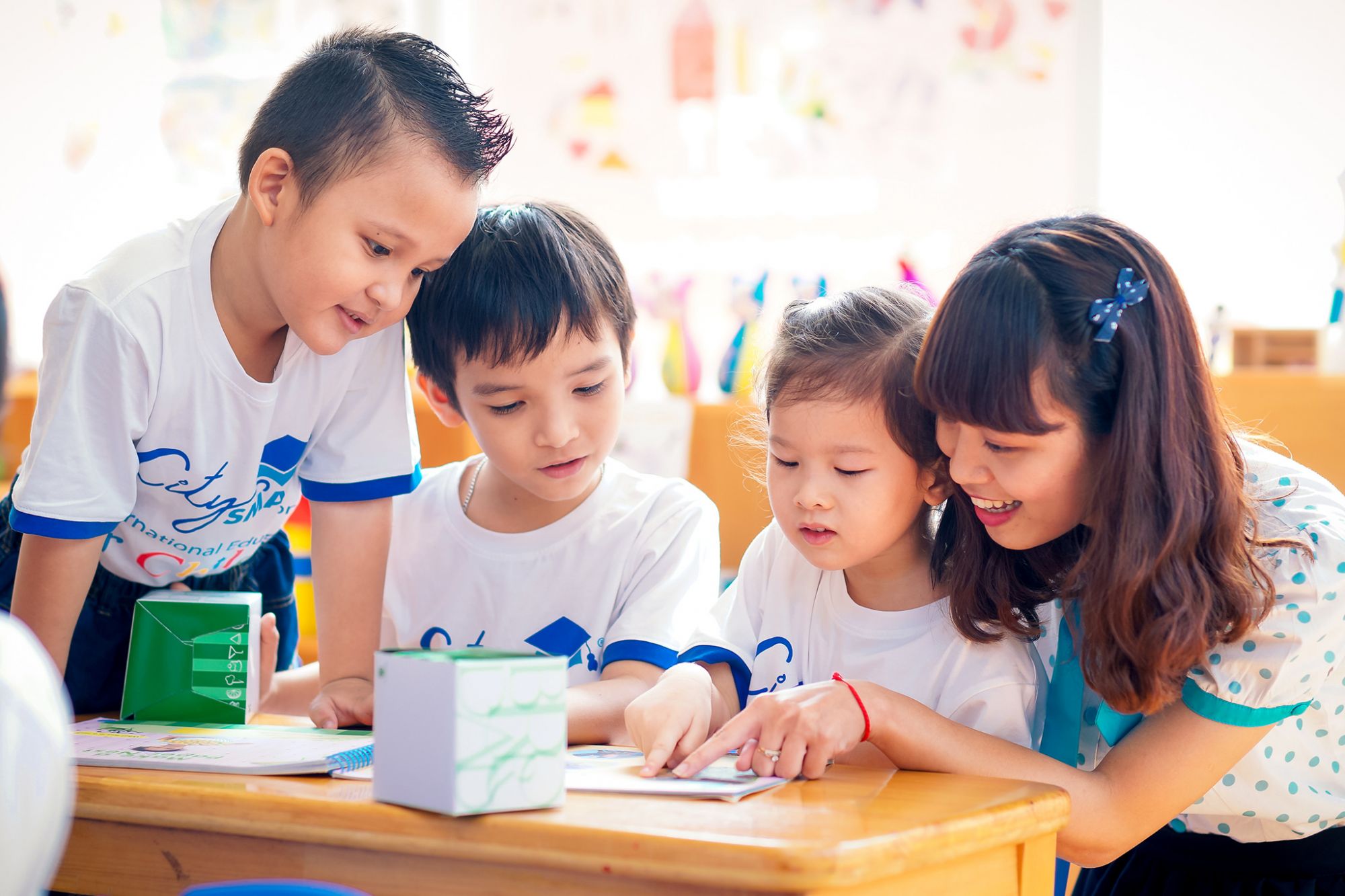 If there is no standard pronunciation, it will certainly be difficult for learners to learn to speak and listen. When you do not pronounce correctly, it is not possible to understand what words are spoken by standard speakers, or vice versa, your sentences also make the opposite person understand nothing because of your confusing pronunciation.
It is also because learning pronunciation is so important that parents need to help children get the correct pronunciation from the beginning, so that it is easier to learn other parts later!
For children, in order to learn the correct pronunciation, the child must first have a teacher with the correct pronunciation. There is no need to be a native teacher, because now there are many Vietnamese teachers who have a standard and natural pronunciation like a native. Therefore, you can choose these teachers to tutor your child.
If the cost of hiring a 1-to-1 tutor is too high, you can also split the money by finding a few other children to study with your child. Doing so helps to reduce costs, and helps children to be motivated to learn and more happy because they have friends to study with.
2. The principles of learning English for children
2.1 Learn as soon as possible
Primary school is a very important period to learn English. That's because this is considered the first stage when a baby approaches a new language (usually schools start teaching English to children from grade 3). For mothers who send their children to learn English from the age of 3-4, it is very good, but for mothers who do not have the time and conditions for their children to learn English since kindergarten, the children's primary school will be new. Starting to learn English must be really interested.
Some comments keep saying that young children know what to learn, Vietnamese is not yet fluent…
Do you know that at the moment, where I don't remember, read on CNN the other day or something, there is a language school for 6-month-old children, and the waiting list is gone, supply is not enough. Parents simply put their child in the position of a mixed-race child, he develops two languages ​​at the same time and equally (with one condition, which will be explained later), because he is exposed to two languages. since it was born.
For young children, Vietnamese is also a foreign language when they are young, right? Therefore, the earlier you learn a foreign language, the higher your ability to develop the language as your mother tongue. Besides, early learning a foreign language is not only limited to being good at that foreign language, but also makes children smarter and more developed because for young children, language development is important, and language development is important. Child development will do better in all other areas.
2.2 Distinguishing two languages ​​clearly
Speaking of mixed-race children, it is true that there are children who speak two languages ​​clearly, without confusion, and equally good, and there are children who have a language disorder. It's a very simple matter: The parents are confused. If the father is an English speaker who only speaks English to the child and if the mother is Vietnamese only speaks Vietnamese, the child will develop two languages ​​in parallel, conversely if both parents use both languages ​​interchangeably. From a young age, the consequences of aphasia are extremely high, because then the child's brain cannot distinguish two different languages, and it loses the most necessary reflexes when people need to communicate. communicate with each other: if the child knows that his mother only understands Vietnamese, he will have to practice speaking Vietnamese so that his mother understands him, similarly with his father…
So really, if you are not eligible to develop two languages ​​at a very young age (for example, parents cannot speak English, or cannot afford to hire an English-speaking nanny) from a very young age, or the environment does not allow it – if your child is Vietnamese and you are abroad for example, it is an ideal environment to develop two languages ​​at the same time) wait until your child is 3 -4 years old and start, then they will know it is a second language because Vietnamese is already quite developed.
2.3 Language learning as a communication tool and awareness of the content to be conveyed
For example, when you tell your child apple means apple, you are letting your child learn a foreign language as if it were a real foreign language, but when you hold an apple and say: apple, it looks simple but is completely different: your child will directly link that object with that word, and when he looks at the apple he will turn on the apple, enabling later when he needs to use any language, he has to THINK in that language, which is important. extremely important.
Specifically: if it needs to say it wants an apple, it will pop out I want that apple, not it will think: I want that apple, must say I want that apple, ie I want that apple and then say it.
When we went to Russia, we had a preparatory year at home, and in other countries they didn't study at home first like Vietnam, when they came to Russia they didn't have any capital, but they learned faster and had the ability to do so. turned much higher, simply as I explained above, they link everything directly to the language, not through any bridge.
2.4 Learning English must be persistent
Some parents who send their children to school are very impatient to know the results right away, to know that their children know this word and can say this sentence. Invisibility is generally full of torment for you and your children, because most of them don't have a super kid, all follow a very normal trajectory: rain gradually seeps in, and it only speaks when it feels necessary, or when it likes. ..Each child develops very individually, some have just started going to school, and some don't say anything. But rest assured, if you throw it in an English-speaking environment, it will pop out.
My son went to Australia for 3 months without uttering a word, my mother didn't mind, just showed him the English disc, spoke English to him, explained in English, understood as much as he could, the first week he went to class. I sent an interpreter, a week later your mother asked to stop even though the government paid for it, and it managed on its own. Until one day, when I took him to a friend's house to play, I saw him bursting out, with a special Australian accent. It was so surprising, and since then, he even asked his mother not to use Vietnamese with him, as a result, it took 2 months to speak Vietnamese again when he got home. Therefore, parents do not be impatient, when it pops out, it will pop out, otherwise, it's still somewhere in their heads.
2.5 Learning English must be right from the beginning
Accent (voice) doesn't matter, one can speak with Australian accent, American accent, Sing accent… but apple pronunciation must be apple. I think that parents should not be too attached to native speakers with non-native speakers. Being a native and having a certificate is too good, but now there are a lot of backpackers.
Foreigners with a standard accent are fine, because foreigners have 2 advantages over Vietnamese: children are forced to hear and understand them because they don't speak and can't understand Vietnamese (the ability to reflect said on); and say whatever, their teaching method is always more advanced, they are also better at stirring up the movement than our Vietnamese, are not afraid to dance, not afraid to sing, not afraid to speak and they still have an advantage over other teachers. It's a native speaker: they usually have a better degree and have their own experience in using a second language!!! That's not to say that Vietnamese people are not good at English, it's simply that Vietnamese teachers have a standard accent, most of them have to graduate from abroad, but those who return
They don't teach English at a low price, their price must be the same as that of a foreigner, and the image is not as good as a foreigner's because it is not a native label;
It's still best for non-Vietnamese people to teach children. Foreign teachers teaching Children is still better.
2.6 Learning in many forms
Just imagine your child is abroad, he will communicate with foreigners, he will watch foreign TV, listen to foreign music…So try to create a language environment for your child like that: Watch TV in English (disc, cable TV), listen to English music, including adult music, communicate with foreigners (go to school, go to exchanges). Also, don't force your children to just watch English learning discs, they get bored very quickly, it's best for them to watch movies in English. It's a double job: For the following reasons:
When watching movies, children have to think and guess when they don't understand, reducing the harmful effects of TV is to limit people's thinking power.

Learn English through content (content-based) that is attractive. If your kids don't like watching, encourage them by sitting next to them and then telling them more about the characters, and to keep their interest hot, choose movies with multiple series, like pooh or barbie, or strawberry shortcake, or totally spices are playing on disney channel, characters are familiar but events are always new.

Computers and the internet are also a good source for learning English, English games are also good because they have to listen and follow the instructions there, and basically they like it. How limited the problem is, the parents already know.
2.7 Things not to do when learning English
Never ask me what an apple is in English. That's taboo. Instead, pick up the apple and ask: What is this?
Hopefully, the above useful information will help parents to have more experience in teaching children well. Good luck!
.

=============