Apple (AAPL) could soon show a much lower pricing for iPhone X and other products. A strong indication of this pricing strategy can be seen from the recently launched HomePod. According to a recent report by Bloomberg, HomePod has a staggering bill of materials (BOM) cost. The BOM of HomePod is $216, while it retails for $349. Hence, the BOM of HomePod constitutes 61.89% of its final retail price. On the other hand, according to IHS Markit teardown, BOM of iPhone 8 is $247.51 and for iPhone 8 Plus is $295.44, while they retail at $699 and $799, respectively. This shows that iPhone 8's BOM makes up 35.40%, and iPhone 8 Plus BOM makes up 36.97% of the final retail price.
The jump from a range of 35-40% for iPhone to over 60% for HomePod in terms of BOM will have a significant impact on the final operating margin. Besides BOM, there are other costs like Sales, Marketing, Software development, etc. Hence, it is possible that for the first time we might see a product from Apple which has an operating margin in single digits.
Why this low pricing?
Most of the reports have pointed to the high retail price of HomePod. However, as shown by the BOM figures, the retail price of $349 is actually very low from Apple's standard. If Apple were to keep BOM cost at 35% to 37% range, HomePod should have been retailing at $580. Apple's loyal fan base might still have paid for this price, but if Apple wanted to increase its addressable market, it had to lower the price tag and take the requisite hit on the margins.
Although HomePod does not directly compete with Amazon's (NASDAQ:AMZN) Echo and Alphabet's (NASDAQ:GOOG) (NASDAQ:GOOGL) Google Home on pricing, it still faces an uphill task in converting Echo and Home users to HomePod. The late entry of HomePod in its segment should not surprise anyone. Tim Cook has said, "It doesn't bother us that we are second, third, fourth or fifth if we still have the best"
In the second quarter earnings of 2017, Tim Cook also hinted that they would not sacrifice the margins for a particular product to subsidize another service. In this case, lowering HomePod price to boost Apple Music sales. He said, "the way that we think about pricing is we come up with a price that we think is a good value for the product that we're delivering, and we do that on the hardware side as well as on the Services side. And so that's how we think about it. We're really not thinking about taking profits from one to subsidize the other or vice-versa."
Apple could have priced HomePod at $549 instead of $349 and maintained its margins. By going lower down the price chain, Apple is giving more importance to the ecosystem than individual product margins. This is contrary to the earlier pricing model. It is a big shift for Apple, and we will see the impact of this strategy on all other products in the next few cycles.
Unit sales vs. margins
Apple has seen its iPhone unit sales stagnate over the past three years.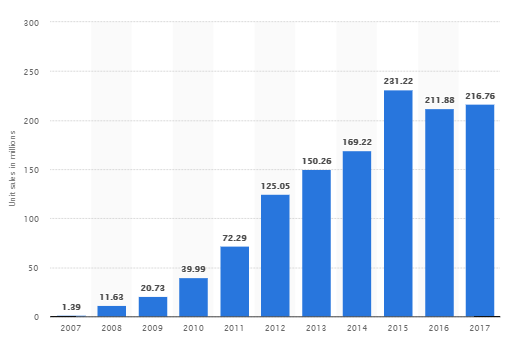 Fig: iPhone unit sales from 2007. Source: Statista
At the same time, it has cornered over half of the total smartphone revenue base in the world.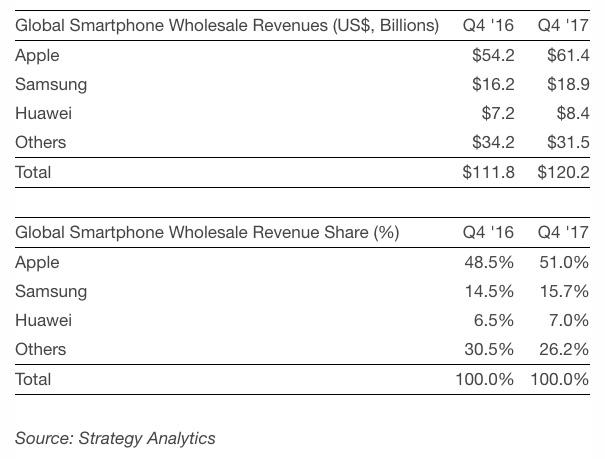 Source: MacRumors, Strategy Analytics
This does not leave much room for the company to increase revenue, given the fact that other Chinese OEMs are steadily increasing their market share. By pushing average selling price (ASP) higher, Apple will restrict its addressable market, especially in China and other emerging markets. On the other hand, higher unit sales help in building a stronger ecosystem and also provide a wider moat for the company in the long run.
The best example of a preference for ecosystem over current margin is Amazon. It has made sure that Alexa and Echo products are available to the maximum users which would help the company to slowly monetize this ecosystem over the next few years. Apple might not follow Amazon's strategy, but it will certainly have a strong influence on the long-term pricing model of Apple's products.
We can already see some signs of a gradual decrease in margins. Year over year (YOY), Apple has seen a continuous decline in its operating margin for the past nine quarters. The decline is a couple of basis points in every quarter, but there is a clear trend of lower margins.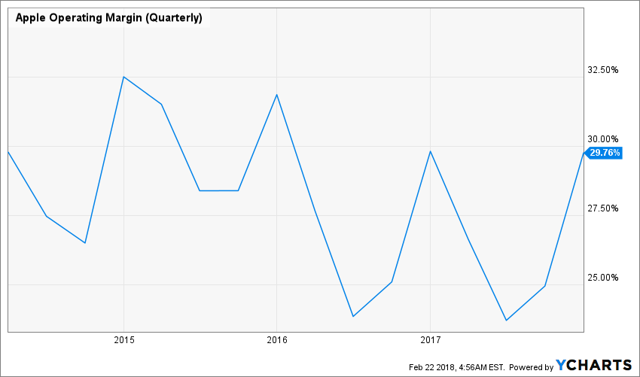 YOY operating margin decline by Apple: Source: Apple filings, Ycharts
Dec. 2014: 32.50%, Dec. 2015: 31.86%, Dec. 2016: 29.81%, Dec. 2017: 29.76%, Cumulative decline: (274 bps)
March 2015: 31.51%, March 2016: 27.67%, March 2017: 26.65%, Cumulative decline: (486 bps)
June 2015: 28.39%, June 2016: 23.86%, June 2017: 23.71%, Cumulative decline: (468 bps)
Sept. 2015:28.39%, Sept. 2016: 25.10%, Sept. 2017: 24.95%, Cumulative decline: (344 bps)
The decline in margins might not be all bad if it helps Apple in reaching a wider market and building a stronger ecosystem. Apple will never enter a race to the bottom in terms of pricing, but a greater focus on the ecosystem will certainly put downward pressure on margins in the next few quarters.
This will also change the way Apple is valued. Most of the price growth in the near term will come from larger stock buybacks or dividends. However, the valuation multiple of Apple is still close to its peak. At 18 times TTM PE ratio, the positive impact of buybacks is limited, and the yield of 1.5% is also lower than the average yield in S&P 500.
Future price growth in Apple's stock depends on the strength of its ecosystem and further monetizing opportunity from all products and services. This requires Apple to reach wider income levels in domestic and international locations with a more aggressive pricing strategy. Investors should pay a closer look at the change in pricing model by Apple and the impact it has on the acceptance of Apple's products for all categories.
Investor Takeaway
Apple is moving away from a higher margin pricing strategy. Its HomePod is retailing at $349, whereas the BOM cost is $216 or 62% of the retail price. This is much higher than earlier iPhones, iPad, and Watch, which have a BOM cost of only 35% to 37% of the final retail price. In order to show further unit sales growth, Apple is slowly moving to a lower pricing strategy, which can be seen by the falling operating margin YOY for the past nine quarters.
If the lower pricing model helps Apple in improving its ecosystem and increasing the unit sales, we could see a much better valuation multiple for Apple than what was historically given.
Disclosure: I/we have no positions in any stocks mentioned, and no plans to initiate any positions within the next 72 hours.
I wrote this article myself, and it expresses my own opinions. I am not receiving compensation for it (other than from Seeking Alpha). I have no business relationship with any company whose stock is mentioned in this article.