Ryanair has said up to 25% of its short-haul flights across Europe to and from Italy are being cancelled for a three-week period "in response to the Covid-19 virus".
In a statement this afternoon, Ryanair said it had notified passengers that it was reducing its short-haul flight program (mainly to and from Italy) by up to 25% from Tuesday 17 March to Wednesday 8 April.
The airline said that over the past week it "has seen a significant drop in bookings over that late March/early April period" as well as "a significant step up in passenger no-shows on flights, particularly from and within Italy."
CEO Michael O'Leary said: "Our focus at this time is on minimising any risk to our people and our passengers.
"While we are heavily booked over the next two weeks, there has been a notable drop in forward bookings towards the end of Mar, into early Apr.
"It makes sense to selectively prune our schedule to and from those airports where travel has been most affected by the Covid-19 outbreak."
It comes as Chief Medical Officer at the Department of Health Dr Tony Holohan has said he believes the risk of the Covid-19 infection spreading in Ireland is low.
It follows the diagnosis at the weekend of the first case of the infection to be diagnosed in the Republic.
Speaking on RTÉ's Morning Ireland, Dr Holohan said staff and pupils at a school where a case of coronavirus was identified have been advised to limit social interactions.
This response, he said, is proportionate.
The male student, who is being treated in a Dublin hospital, had returned from northern Italy after being in an at-risk area.
The secondary school in the east of the country is beginning a two-week shutdown as a precaution against the spread of Covid-19.
The National Public Health Emergency Team said all pupils and teachers were being asked to restrict their movements until the end of the incubation period.
The Department of Health is not releasing the name of the school to protect the patient, his family and the community.
Dr Holohan added that measures are in place that will ensure any more cases are picked up as quickly as possibly. 
He urged other sports clubs who are reported to have cancelled training and matches not to do so, saying these steps are "simply not necessary" and have no basis in fact. 
He said the actions that need to be taken are those recommended by the Health Service Executive and that clubs and groups should contact the HSE if they have concerns.
---
Read more:
Live: Latest on Covid-19 outbreak
Secondary school to close for 14 days as precaution over virus case
36 cases of coronavirus confirmed in the UK with first case in Scotland
Practical advice as Ireland sees first coronavirus case
Coronavirus: Eight weeks that have shaken the world
---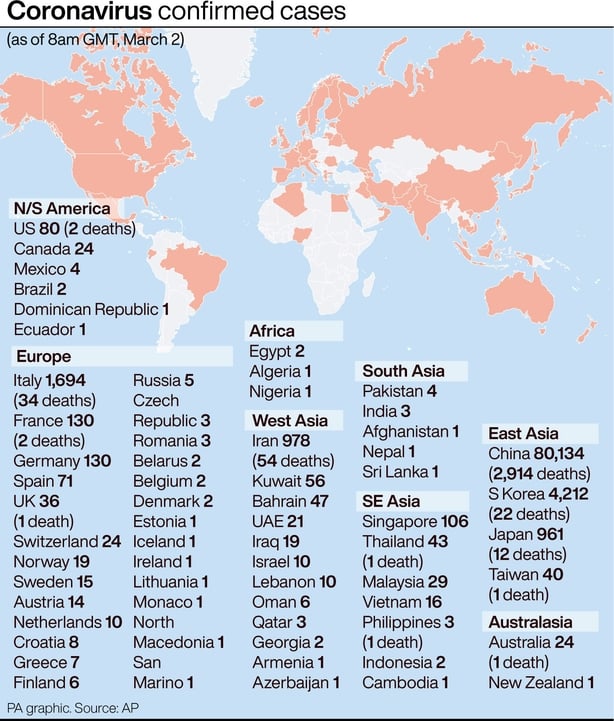 Dr Holohan added that anyone with access to social media has access to the HSE website where all the reliable and up-to-date information can be found.
He said measures taken by the HSE are focused on children and staff at the school – not their families and the wider community.
He said that a letter has been sent to the parents and staff of the school.
A telephone helpline has also been established and a public meeting will take place tonight so the local community can ask questions.
In addition, there will be follow up by public health doctors over the incubation period.
Dr Holohan said that health officials will contact by text those individuals affected by the isolation measures, to see if they have any symptoms of coronavirus over the next two weeks. If they display symptoms, they will be tested. 
He said currently there is no immediate implications for the St Patrick's Day celebrations but this is a fast changing situation and it is difficult to predict what might happen over the coming ten days. 
He said that the hospital system has sufficient isolation rooms for the current containment phase but said that if the situation changes and the number of cases grow, then consideration will be given to isolation in other settings – such as at home. 
When asked if a person could contract the virus twice, he answered that this is "an open ended science question".
The Department of Health said it also wants any other people who suspect they might have the infection to know that their patient confidentiality would be respected and to avoid cases going unreported.
The school said all parents and staff have been contacted and it will continue to liaise with the Health Service Executive and Department of Education and take advice about precautions that need to be taken.
It added that anyone requiring further information should contact the HSE helpline on 1850-241850.
Meanwhile, Dermot O'Leary, the General Secretary of the National Bus and Rail Union (NBRU) has said his members are "concerned" about the difficulty of maintaining hygiene standards on the Bus Éireann fleet.
Speaking on RTÉ's Today with Seán O'Rourke, Mr O'Leary said given that public transport is under pressure in terms of capacity, he said it is "impossible to follow the advice of maintaining three feet from another person if they are coughing or sneezing".
"If you're travelling on a DART or a suburban train any morning or evening, three feet is a premium, you can't even get three inches never mind three feet."
Mr O'Leary said drivers have a lot of close contact and interaction with passengers, for example he said, during the handing over of money and tickets.
He added that it will take time to impose health screens on the Bus Éireann fleet.
Northern Ireland's First Minister Arlene Foster has emphasised the importance of an ongoing close working relationship between the administrations on both sides of the border in efforts to contain the coronavirus.
Speaking in the Stormont Assembly this afternoon Ms Foster told of a weekend conference call between Taoiseach Leo Varadkar, Minister for Health Simon Harris, the chief medical officer in Dublin and herself, Deputy First Minister Michelle O'Neill and Northern Ireland's Health Minister Robin Swann.
She said that protocols put in place are working well and continued conversations will take place as time moves on.
Mr Swann will update Assembly members late this afternoon. He is expected to give details of a conference call that took place between representatives of regional administrations and the British government about the coronavirus issue earlier today.
———
Website source