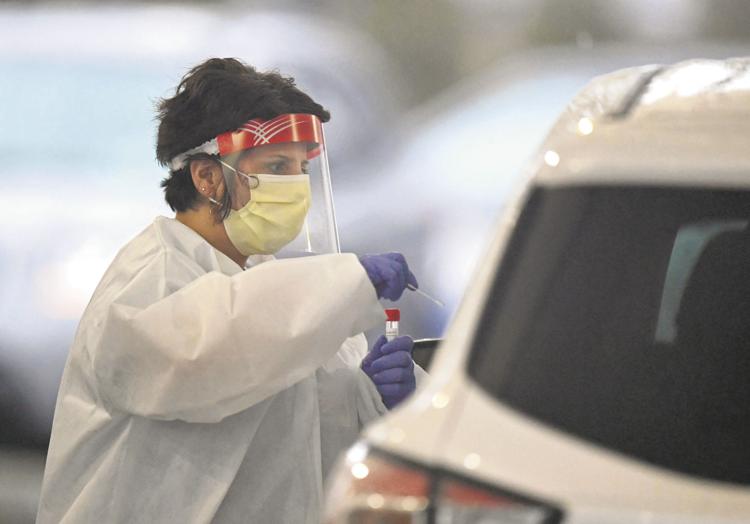 During her daily COVID-19 update Saturday, Pennsylvania Secretary of Health Dr. Rachel Levine said the phrase that could turn out to be a mantra for state residents.
"Stay calm, stay home, stay safe," she said Saturday, more than once.
Those six words reflect more than just a request. They are an attempt to strike a balanced message with state residents.
Public health officials are trying to convince people to behave far differently than they did just a week ago — to sequester themselves at home, to work from home when they can and, in many cases, accept unemployment when they can't, to juggle new schedules with children out of school and accept that no one is quite sure when it will end.
And they have to do all of that without panicking.
"That conversation is essential," said Nate Wardle, press secretary for the Department of Health. "We need people to understand that this public health threat is serious. It is important that people take these actions seriously and stay calm, stay home and stay safe."
As of Saturday, the Department of Health has reported 371 cases of COVID-19, an illness caused by the coronavirus, a little more than two weeks after the first two reported cases on March 6.
The illness is present in 28 of the state's 67 counties and the Department of Health reported Pennsylvania's second fatality of the COVID-19 crisis, with an Allegheny County resident having succumbed to the disease. The first death, reported Wednesday, was in Northampton County.
Since the first two reported cases, the exponential increase in reports reveals some potentially frightening information. The number of confirmed COVID-19 reports has doubled every two to three days — from two on March 6 to six on March 8, 16 on March 11, 45 on March 14, 96 on March 17, 185 on March 19 and 371 on Saturday.
At this exponential rate of increase, state health officials can expect to see more than 700 cases by no later than Wednesday, 1,500 cases by next weekend, and about 3,000 by April 1.
In an even more daunting revelation, Levine said Saturday that it's likely those numbers aren't conclusive. Within minutes of citing the 371 cases on Saturday, she acknowledged that the number of actual cases was probably higher than that.
Wardle said those facts make it imperative that state residents comply with Gov. Tom Wolf's request that state residents engage in social distancing, and his order that businesses not necessary for the sustenance of life close down if their employees can't operate from home.
"We want people to stay home," he said. "That's the best way to protect our health system."
In a news conference Friday, doctors from UPMC Health System discussed future treatment plans for the COVID-19 pandemic. The Herald participated in the the news conference through an video stream.
"Thus far, the effect has been minimal," said Dr. Graham Snyder, UPMC's medical director for infection prevention and hospital epidemiology. "However the future is uncertain."
Snyder said UPMC could get results for 80 COVID-19 tests a day as of Friday at its newly established testing facility at the former South Side Hospital in Pittsburgh and that capacity was set to double by this week. The system is planning to add test centers near its centers in Williamsport, Harrisburg, Erie and Altoona in the near future.
Allegheny Health Network, the parent system for Grove City Hospital, announced last week that it is adding testing capacity in Western Pennsylvania, and MedExpress clinics are starting to offer testing at some centers.
Dr. Donald Yealy, chairman of UPMC's department of emergency medicine, said the system is restricting elective procedures to protect hospital treatment capacity if the COVID-19 cases start to overwhelm the health care system.
That said, he cautioned that the term "elective" is a category that includes all previously scheduled procedures, and that some operations that are, technically, elective will still go on.
"Scheduled does not mean unnecessary," he said. "We're trying to safely identify, with our doctors and our patients, what can be safely put off."
In answer to media questions about anonymous reports from UPMC staff claiming that health care workers do not, in many cases, have personal protective equipment to protect themselves from people who might be infected with COVID-19, Yealy said the system has adequate supplies of protective gear.
UPMC, like other health systems, complies with federal guidelines on when to administer testing, Yealy said. Those guidelines do not recommend testing of people who do not have symptoms of COVID-19, even though people who have the virus can infect others before they have symptoms themselves.
However, even within the groups — people who show symptoms or have recently visited places where COVID-19 is present — recommended for testing, actual confirmed cases are rare. Among those tested in Pennsylvania, 3,766 people have tested negative.
That means the 371 positive tests amount to 8.9 percent of the total number of people tested.
Snyder, from UPMC, said Pennsylvania, and particularly the state's western region, is not yet being severely affected, compared with other parts of the world.
"This is not northern Italy," he said. "This is not Wuhan. This is an area of relative calm."
The key going forward, said Yealy, is allowing hospitals to use their resources — beds and ventilators necessary to treat the most severe COVID-19 cases, and personal protective gear for health care workers — as efficiently as possible.
And, Snyder said, social distancing is a big part of that even while pressing the first part of Levine's "stay calm, stay home, stay safe," imperative.
"The reason for the social distancing is not that we're all going to drop dead from the virus," Snyder said. "It's to protect those who are the most vulnerable."
———
Website source