Biology 9 Lesson 18: Proteins

1. Theoretical Summary
1.1. The structure of a protein
a. Chemical composition
Protein molecules have a polymeric structure where the monomers are amino acids.
There are 20 different types of amino acids. From these 20 types, it is possible to form a multitude of proteins that differ in composition, quantity, and sequence of amino acids, ensuring the diversity and specificity of each type of protein.
The structure of each monomer consists of 3 main components: COOH group, NH2 group and R group bonded to the central carbon (Both COOH and NH2, both H atom are bonded to C – C this is called C alpha). .
b. Physical structure
– Tier 1 structure:
The amino acids are linked together to form a chain of amino acids called a polypeptide chain.
The polypeptide chain is linear.
– Second level structure:
+ The secondary structure is a regular spring or beta-folded helix structure, the folds and helices are fixed by hydrogen bonds between amino acids close to each other.
– Tier 3 structure:
+ The coiled helix forms a specific structure in 3D space, creating the specificity of each protein by disulfide bonds, ionic bonds, vander_van… increasing the stability of protein molecules.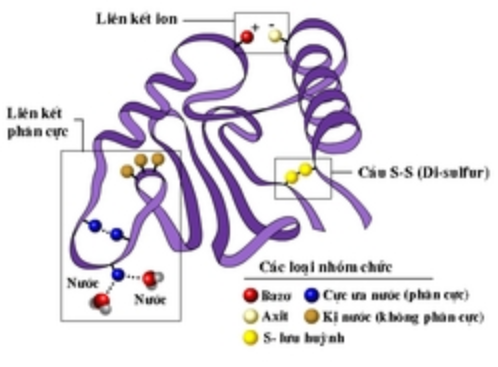 – Tier 4 structure:
+ 2 or more tertiary coiled chains linked together to form a complete protein molecule, having a spatial configuration specific to each protein, helping it to perform a complete function.
1.2. Functions of proteins
a. Structure function
Protein is an important component in building organelles and plasma membranes, forming anatomical and morphological features of tissues, organs, organ systems, and body (body trait).
Examples of proteins involved in the construction of biological membranes
b. Functions to catalyze metabolism
The nature of enzymes is to participate in biochemical reactions.
+ Example:
The enzyme amylase in saliva is a protein in nature.
The enzyme DNA polymerase catalyzes the synthesis of DNA.
c. Function to regulate metabolism
Hormones are mostly proteins that help regulate physiological processes in the body.
+ Example:
Insulin regulates blood sugar.
Tiroxin regulates the strength of the body.
– In addition, protein is a component that makes up antibodies to protect the body, motor function (builds muscle), function provides energy (lack of energy, protein breaks down to release energy).
+ Example: Storage of amino acids.
+ For example: Protein in milk, in nuts…
– Transport substances (Hemoglobin).
Example: Hemoglobin in the blood.
– Protect the body (antibodies).
Example: Antibodies.
2. Illustrated exercise
What factors determine the diversity and specificity of proteins?
Solution guide:
– The diversity and specificity of proteins due to:
+ Proteins are composed of polymers, including hundreds of amino acids. There are more than 20 different amino acids, due to the different arrangement of more than 20 amino acids, creating the diversity of proteins.
The specificity of a protein is determined by the composition, number and sequence of amino acids. In addition, the specificity of a protein is also expressed through its spatial structure (spatial structure includes level 1, level 2, level 3, level 4).
3. Practice
3.1. Essay exercises
Question 1: Why is it said that protein plays an important role in body cells?
Verse 2: Compare DNA and proteins in terms of structure and function.
Question 3: Compare DNA, RNA and proteins.
Question 4: What is the building block of a protein? List the functions of proteins.
3.2. Multiple choice exercises
Question 1: The general characteristics of the structure of DNA, RNA and proteins are:
A. As a macromolecule, it is structured according to the principle of polymolecular.
B. Have the same size and mass
C. All are composed of nucleotides
D. They are all made up of amino acids
Verse 2: Of the three structures: DNA, RNA and protein, the smallest structure is:
A. DNA and RNA
B. Proteins
C. DNA and protein
D. RNA
Question 3: The structural units of a protein are:
A. Nucleic acid
B. Nucleic
C. Amino Acids
D. Phosphoric acid
Question 4: The mass of each protein molecule (in carbon units) is:
A. Dozens of
B. Thousands of
C. Hundreds of thousands
D. Millions
Question 5: The factors that make up the diversity and specificity of proteins are:
A. Composition, quantity and order of amino acids
B. Composition, number and order of nucleotides
C. Composition, number of nucleotide pairs in DNA
D. All three factors above
4. Conclusion
After completing this lesson, you should:
Describe the chemical composition and structural levels of proteins.
List the important roles of protein in the body.
.

=============