FRANKFORT, Ky. (WDRB) — Legislation that would alter Kentucky's school accountability system sailed through the Senate Education Committee on Thursday.
Senate Bill 158, sponsored by Senate President Pro Tem David Givens, passed on a 10-0 vote en route to the Senate floor. It would gauge student achievement on annual K-PREP results, called "status," and improvement over time, called "change."
The legislation drew some opposition when it was filed.
In its original form, SB 158 would have barred the Kentucky Department of Education from leading initial diagnostic audits of the state's lowest performing schools identified for comprehensive support and improvement. It also would have prohibited KDE from being part of a CSI school's turnaround team.
But KDE can be part of both processes now under a revised version of SB 158 passed by the Senate Education Committee.
Givens, R-Greensburg, said he met with the Kentucky Department of Education, various school-oriented groups like the Prichard Committee for Academic Excellence and local superintendents in his district as he drafted changes to the bill.
"I don't want to indicate to you or intimate that these groups love everything in the bill," Givens said. "Don't presume that, but there's a lot of positive in the education policy world for what we're working on here."
Fleming County Schools Superintendent Brian Creasman is among those who appreciate the amended version of SB 158. The 2020 Kentucky Superintendent of the Year traveled to Frankfort specifically to watch Thursday's committee hearing on the bill.
He stressed that KDE was instrumental in his district's turnaround efforts. When Creasman got to Fleming County in 2014, the district was already under state assistance and on the verge of being managed by KDE.
The district exited state assistance in 2017 with "a glowing" review, he said.
"We're the posterchild for everything wrong and everything right" in school improvement, he said.
Creasman, who said he spoke with Sen. Stephen West and emailed Givens about his concerns with the original version of SB 158, said rural districts like his can benefit from their pre-existing relationships with the department as they work to improve outcomes for students. He worried that other vendors wouldn't be as readily accessible.
The ability to pick up the phone and speak with the state's education commissioner is a rarity in other states, he said.
"I've been in Georgia. I've been in North Carolina. That would never happen," Creasman said. "Through our partnerships, I can pick up the phone and within seconds I have someone talking to me. I think that's really critical."
KDE is also a cheaper option to lead a school's turnaround efforts, he said.
Kevin Brown, interim education commissioner, said the only remaining concern that KDE has with SB 158 is its complexity, which will require revisions to the state's education plan under the federal Every Student Succeeds Act.
SB 158 is "heavily modeled" after California's school accountability system, something Brown says KDE officials have discussed with the California and U.S. departments of education.
"The U.S. Department of Education has indicated that it's one of the most complex accountability systems in the country," Brown said. "… That's not to say that we shouldn't do it. We just need to be aware that if this passes and we move in this direction, it will take a lot of negotiation between the state and the U.S. Department of Education."
SB 158 would allow audit teams to continue determining whether principals at CSI schools can lead their schools' turnaround efforts. The original version of the bill would have barred the team from making such recommendations.
Those determinations have drawn criticism within Jefferson County Public Schools. Superintendent Marty Pollio recently called the practice unfair after six principals at CSI schools were found incapable of leading their schools improvement plans in January.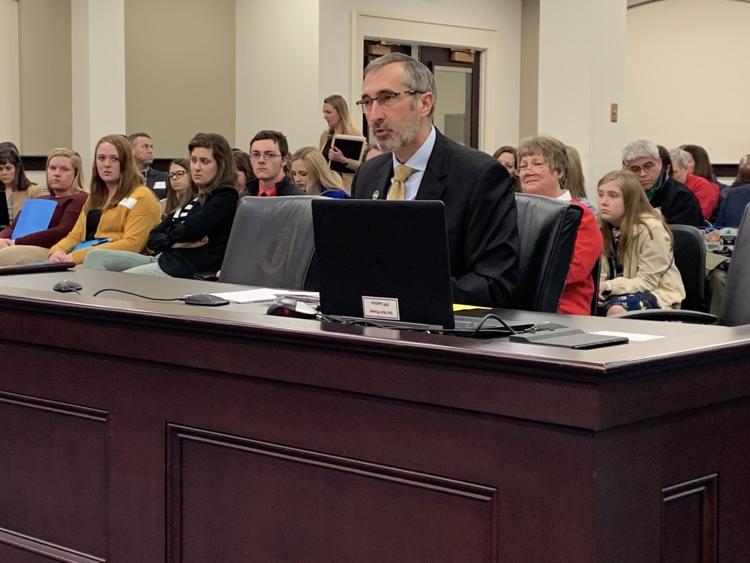 "It struck us that these audit teams are professional as well," Givens told reporters. "In doing that audit of the school and the school's ability, they can assess whether or not that principal can do the turnaround, and if they feel like it needs to be spoken to, they can speak to it in their audit."
SB 158 would also require the state to identify CSI and additional targeted support and improvement, or ATSI, schools every three years rather than every year. Those are schools that are low-performing and receive the most help from the state.
Givens said schools will be cognizant of whether they're drifting into CSI territory. Schools will continue to be identified for targeted support and improvement, or TSI, every year.
"Schools will know if they're sliding in that direction or not, and trust me, there's a lot of desire among these schools to not fall into that category," he said.
SB 158 would not scrap the state's new five-star accountability rating system, instead leaving that decision to KDE.
Copyright 2020 WDRB Media. All Rights Reserved.
===========
Website source