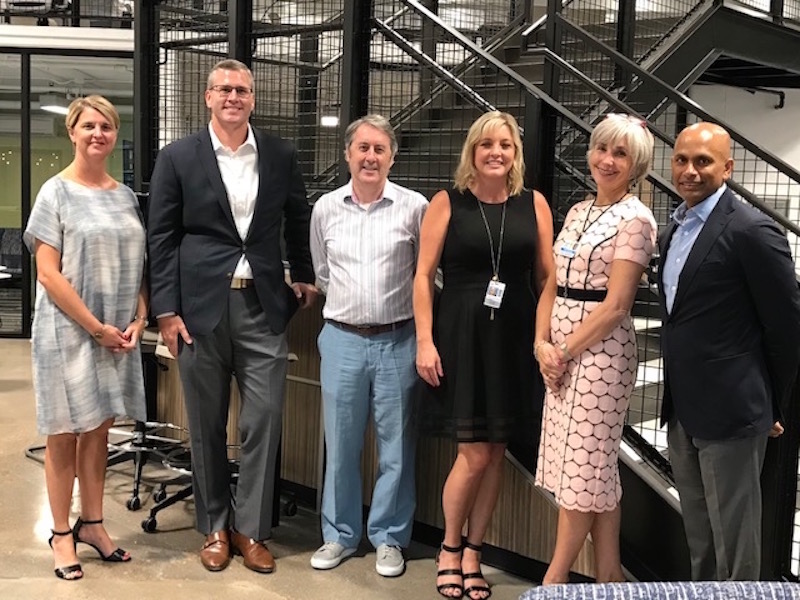 PHOTO: Participating in a recent fundraiser by the Catalyst Network were (from left) Julie Oyer, Adam Beck, William Vablais, Kari Miller, Cherie Hammond and Jay Chawan. / Photos by John McBryde
By JOHN McBRYDE
As those involved in the creation and development of what is perhaps Williamson County Schools' most ambitious program could attest, there is a bit of irony surrounding the opening of the district's Entrepreneurship & Innovation Center.
Considered by many to be the first of its kind in Tennessee and possibly in the country, the EIC is seeking to make entrepreneurs out of the 130 high school students who have enrolled in the program's first year. And to do that, those at the forefront of the EIC — from both the public and the private side — are having to use entrepreneurial skills themselves.
More: Williamson County Schools' EIC officially opens, brings entrepreneurial spirit to the district
To show high school students how to run a business, the EIC leaders are effectively having to learn how to run a business.
"It takes time. It's the classic entrepreneurial setup," said Jay Chawan, president of the board of directors for the Catalyst Network, the nonprofit that has formed a partnership with the EIC. "We're starting off kind of bootstrapping and figuring it out as we go. But we're all very passionate about educating our students and exposing them to entrepreneurship."
After going through the approval processes and the development of a facility on the campus of Franklin High School, the EIC has been in operation since the start of the 2019-20 school year on Aug. 9. The student body is divided pretty evenly among sophomores, juniors and seniors from all 10 high schools in the district, with a boys-to-girls ratio of 6-4.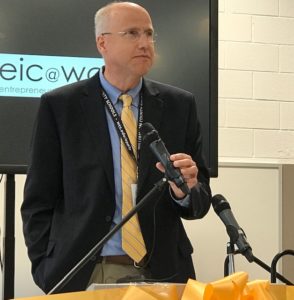 "They all have different reasons for wanting to [enroll in the EIC]," said Kari Miller, former principal of Mill Creek Middle School who was hired as the center's director last December. … "But the thing they have in common is they all just really want to explore this world of entrepreneurship. Some are interested in developing a product that's new on the marketplace, some are interested in offering a service to others, some are interested in nonprofit work.
"This is a good way to dip their toe in the water to see if business marketing is something they want to do. In the course of a year, they'll get a good taste of everything, from the product development side, to the marketing, to the legal aspects, and really just have a good understanding of the different components that go together to make a good business, to make an entrepreneur."
That's where the Catalyst Network plays an integral part. Launched from an informal advisory group that had been involved with the WCS' College, Career & Technical Education program, the Network was established as a nonprofit and has committed to raising significant dollars to enhance the facility and its offerings — an administrative staff person for the first year, high-tech equipment for the maker space, and an endowment that would fund Shark Tank like competitions, seed grants and other key components that will allow the students to maximize their experience. It has also played a significant role in recruiting the dozens of mentors who will volunteer their time with students as part of the curriculum.
Chawan — co-founder and CFO of Guy Brown, managing principal of GBI and co-founder and CEO of Swiftwick — heads a board of directors that also includes area business and community leaders Adam Beck, Cherie Hammond, Glenn Allison and Andy Marshall.
"Our sole mission is to support the EIC," Chawan said. "It's grown to where we want to make sure this is going to not just be a one- or two-year initiative while you have excited board members, but to last forever. We'd like to create some type of endowment that would fund the operating needs of the center from what we're providing."
The group's goal is to raise $2 million, and it has already brought in $300,000.
"That gets us started, but here in year one, we're talking about furniture and fixtures," Beck said at a recent Catalyst Network fundraising event. "And as we move into year two, it's about increasing their ability to explore and about creating a space where the ideas they have can begin to become a reality.
"As we move into years three and four, it's more about sustainability and seeing endowment for the future so we know we have a program here that can benefit coming generations."
Beck added that investing in the EIC could be not only a game-changer for the students, but also for the communities at large.
"When I think about what we're doing here day to day," he said, "I know we're teaching entrepreneurship and we think we will have a positive impact on the life trajectory of all the kids that go through this program. But I can say without hyperbole that we have the opportunity to change the world."