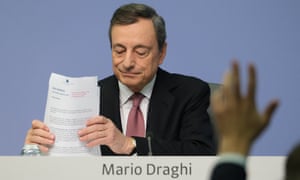 Good morning, and welcome to our rolling coverage of the world economy, the financial markets, the eurozone and business.
Shares are advancing higher this morning after the European Central Bank delivered a wide-ranging, and controversial, stimulus package yesterday.
In his last major act as ECB president, Mario Draghi restarted the Bank's quantitative easing programme, with a new plan to buy €20bn of bonds each month.
He also cut its deposit rate (paid on commercial bank deposits at the ECB) deeper into negative territory, and introduced a new two-tiered system to protect bank profits.
The ECB also sweetened its cheap loans programme, to encourage banks to lend to the real economy, and made a new, tougher, pledge to leave borrowing costs at record lows until inflation has risen.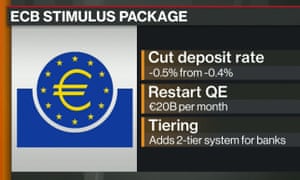 The move pushed equities and bond prices higher, as investors welcomed these fresh measures to ward off a recession.
Japan's Nikkei has jumped 1% overnight, and European markets are expected to nudge new six-week highs too.
But the move was also controversial — with Draghi facing a revolt from several members of his own governing council.
France's Francois Villeroy de Galhau, the Netherlands Klaas Knot and Bundesbank President Jens Weidmann of Germany all pushed back against parts of the programme – in vain.
As Bloomberg explains:



Those three governors alone represent roughly half of the euro region as measured by economic output and population.

Other dissenters included, but weren't limited, to their colleagues from Austria and Estonia, as well as members on the ECB's Executive Board including Sabine Lautenschlaeger and the markets chief, Benoit Coeure, the officials said.
This backlash suggests that some central bankers believe monetary policy is reaching the end of the line.
Draghi himself warned that governments need to raise their spending to lift economic growth, rather than relying on monetary policy to do all the heavy lifting.
With the eurozone economy looking weak, and Germany possibly in recession, he declared:



It is high time for fiscal policy to take charge.
European finance chiefs are meeting in Helsinki today – we'll see if they respond to his call.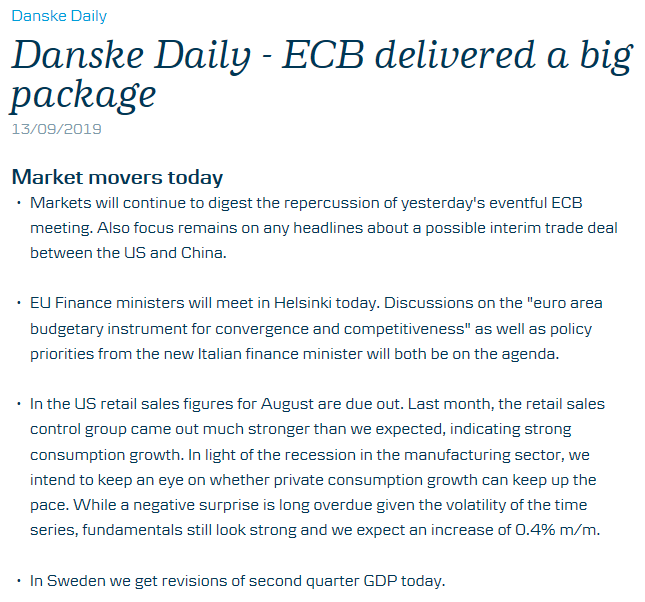 The agenda
All day: Informal Ecofin meeting of EU finance ministers in Helsinki
10am BST: Eurozone trade balance for July
1.30pm BST: US retail sales for August
3pm BST: University of Michigan sentiment survey for September