Ald. Ed Burke has long been criticized for operating a lucrative law business in the politically clouted world of Cook County property tax appeals, a world in which the speaker of the Illinois House of Representative continues to make money.
Chicago's longest-serving alderman is no longer a partner in the property tax appeals industry, according to documents obtained by the Chicago Tribune.
Chicago Ald. Ed. Burke, 14th Ward, filed paperwork in April dissociating from his partnership at Klafter & Burke, according to the Tribune. Burke in May was indicted on 14 counts of corruption, among them that Burke tried to steer business to Klafter & Burke by strong-arming the owner of a Burger King franchise in his ward.
Burke maintains his innocence and has not resigned from his seat on the City Council.
Klafter & Burke is one of the biggest players in the world of Cook County property tax appeals. The firm knocked $865 million off its clients' assessed value from 2011 to 2016, appealing the valuation of $4.7 billion worth of property. Only three firms appealed more assessed value over that time. Topping the table was Madigan & Getzendanner, where Illinois House Speaker Mike Madigan is a partner. Madigan & Getzendaner dropped $1.7 billion off of $8.6 billion in total assessed value from 2011 to 2016.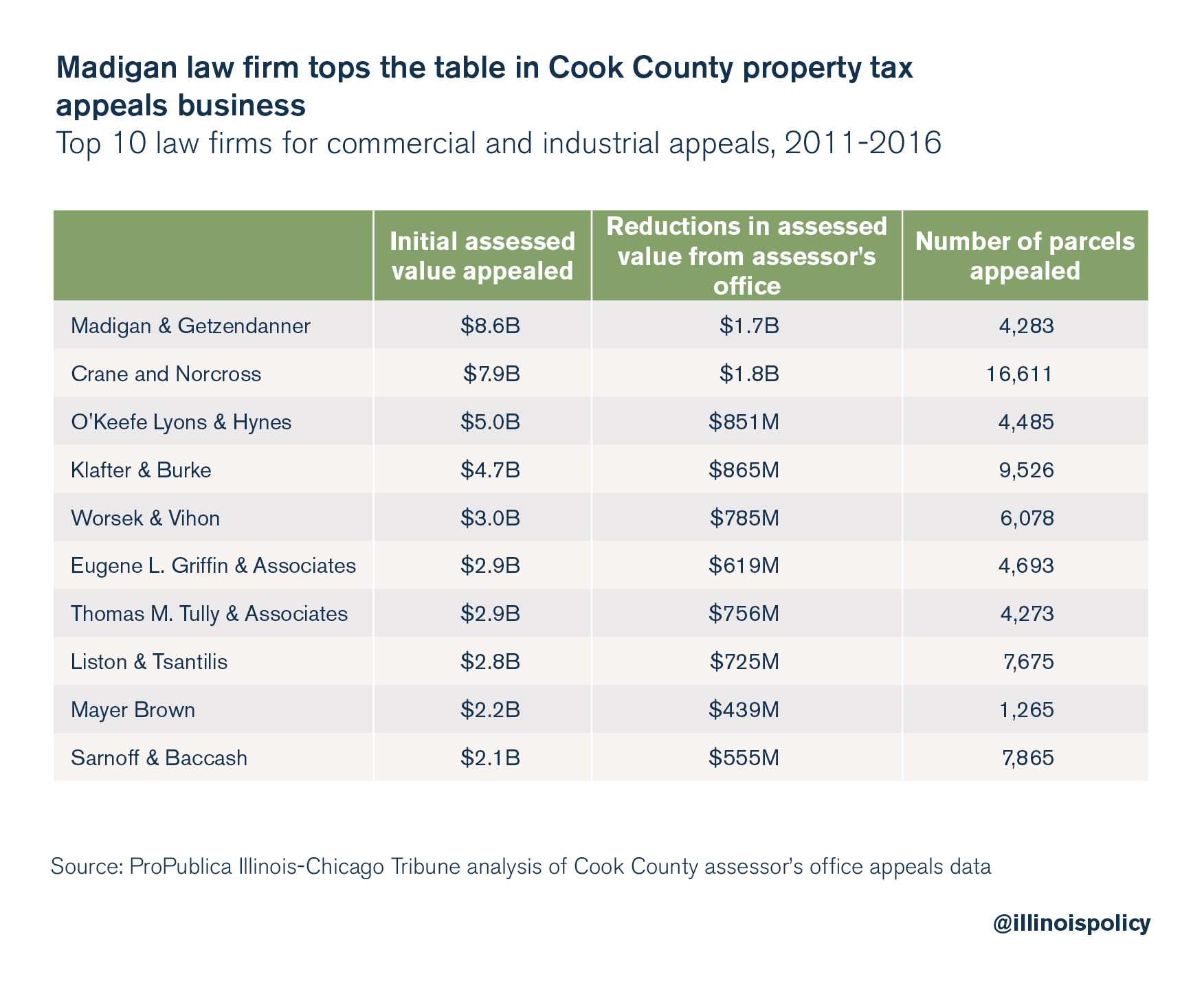 After heavy lobbying from Chicago delegates under the direction of then-Mayor Richard J. Daley, the 1970 Illinois Constitution legalized Cook County's practice of classifying properties differently for property tax purposes. Madigan, a delegate to the Illinois Constitutional Convention, founded Madigan & Getzendanner in 1972.
The Chicago Tribune in 1987 asked Burke if he used his position as alderman to generate business for his property tax law firm.
"Sure I do," Burke said.
"The more people one meets in one's activities, the more opportunities there are for business, no matter what your profession."