Much has been written about Bitcoin and its meteoric rise in valuation, including debates about whether or not it is a bubble about to burst. With Bitcoin, there has also been a lot of discussion of blockchain.
Blockchain is the underlying digital architecture that supports many digital cryptocurrencies, including Bitcoin. However, it is important to keep in mind that Blockchain technology also has broader applications beyond cryptocurrencies. Among other features, it can be used to process transactions, manage medical records, and verify and confirm proof of ownership. Blockchain can also record and track intangible assets such as intellectual property, patents, copyrights, or branding.
In fact, leading companies such as IBM (IBM) and Mastercard (MA) have already adopted blockchain technology to protect transactions and American Express (AXP) has launched instant blockchain payments for cross-border business-to-business payments.
Blockchain is viewed as a secure option for financial transactions that also provides flexibility and scalability. Blockchain is a decentralized and encrypted ledger that offers a secure method to store records and other information in a way that can be verified. Each block in the blockchain contains a hash – a digital fingerprint or unique identifier – and timestamped batches of prior transactions, as well as the hash of the previous block. The hash connects the blocks and prevents any block from being altered or inserted between two existing blocks. Each new block reinforces the verification of the previous block and therefore the overall blockchain. This characteristic is also believed to make it transparent if an attempted hacking tries to alter any part of the blockchain.
According to IBM's Blockchain For Dummies, blockchain architecture gives participants the ability to share a ledger that is updated, through peer-to-peer replication, every time a transaction occurs. Peer-to-peer replication means that each participant (node) in the network acts as both a publisher and a subscriber. Each node can receive or send transactions to other nodes, and the data is synchronized across the network as it is transferred.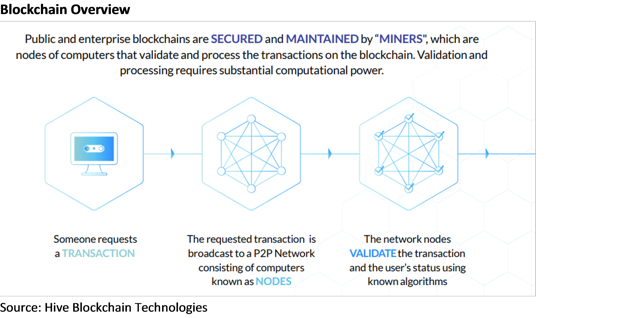 "Blockchain is a public ledger technology that uses digital signatures and cryptographic hashing to provide a record of secure transactions that cannot be altered," according to TechRepublic. Specifically, blockchain is thought to be safe, immutable and transparent because no single person or party within the chain can alter the record without the agreement of all parties in the chain.
We believe that there will be many emerging uses for blockchain technology, regardless of what happens with Bitcoin or other cryptocurrencies specifically. However, with many companies apparently shifting focus to blockchain, we believe caveat emptor is advisable. Companies such as Riot Blockchain (RIOT), Long Blockchain Corp. (LTEA) and HIVE Blockchain Technologies (PRELF) have recently changed their names to include the word "blockchain" and signal a change in strategy to focus on the cryptographic technology. LongFin Corp. (NASDAQ:LFIN), although it does not contain blockchain in its name, has also shifted its strategy to blockchain. Given the significant advances shares of these companies have made, we believe a bit of healthy skepticism is warranted even if it means missing a few points on the upside.
Riot Blockchain
Riot Blockchain, formerly Bioptix, was one among many struggling biotech companies in October of 2017 when it changed its name to reflect that "moving forward, Riot Blockchain's focus will be as a strategic investor and operator in the blockchain ecosystem with a particular focus on the Bitcoin and Ethereum blockchains." Concurrent with this initiative, the company invested in Canadian digital currency exchange Coinsquare and announced that there could be "similar opportunities Riot Blockchain plans to pursue, including possible acquisitions of businesses serving the blockchain ecosystem."
The company also bought a majority interest in blockchain development company Tess, which is developing a secure blockchain-based payment system for wholesale telecom carriers, announced a strategic investment in blockchain technology player Verady and purchased 1,200 Bitcoin mining machines. In addition, the company's subsidiary TessPay also signed a non-binding letter of intent to merge with Cresval Capital Corp., which trades on the Toronto exchange under the symbol CRV.
Long Blockchain Corp.
Long Blockchain Corp., formerly Long Island Iced Tea, is "focused on developing and investing in globally scalable blockchain technology solutions." On December 21, 2017, the company officially changed its name from Long Island Iced Tea Corp. to Long Blockchain Corp "in connection with the shift in strategic direction." In a recently filed – and subsequently withdrawn – offering document, Long Blockchain acknowledges that its "management has relatively little experience in the blockchain technology industry." The company apparently will continue to produce beverages as well.
HIVE Blockchain Technologies
HIVE Blockchain Technologies calls itself the "first publicly listed blockchain infrastructure company that bridges blockchain and cryptocurrencies to traditional capital markets." It notes its ability to accelerate development of the blockchain sector through traditional capital markets and owns a cryptocurrency mining facility in Iceland. Since the beginning of October of 2017, HIVE shares are up 65%.
LongFin Corp.
On December 11, 2017, LongFin agreed to purchase Ziddu.com, a blockchain solution for micro-lending and warehouse financing. According to Bloomberg, following the Ziddu transaction, the shares "surged 2,600% in [the] week after." At one point, the shares reached $142.82 intraday. As Bloomberg notes, LongFin hopes to base some of its services on blockchain with Ziddu. It plans to offer micro-loans issued in Ziddu coins that potentially can be converted into Bitcoin and would be repaid in cryptocurrencies.

As illustrated in the chart above, shares of these refocused companies have already appreciated significantly. We would view this period as comparable to the early stage of many emerging companies. There might be substantial potential for further returns if a newly refocused company succeeds, in our view. However, as is often the case, many will not succeed. Therefore, investors might want to keep these companies on their radar screens, but need to do their homework. Some of these companies might never bring their blockchain technologies to commercial realization or might be overly optimistic about their prospects or the timing of hitting certain milestones. This is the time, we believe, for some healthy speculation when it comes to investing in the space. Although the upside likely will not be as great as one of the smaller, focused players might provide in success, there is likely less risk in gaining exposure to blockchain through a larger established company that is leveraging the technology as mentioned earlier with IBM, Mastercard and American Express, among others, at least at this early stage.
Disclosure: I/we have no positions in any stocks mentioned, and no plans to initiate any positions within the next 72 hours.
I wrote this article myself, and it expresses my own opinions. I am not receiving compensation for it (other than from Seeking Alpha). I have no business relationship with any company whose stock is mentioned in this article.
Editor's Note: This article covers one or more stocks trading at less than $1 per share and/or with less than a $100 million market cap. Please be aware of the risks associated with these stocks.