[ad_1]

How much is a Bitcoin (BTC-USD) worth at any one moment? Depends upon what the price is, but even more, it depends upon which exchange you are looking at at any one particular time. I find price discrepancies between the exchanges almost every single time I log on to the exchanges I trade on, sometimes as much as 2-3%. In fact, I even did a blog posting here on Seeking Alpha on how to take advantage of those opportunities – it is still one of my most popular blog postings from views and comments (from two years ago). Despite the fact that now there are more exchanges and a greater amount of volume, the issue of price discrepancies persists. This "problem" seems to never solve itself, despite the abundance of individuals who participate in Bitcoin arbitrage. A diligent trader can take advantage of this opportunity and profit from it.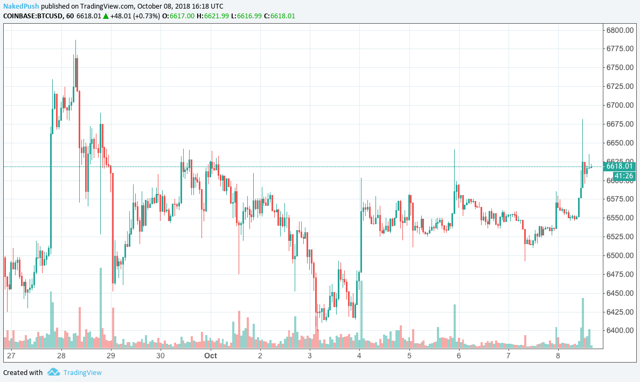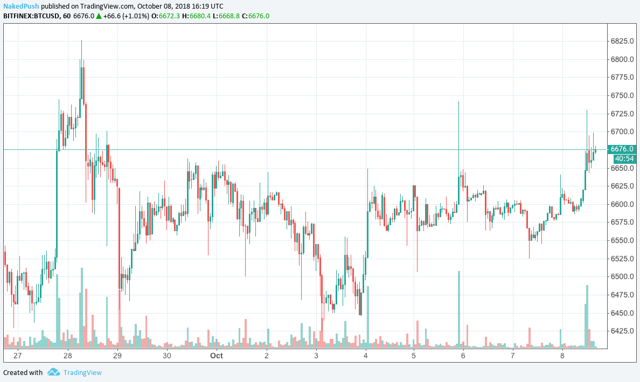 Take a good look at these charts above. These are BTC-USD charts from Coinbase and Bitfinex, respectively (via TradingView). They both follow the same basic trajectories. However, there is a major price gap between them. The first is trading at $6,618 and the second is trading at $6,675. This is at the very same time. That is a gap of $57.00. At the same time, the CME Group was quoting a price of $6,625 for their product. The hope with CME Group's futures products for Bitcoin was that it alleviates some of the issues of price discrepancy.
If you visually followed the minutia of the prices on the two charts above, you will notice that the charts do not actually follow the same prices dollar-for-dollar; some exchange movements are larger than others. But, careful examination will show you how the two, despite trading the exact same instrument, trade them differently. An astute investor would be able to profit from those discrepancies.
How can this be, multiple prices for the same product at the exact same time? How can it be that you can simultaneously buy Bitcoin on one exchange and sell it on another and, theoretically, instantly lock in profits?
So Much For The Efficient Market Theory
The efficient market theory is a concept that works with the premise that markets are efficient; they are without mistakes. The idea is that all information about a security, or trading instrument, is known by all individuals at all times; therefore, the price of the underlying instrument must be correct. Adherents to the efficient market theory believe there would be no discrepancies between exchanges at any time. The thinking is that all the mechanics of a market must always function properly and therefore, no opportunities could exist in taking advantage of outlying events within the markets.
I have never been an adherent to the efficient market theory simply because although all information is available at all times for any one instrument, you can often find discrepancies in the markets. There are some individuals who this is their entire investment strategy; arbitrage. So, how could that opportunity exist if all the markets are functioning properly and all the information is available to each trader openly.
The fact is, not all markets function exactly properly. If you have two separate exchanges, both trading the same instruments with the exact same trade volume, then, the theory is that the instruments would have the same price. If you think through the mechanics of the two separate exchanges you would be able to see that it is entirely possible that order flow alone would be the underlying factor in whether or not an instrument will move upward or downward at any time.
Consider this: if in a random moment, in one exchange, one player puts in a large at-the-market buy order while at the other exchange a trader hits the sell button on a large at-the-money order simultaneously, then there is simply no way for the two exchanges to maintain parity. This is exactly the function of arbitrage traders to maintain volume and liquidity while acting as a medium between the two exchanges. But, it simply does not work that way with Bitcoin. Bitcoin arbitrage is turning into a business itself.
Bitcoin Arbitrage
To take advantage of this discrepancy a trader would need to put on an arbitrage position. With the example above, you would buy the lower priced BTC for $6,618 and simultaneously sell the higher priced BTC for $6,675. You would lock in the profit of $57.00 instantaneously. All you would need to do at that point is await the time when the two exchanges converged upon the same price. And because you had simultaneous positions on, both short and long, theoretically, your position would never become unprofitable.
You can do this for multiple exchanges with multiple cryptocurrencies. I have seen the same problems persist with Ripple (XRP-USD), Ether (ETH-USD), and many of the other coins. However, the bigger gaps are usually in Bitcoin. That may be attributed to the size of Bitcoin versus the other coins.
The Argentinian Economic Crisis Offers Big Opportunities
I have just touched on this topic recently, the fact that the Argentinian economic crisis is driving Argentinians to purchase Bitcoin in large amounts. Because of the higher-than-normal demand for Bitcoin in Argentina, the price of Bitcoin is often much higher in exchanges there versus exchanges around the world. I have seen prices as much as 3% at any given moment versus U.S.-based exchanges. This is an opportunity for anyone who wants to get involved in Bitcoin arbitrage.
Argentina's economy is spiraling downward for a few reasons. Because of the economic malaise the country faces, the Argentinian peso is falling severely (feel free to read the above-mentioned article for a complete analysis). Because of the fall in the peso, Argentinians are buying Bitcoin as a hedge. Because of the severity of the rationale for buying Bitcoin versus other countries, Bitcoin gets pushed higher in Argentina versus other exchanges. That differential is an arbitrage opportunity.
A Word On The Downside Risks
Your profits are guaranteed… except those times when the trade falls apart completely. It can happen. If you both buy and sell Bitcoin on separate exchanges, you effectively have no position on Bitcoin. Therefore, in theory, you cannot lose any money. And, yet, you can. The differential widening is a risk that happens often. And, if you put on too aggressive of a trade, you may be licking very deep wounds for some time.
Your two primary risks to Bitcoin arbitrage trading are:
You need to take both of these concerns into perspective when you initiate these trades. They go hand-in-hand, of course. But, each can have a negative effect on the results of your trade.
Size
There are times when the differential between the two may be 1%. There are times when the differential may be as high as 3% and even more. I have seen this happen. In the cryptocurrency trading world, you can expose yourself to 100:1 leverage. I do not recommend doing that ever. As I mentioned, the differential can widen and then, your trade falls apart.
The fact that the differential exists at any percentage means it can exist at any other percentage, including a higher percentage The Argentinian economic crisis, mentioned in my article above, has created conditions so that people are doing whatever is necessary to protect their assets while their currency crumbles. Bitcoin is that option (A simple Google search of "Argentina Bitcoin Exchange shows lists of exchanges"). I often step into the market and sell Bitcoin from Argentinian exchanges and buy in the United States. However, I have seen the differential widen. So, while you have a "guaranteed profit locked in", you are exposed to a loss via a widening differential. Considering your size is vital.
Time
How long does the trade take until you can get out of the trade profitably? Good question. It varies is the standard answer. I have had to wait several days in order to get most of my profits. And, by most, I mean less than 100%. Sometimes these exchanges simply do not ever converge at the same price. This is an inefficiency. The fact that this inefficiency exists in the first place should tell you that you cannot expect 100% efficiency. Sometimes, you have to take the simple amounts the market offers you. I don't believe I have ever gotten 100% of the profits but have always settled for a smaller percentage.
Other issues
There are other issues with trading Bitcoin and Bitcoin arbitrage. One of the biggest is the speed at which execution happens if it happens at all. This is something that the industry continues to work on. But, sometimes you simply do not get out of your trade. And, often times, you do not get out of your trade at the exact moment you execute your order. Some of this has to do with the exchanges and some of this has to do with the way Bitcoin is mined and processed. Experienced traders know of the issues that they face. When you are executing a trade encompassing two separate exchanges, you need to make sure the trade happened.
And how about the aforementioned differential?
I started writing this article on Monday afternoon, Pacific time in the United States. I put that trade on as an example for the purposes of this article (with the $57.00 differential). It is now Tuesday morning, about 18 hours after I put the trade on. The differential has widened by some $6.00, meaning I am sitting on a loss of $6.00 (per coin) despite the fact that the trade is theoretically "guaranteed" to be profitable, and because of the fact that theoretically, I have no position on; I am both long and short the same size. After a few years of experience, I have learned to be patient.
Conclusion
I do Bitcoin arbitrage often. I earn profits from Bitcoin arbitrage often and so far I have never had any trades not work out – my size is moderate compared to my account balance and my time perspective is defined as being as patient as a snail. I don't think any one trade has ever worked out in a timely manner. Because of that, I have had to sit and wait for a few days until I have gotten out of the trade. That can be an exercise in frustration itself. And, I tend not to put on other trades when I am sitting on an arbitrage trade. That ties up money that might allow me to earn profits in other trades. Still, I don't mind earning profits like this.
Bitcoin has been in a very tight range as of late. One would think that because of the low price swings the arbitrage opportunities would vanish entirely. One would be wrong. You can look at the various exchanges right now and find these opportunities. But, I caution your size because I have seen these differentials widen further before they finally narrowed to zero. I also caution your expectation on how long the trade will take to be profitable. Sometimes these trades never make it to absolute zero; there is always a differential. That means the trade will never ultimately make it to full profitability. I often lock in profits and just dump the trade instead of getting 100% of the differential. After all, all markets are not efficient, and therefore it may not be possible to get 100% efficiencies.
Disclosure: I am/we are long BTC-USD, COIN.
I wrote this article myself, and it expresses my own opinions. I am not receiving compensation for it (other than from Seeking Alpha). I have no business relationship with any company whose stock is mentioned in this article.


[ad_2]

Source link